Welcome to Android Advice and Tutorials.
---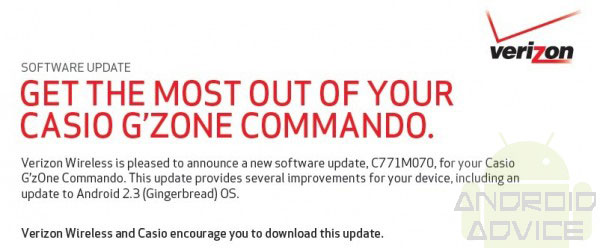 The Casio G'Zone Commando is Verizon's rugged phone that will be getting the Android 2.3 Gingerbread update shortly. The G'Zone Commando was released back in April with Android 2.2 Froyo and no special specifications that we have found.
Verizon released a support document stating that the G'Zone will be receiving the Gingerbread update along with some other bug fixes and improvements to email and calling. This update will bring the software version to C771M070.
Casio G'Zone Commando Improvements with Update:
Call Features – Screen will brighten upon touch when phone is docked during a voice call. The Proximity sensor will accurately sense presence during a voice call.
Email and Messaging – Auto signature can be enabled within SMS/MMS messages. Device will no longer generate a draft message when opening a message.
Additional features – Privacy caution screen will now appear during SetupWizard. V CAST Media Manager now comes preloaded. Lag has been reduced on the device.
The update to the G'Zone Commando hasn't gone live yet but should be in the next week or so. Once you receive this update let us know how its working out for you.
---