Welcome to Android Advice and Tutorials.
---
Google has finally released "Google Chrome" for Android devices running Android 4.0 Ice Cream Sandwich. Many people confuse the stock Android browser for Google Chrome but this is not the case even though we see no reason Google wouldn't have included their own browser in the system from the start. One very disappointing aspect of the Chrome Browser is that it does not support Flash currently but if you can get past that give it a shot.
Google Chrome Browser App for Android Features:
Speed – Chrome is faster at loading, scrolling, and browsing pages. Google says that Chrome has accelerated all of those features.
Search – The Omnibox has gone mobile, meaning users can visit an address or make a search term directly from the address bar. It can also search within a webpage.
Navigation – Tabs are now unlimited and easily accessed by pressing the button next to the address bar. Users can close or switch to them, and it works fairly well on an Android phone or tablet. There's a vertical scrolling card view that shows each open tab.
Sync – Information from Chrome desktop – including bookmarks, open tabs, autocomplete suggestions, and history – will sync if you sign-in with a Google account and choose to enable it.
Google Chrome for Android is pretty similar to the stock browser but takes all of the features to the next level. Again you must be running Android 4.0 Ice Cream Sandwich to get the Chrome App. Please let us know what you think about Google's new release.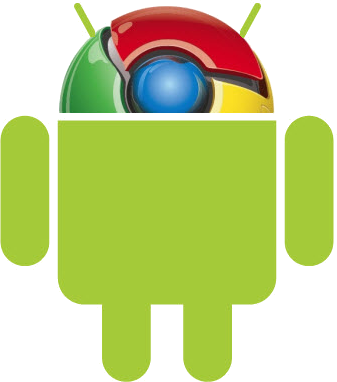 Word on the street, or at least ConceivablyTech is that Google's Chrome Browser will be available tomorrow. Samsung and Google are hosting their Ice Cream Sandwich event in Hong Kong to release their much anticipated Android 4.0. According to what we have read with Android 4.0 we will see the release of Google Chrome for Android.
While the release of Google Chrome for Android is currently only a rumor it will be officially confirmed or squashed tomorrow in Hong Kong. We will keep you updated during the event October 16th. We will not be at the event but will be following it closely.
---