Welcome to Android Advice and Tutorials.
---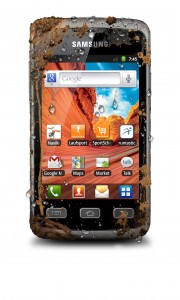 The Samsung Galaxy Xcover is the first Samsung phone in this category with its water-resistant case and running Android 2.3 Gingerbread. The Galaxy Xcover also sports a protective housing with IP67 certification and a scratch resistant touch screen making this an ideal phone for those in construction and other rough conditions.
According to the press release below the Xcover will be available in October.  This should be a a great addition for those that are in the construction industry as there are currently very few truly tough phones available.  We are interested to see how well this device does.  If the Xcover does well we can only assume that those in the demographic this phone supports will get many more like this.
Samsung's Press Release on the Galaxy Xcover:
Water-resistant case meets social networking and Android ™ 2.3: The Samsung Galaxy Xcover

Tuesday, 9 August 2011The combination of protective housing with IP67 certification, scratch-resistant touch screen display, Android and Samsung Social Hub ™ 2.3 makes the Samsung Galaxy Xcover the ideal device for users with an active lifestyle

Schwalbach / Ts., 9 August 2011 – With the Galaxy Xcover Samsung expands its range of rugged mobile phones for outdoor use. The device combines outdoor skills with the ability of a powerful smartphone.

Whether water, dust or hard surfaces: the Samsung Galaxy Xcover is well prepared against harmful environmental influences. This IP67 certified enclosure protects the unit against dust and dirt there. In addition, the Samsung Galaxy Xcover to a depth of one meter for a period is waterproof up to half an hour.The touch-screen display with a diagonal measurement of 9.27 inches is made of scratch-resistant tempered glass. The 3.2-megapixel camera of the Samsung Galaxy Xcover is supported by an LED photo light, which can be used when needed as a flashlight or signal light.

Smart through social networking apps and
running the Samsung Galaxy Xcover with the Android ™ 2.3 platform and is using apps ideally suit her personal needs. Provide wireless connectivity for fast n-standard, and an HSDPA connection with a transfer rate of up to 7.2 Mbit / s.

The Samsung Galaxy Xcover is available from October in the trade.



---