Welcome to Android Advice and Tutorials.
---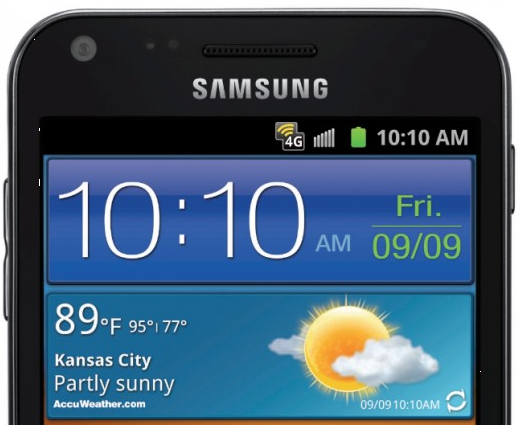 The Samsung Epic 4G Touch has been plagued with a hang when changing between Sprint and Verizon towers in low connectivity areas. In some cases the issue actually required a device reboot to regain connection to data. This issue has been found by Sprint and and solved it in the form of a software update.
This update will also fix the issue of losing 4G connections when on a phone call. This update is rolling out in the form of an OTA (over the air) update that started pushing yesterday. As always the update will be pushed in phases so if you haven't received it yet be patient it will appear.
Please let us know when you get the update if it fixes your issues and if any new ones arise.
Today Sprint has confirmed that the Android 2.3 Gingerbread update will be rolling out to the Samsung Epic 4G. This OTA (over the air) update will bring the Samsung Epic 4G to build number S:D700.0.5S.EI22. The update to the Epic 4G was confirmed in Sprints forums this morning.
Samsung Epic 4G Gingerbread Update Features:
Upgrade from Android Froyo to Android 2.3 Gingerbread
Audible Sprint AIRAVE notifications when answering a phone call
SMS messages will be sent without area code
Profile and PRL update
Exchange Activesync email displaying HTML
Sound improvements to Bluetooth Headsets
Device lockscreen now has fully visible date
As always Sprint will be rolling out the update in phases over the next 10 days. If you don't see the Gingerbread update pushed to your device you can always manually check from "Settings -> About Phone -> System Updates -> Update Android". Of course there is still a chance that even manually you will not see the update but don't worry you will over the next week or so.
The Samsung Epic 4G Touch has made it's way to number 2 on Amazon Wireless most popular phones. Rooting the Epic 4G Touch is pretty straight forward and is courtesy of the Developers over at XDA. We are a little late posting the instructions but better late than never eh?
NOTE: This root method has been tested thoroughly but it is still recommended that you backup your device before attempting in the event something goes wrong and you have to flash it back to stock settings.
Root Instructions for the Epic 4G Touch:
Download and extract epic4grootv1.zip (Download Link)
Reboot your Epic 4G Touch holding "Power + Volume Down"
When you see the option screen press "Volume Up"
Wait for your Phone to get into Download Mode
Install Samsung Kies so your computer (Official Download Link)
Plug your Epic 4G Touch into your Computer Via USB
Wait for your computer to detect the device
Download and Extract Odin to your Computer (Download Link))
Launch Odin and click PDA
Select SPH-D710_Zedomax_Kernel.tar from file in Step 1
Press Start and wait patiently for your device to reboot
Congrats you are rooted!
Zedomax has also created a video tutorial to root the Samsung Epic 4G Touch.

---