Welcome to Android Advice and Tutorials.
---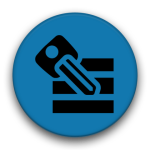 Top Free application for all Supply chain related calculations. Includes Economic order quantity, Break Even Analysis, Safety Stock, Present Value, Reorder Point, Inventory calculations. Simple UI. Consumes minimum memory and resources. Increase your business's cost efficiency.
Ideal solution for supply chain professionals
A very handy solution to calculate supply chain and inventory related parameters. Flawless, easy and fast !!!
---
Excellent App for all my SCM Needs
Works perfectly on my HTC wildfire. Very user friendly interface.
While this is user submitted we have looked through the reviews on the Android Market and it seems to be one of if not the best app in its demographic as it gets very high ratings.
The SCM Buddy App can be found on the Android Market via: https://market.android.com/details?id=com.manufacturing.calculator&hl=en.  Please let us know what you think of this app in the form of a comment below.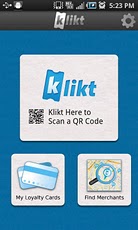 There is a new loyalty program available for Android that is being released by Mood Media called Klikt. This app is still under pretty heavy development but works pretty good to date. The Klikt app allows you to have multiple loyalty cards within one app to avoid multiple apps or cards in your wallet. Of course the only downside to this is that the business offering the loyalty card has to register it with the Klikt app.
The Klikt app currently forces you to download the barcode scanner from the Android Market to scan since there is no native scanner in the app. This feature is said to be added but hasn't been yet. If your interested in trying out the app head on over to the Android Market and download it via https://market.android.com/details?id=com.kazumlabs.klikt&hl=en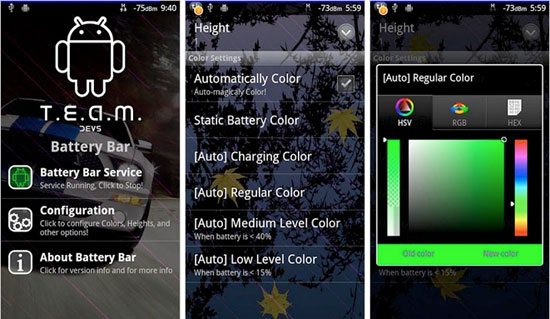 Most of us that want to keep an eye on our battery levels have a widget to keep an eye on it but with "Battery Bar" you never have to leave the foreground. The Battery Bar app was developed by T.E.A.M to allow a custom bar at the top or bottom of your display showing your battery levels.
Keep in mind that not only does this app allow you to get the great battery levels custom bar that the MUI ROM has had all along but doesn't require root access to do so. Most earlier options for batter level management have required root and this time its easy for even novice Android users.
Let us know if you have tried the app and what you think about it. Also if you notice any bugs in it let us know that as well so that others may learn from it.
While taking longer than anyone would have expected Wikipedia has an official Android app on the Google Market. The app was released last week and is already being reviewed rather well. While the app is basic as it should be, it lets us get all the information that we need quickly and bug free.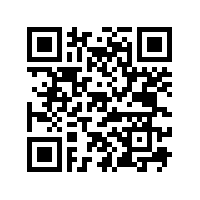 Wikimedia Foundation released the app to allow on the go research for free at only a 588k download. The app requires Android 2.2 Froyo and better although we see no reason these requirements can't be met at this point in the game. Scan the code in this article for the download or go directly to the Google Android Market and search for it. Either way please let us know what you think.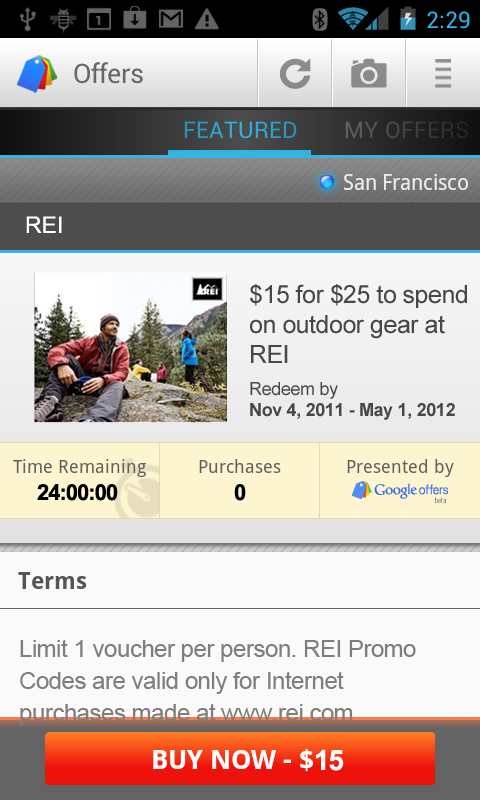 Yesterday Google released their new app Google Offers to the Android Market. This app is Google's version of Groupon or Living Social that gives users great deals on items and services. The app focuses on finding local deals and compiling them for the user to see without having to look all over for them. Google Offers also saves previously purchased deals within the app for reference.
Many of you if not most have an app like Groupon or Living Social to find deals nearby and Google Offers is a great addition to your list.
Google tried to buy Groupon a while back for around $6 billion with the offer being rejected. Like anything else Google wants, if they can't throw enough money at it then they try to create a new service to compete with it. We aren't sure if it will take off like Groupon or not but can assume that it will be a thorn in Groupon's side.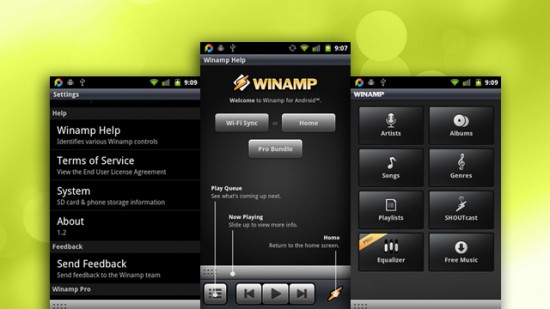 WinAmp has been far from ready when it comes to being users default music player on Android devices until now. No matter which version you download you will now be able to wirelessly sync your music between your Android device and Mac OS. Now you can keep your music library up to date between both devices.
On top of the release of this new feature with update there is now a Pro version that adds many new features. Currently the WinAmp Pro Android app is not on the Google Market but will be available soon for $5 and includes some of the following features:
FLAC support – an audio format similar to MP3, but lossless, meaning that audio is compressed in FLAC without any loss in quality.
Gapless playback – there is no pause in playback between the end of one audio file and the beginning of the next audio file. This allows for playback of content with no gaps the way it was meant to be heard.
Crossfading – plug-in lets you crossfade between tracks in the playlist in realtime.
We will be anxious to see how well these features work within the new system and if it holds its ground against google music and other players already on the market.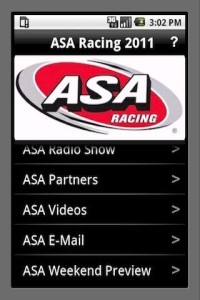 Since we are based out of North Carolina and more specifically Denver (which is 10 minutes from Mooresville a.k.a Race City USA) we figured that this is an app we should report on. The American Speed Association has released its own app on the Android Market.
The App was created to not only give participants information but also race fans that want to stay up on everything. You can find information from ASA member tracks and series. Race fans can find the closest tracks to where they live along with results, upcoming events, points and weekend previews. They also say its planned to add Youtube videos and their "This week in ASA Racing" podcast.
This will be a welcomed app for all race fans in my opinion.  If there is a die hard group of people when it comes to any sport its by far race fans.  This being said I must admit that personally I am not.
"This is a very big announcement for us," Dennis Huth, ASA President said. "Through our research, we believe that we are the first to offer an app that focuses on short track racing, specifically our ASA Member Tracks and Series. The app is simple to use and the user will be able to get the latest information from our ASA Member Track and Series right in the palm of their hands. We are excited to offer this new way of communication to the short track community."

"The app is very simple to use and navigate around," Huth said. "We felt that with the growth of smartphones, ASA needed to get on board with our own App. We feel that this will help our ASA Member Tracks and Series gain more fans and will allow them to stay in constant communication via the App."
The ASA is hoping to get individual member tracks submit their own content and photos for their sections within the app. They also hope to have the drivers update their own areas as well before the 2012 race season.
Photaf 3D Panorama is a panorama camera app that was designed specifically for Honeycomb tablets although has been tested and works on Android phones as well. If your device doesn't have a built in panorama camera feature this app is your solution and best of all its free.
Photaf 3D Panorama Features:
Facebook Share – Share panoramas with your friends!
Upload to Photaf.com website and view it from your computer!
Automatic Image Stitching
Pinch to Zoom
Move to SD
Set as Live wallpaper (Pro version)
HD Mode (Pro Version)
Use Camera in portrait mode (Pro Version)
Export to gallery folder
Optimized for Honeycomb tablets
While there is a paid pro version, the free version has everything you need to create great panoramic photos from your Android tablet or phone. We have had a few issues on Android phones with the app freezing when viewing the panorama although no issues have been found on the Motorola Xoom when tested.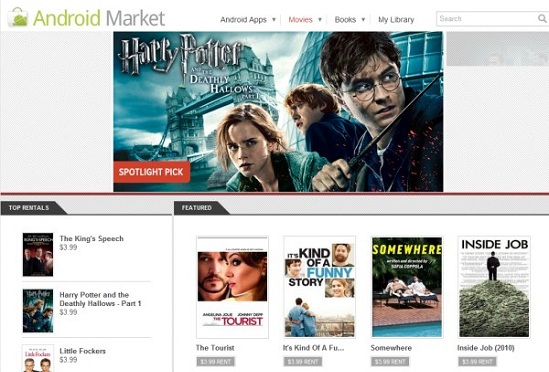 When Google first released movie rentals on Android devices it was stated that rooted devices will not shave the ability to play these rentals. Just like all other features that manufacturers, providers and developers try to block or lock down the Android community has found a way to get around it.
"This bypass doesn't affect the actually DRM licensing, it will still generate a proper license key, you will still be limited to the normal viewing times, you will still have to pay to rent movies, etc. Don't ask, because it's not happening. It just bypasses/disabled the root check."
Download the Modified Google Movie APK (Download Link)
Adobe Flash Player has been receiving a lot of updates lately to fix security bugs and loopholes with this one being about the same. Adobe seems to care about user input and fixing issues quickly without waiting for a set number of issues beforehand. This is a breath of fresh air in a market that seems to be slow at updating.
Flash Player 10.3.186.3 Fixes:
Enabled NEON optimizations for OMAP4 (Cortex A-9) based devices.
Corrected an issue on the Samsung Galaxy S where H.264 video at resolutions of 720p and below was not displayed.
Fixed an issue where app packaging would fail for Android Apps using Flash Player in WebView that set android:hardwareAcceleration to True in their AndroidManifest.xml.
Fixed a crash on the HTC EVO that some users encountered with specific video.
Fixed an issue that caused video frames to stop rendering on long streaming videos (> 1 hour) on some Motorola devices.
Fixed an issue where touch events were getting delayed with Kongregate.com games.
Fixed an issue where games on Kongregate.com freeze when users exit from Full-Screen mode.

Time Inc. is one of the largest branded media companies in the World. The Time Warner division reaches more than 110 million Americans every month with magazines like Time, People, Instyle and Sports Illustrated. All of these titles and more will be available digitally via Tablets by the end of the year.

Time Inc. released the following press release today at 9:30 am EDT:
NEW YORK–(BUSINESS WIRE)–As part of Time Inc.'s industry-leading effort to deliver its iconic brands everywhere consumers want them, the company today announced that all 21 of its U.S. titles will be available as tablet editions by the end of 2011. Time Inc. will be the first major U.S. magazine publisher to make all of its titles available on all leading tablet platforms, with products designed specifically for this medium.

"Having our entire portfolio available on tablets will create a significant new digital reach for our advertisers."

Brands including INSTYLE, REAL SIMPLE and ENTERTAINMENT WEEKLY will now join PEOPLE, TIME, SPORTS ILLUSTRATED and FORTUNE with digital tablet versions. To date, Time Inc.'s digital magazine and other content apps have been downloaded more than 11 million times. Hundreds of thousands of current print subscribers have upgraded their subscriptions to include the tablet editions at no extra cost, with thousands more being added each week. Time Inc. has also sold more than 600,000 digital single copies of those four titles.

"Now is the time for us to make this bold commitment. In the coming year, there will clearly be many more consumers using tablets, accelerating demand for content and driving advertiser interest. We are putting ourselves in a great position to take advantage of these opportunities," said Maurice Edelson, EVP and a member of Time Inc.'s interim management committee. "Having our entire portfolio available on tablets will create a significant new digital reach for our advertisers."

Today, the company also announced an agreement with Barnes & Noble to sell digital subscriptions and single-copy issues of FORTUNE, PEOPLE, SPORTS ILLUSTRATED and TIME on the NOOK Color starting later this month, with the rest of the portfolio to follow by year-end. The Barnes & Noble agreement adds the NOOK Color to a growing list of platforms where Time Inc. distributes its digital titles, including Apple iPad, Android Marketplace, HP TouchPad and Next Issue Media's store.

Time Inc. offers consumers an All Access approach that includes print and digital subscriptions, as well as digital-only subscriptions and the ability to purchase single copies. Additionally, each of Time Inc.'s 28 million print subscribers will have the option to upgrade their subscription to include the digital edition at no additional cost. The digital editions will be presented using reader software that is native to each platform.

Print ads will be incorporated into the tablet editions. The company plans to report digital sales and subscriber information to ABC (Audit Bureau of Circulations) beginning in January 2012. Time Inc. research shows consumers place a high value on digital editions that include ads.
---