Welcome to Android Advice and Tutorials.
---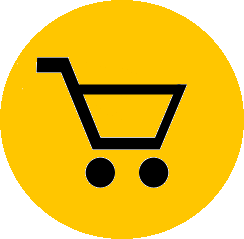 eMyShoppingList is an android application to manage the shopping list with new features added in version 2.3.2. Available in the latest version of the application. Now deleting items on the shopping list and the usual list can be configured to display a delete confirmation window or not. Same for the Products tab. Available the new version of the app. New preference to Indicate Whether to display a window or not to confirm deletion of items in the shopping list, in the usual list and items tab.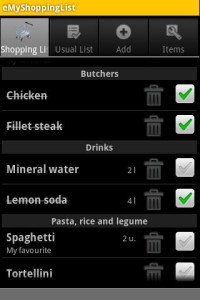 eMyShoppingList Free Android App Features:
eMyShoppingList is completely free
Multi-lingual. Spanish, English or Portuguese
Easy to use and quick user interface
Extensive database of items (more than 300)
Ability to create as many lists as you want
Possibility to indicate notes, quantities, units of measure and prices about items
Possibility to work with item categories
Sorting lists by various criteria
Can be installed on SD card
Send shopping list by email, sms, whatsapp…
Enjoy my first application! It's available on Google Play, I hope your comments.
https://play.google.com/store/apps/details?id=a3g.emyshoppinglist
What people are saying about eMyShoppingList Free Android App:
Dana on January 12, 2011 (Version 1.1.1) - Just what i was looking for i love the ability to email my husband a list. Thank you!
Photaf 3D Panorama is a panorama camera app that was designed specifically for Honeycomb tablets although has been tested and works on Android phones as well. If your device doesn't have a built in panorama camera feature this app is your solution and best of all its free.
Photaf 3D Panorama Features:
Facebook Share – Share panoramas with your friends!
Upload to Photaf.com website and view it from your computer!
Automatic Image Stitching
Pinch to Zoom
Move to SD
Set as Live wallpaper (Pro version)
HD Mode (Pro Version)
Use Camera in portrait mode (Pro Version)
Export to gallery folder
Optimized for Honeycomb tablets
While there is a paid pro version, the free version has everything you need to create great panoramic photos from your Android tablet or phone. We have had a few issues on Android phones with the app freezing when viewing the panorama although no issues have been found on the Motorola Xoom when tested.
Adobe Flash Player has been receiving a lot of updates lately to fix security bugs and loopholes with this one being about the same. Adobe seems to care about user input and fixing issues quickly without waiting for a set number of issues beforehand. This is a breath of fresh air in a market that seems to be slow at updating.
Flash Player 10.3.186.3 Fixes:
Enabled NEON optimizations for OMAP4 (Cortex A-9) based devices.
Corrected an issue on the Samsung Galaxy S where H.264 video at resolutions of 720p and below was not displayed.
Fixed an issue where app packaging would fail for Android Apps using Flash Player in WebView that set android:hardwareAcceleration to True in their AndroidManifest.xml.
Fixed a crash on the HTC EVO that some users encountered with specific video.
Fixed an issue that caused video frames to stop rendering on long streaming videos (> 1 hour) on some Motorola devices.
Fixed an issue where touch events were getting delayed with Kongregate.com games.
Fixed an issue where games on Kongregate.com freeze when users exit from Full-Screen mode.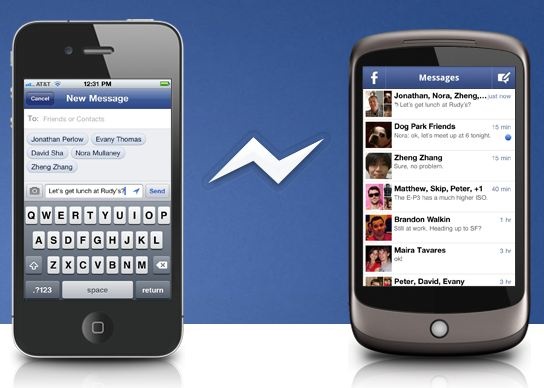 Facebook is getting competition from all over the place with its communication features. Now to try and compete with Google+ and all of the new features Facebook has created a messenger for Android.
Facebook Messenger Features:
Message anyone directly on their phones. If you have them in your contacts you can send them a message.
Get and send messages quickly without having to go through the Facebook app so that you can send them and receive them faster.
Start group conversations so that you can message multiple people at once along with sharing your location so that you can all meet up.
Will this be the feature that puts Facebook ahead of Google+? We don't think so but with the large user base that Facebook has we still see this being a wide spread app for many Facebook enthusiasts.

Time Inc. is one of the largest branded media companies in the World. The Time Warner division reaches more than 110 million Americans every month with magazines like Time, People, Instyle and Sports Illustrated. All of these titles and more will be available digitally via Tablets by the end of the year.

Time Inc. released the following press release today at 9:30 am EDT:
NEW YORK–(BUSINESS WIRE)–As part of Time Inc.'s industry-leading effort to deliver its iconic brands everywhere consumers want them, the company today announced that all 21 of its U.S. titles will be available as tablet editions by the end of 2011. Time Inc. will be the first major U.S. magazine publisher to make all of its titles available on all leading tablet platforms, with products designed specifically for this medium.

"Having our entire portfolio available on tablets will create a significant new digital reach for our advertisers."

Brands including INSTYLE, REAL SIMPLE and ENTERTAINMENT WEEKLY will now join PEOPLE, TIME, SPORTS ILLUSTRATED and FORTUNE with digital tablet versions. To date, Time Inc.'s digital magazine and other content apps have been downloaded more than 11 million times. Hundreds of thousands of current print subscribers have upgraded their subscriptions to include the tablet editions at no extra cost, with thousands more being added each week. Time Inc. has also sold more than 600,000 digital single copies of those four titles.

"Now is the time for us to make this bold commitment. In the coming year, there will clearly be many more consumers using tablets, accelerating demand for content and driving advertiser interest. We are putting ourselves in a great position to take advantage of these opportunities," said Maurice Edelson, EVP and a member of Time Inc.'s interim management committee. "Having our entire portfolio available on tablets will create a significant new digital reach for our advertisers."

Today, the company also announced an agreement with Barnes & Noble to sell digital subscriptions and single-copy issues of FORTUNE, PEOPLE, SPORTS ILLUSTRATED and TIME on the NOOK Color starting later this month, with the rest of the portfolio to follow by year-end. The Barnes & Noble agreement adds the NOOK Color to a growing list of platforms where Time Inc. distributes its digital titles, including Apple iPad, Android Marketplace, HP TouchPad and Next Issue Media's store.

Time Inc. offers consumers an All Access approach that includes print and digital subscriptions, as well as digital-only subscriptions and the ability to purchase single copies. Additionally, each of Time Inc.'s 28 million print subscribers will have the option to upgrade their subscription to include the digital edition at no additional cost. The digital editions will be presented using reader software that is native to each platform.

Print ads will be incorporated into the tablet editions. The company plans to report digital sales and subscriber information to ABC (Audit Bureau of Circulations) beginning in January 2012. Time Inc. research shows consumers place a high value on digital editions that include ads.
People have mixed feelings about this question although there are two sides to this argument. We have heard the argument that the Amazon App store is bad for developers because of the free app a day giveaway. While this is a great way for consumers to get apps that they may not otherwise have even known about does it hurt the developers?
Well the Free App A Day doesn't make the developer a dime as some of you may think otherwise. This is bad for developers for that day although in the long run should not (assuming the app is worthy of use) effect any sales of it later.
There are those out there that think the giveaway is wrong only for the fact that the developers don't make any money and Amazon is receiving serious traffic and upselling from it. Shift Jelly posted the following about the Amazon App Store:
"What makes us mad though is the public perception that Amazon pays developers to be featured. Every single person we asked on Twitter or via email thought they were helping developers out, and getting a free application. Amazon does nothing to dispel these rumours, in fact they put really restrictive clauses at the bottom of their emails, saying that no one is even allowed to discuss these back door deals they are doing."
Our take on this is that most of the free app a day giveaways are apps that consumers are downloading only because they are free. Those that are downloading the app because its free and no other reason would not have purchased the app anyway. This being said the Developer is now getting free publicity and users that may in the future recommend an app to a friend that otherwise would have never even thought about it. If developers create a great app the word of mouth after the free day will make up for any consumer downloading it that may have paid for it later.
I get many people asking what the best office app for Android is. Now we have compared the top four office applications for Android to allow you to see some of the features they have. If you have an office app that you like not listed here let us know and we may add it to the list to help others when looking for an Office app.
We are going to be comparing are "Documents to Go", "Picsel SmartOffice", "QuickOffice Pro HD", "Polaris Office". Within these apps we will be comparing some of the most important features of an Office app.

Documents to Go ($14.99)
Very good at rendering fonts and other formatting with symbol fonts recognized. Pictures and other rendering of graphics are a bit blurry with some imaging features missing. Does not interpret cropped graphics at all. No transitions or animations. Does not have a slideshow mode included, slides move left to right not up and down as expected. Also there are options to insert and duplicate slides which is a redeeming feature. When displaying tables the surrounding text tends to get messed up a bit. There is no pinch zoom option which is disappointing. Supports cloud integration with Google Documents.

Picsel SmartOffice ($5.99)
Renders fonts and other formatting well but doesn't recognize symbol font. Pictures and other rendering of graphics are a bit blurry with some imaging features missing. Does not interpret cropped graphics at all and when tried all surrounding text is messed up. No transitions or animations. Does have a slideshow mode included with a 3D view option available and slide overview on the right. When displaying tables everything fits in cells and renders as expected. Suuports cloud integration with Dropbox.

QuickOffice Pro HD ($14.99)
Average rendering of fonts and other formatting and does not recognize symbol font. Pictures and other rendering of graphics are a bit blurry with some imaging features missing. In most cases images are very pixelated and tend to render incorrectly. Does not interpret cropped graphics at all. No transitions or animations. Does have a slideshow mode included allowing insertion of new slides from camera or storage and has a slide overview on the left. When displaying tables the text doesn't fit within the cells correctly and tends to mess up the surrounding text as well. Supports cloud integration of the following apps; Google Docs, Dropbox, Box.net, huddle, Sugarsync and MobileMe.

Polaris Office (comes with some ASUS devices)
Character spacing is very narrow although it does seem to render fonts and formatting about like the others. Pictures and other rendering of graphics are almost perfect with a few inconsistencies with ms office objects. Interprets cropped graphics although not very well. No transitions or animations. Does have a slideshow mode included with a slide overview option. Everything within tables displays as expected although text squishes together inside the tables. Supports cloud integration with Google Docs and Box.net.
Overall none of the office apps stand out as a complete winner although if we have to pick one it would be polaris office. Now that we have all four from testing though i'm sure they will each have their uses in different situations.
Many Youmail users have noticed that their greeting has stopped working after updating their phones to Gingerbread. While we have no idea why this happens there is a way to get everything working again.
Problem:
After upgrading your Android phone to Gingerbread Youmail's greeting stops working. Also there are a few minor bugs within the app itself.
Fix for Youmail after Gingerbread update:
Download the newest Youmail APK (Download Link)
Remove Youmail from your phone (simple uninstall is fine)
Install the newly downloaded APK
Open Youmail and tap your phones menu button
Go to Preferences -> Greetings -> Default Greetings
uncheck smart Greeting (if checked)
Each of the 3 places it says Greeting change the greeting to something new
Youmail should be working fine now
After you have followed the steps above you should be able to test it by calling yourself with a different phone. If everything seems to be ok then you can go back in to the greetings and change it back to whatever you had it set at previously.
A few we
eks ago Google announced that there would be an Android Market overhaul and got us all excited. The Market will get pushed to your device in most cases without your knowledge.
If you have a virus scanner installed you will notice after going to the old Google Market and closing it that any scanner you have will say "App Install Detected and scan it. This is ok, its just Google updating your market behind the scenes.
Some of the new features of the Google Android Market:
Tile designed UI
Books purchases
Movie rentals
Top Charts
Editors' picks
You will just notice that your market has changed after opening into the old one once so enjoy. Let us know what you think of the new market.
Many people have requested a way to remove the lock screen on their Android Phones. Its not as difficult as most might think. There are a few apps that work well on the Google Android Market.
The "No Lock" app allows you to remove the slide unlock gesture and replace it with either a button or nothing at all. If you trust your pocket to not pop the power button and unlock it for you this app will do the trick.


Use the QR Code below to Download No Lock from the Market.


Keep in mind that this app does not work on all phones but can't hurt to try it on your device. Let us know if it works with your device.
The Pokemon Team has announce that they will be releasing an Android and iOS Pokemon game. This game will be released with the name Pokemon Say Tap in Japan this summer. There is no exact release date nor any timeframe for US availability although the ball is rolling. For all of you Pokemon fans out there this will be an official release by the Pokemon Team and not a 3rd party developer.
Satoru Iwata at Nintendo has been completely against free games with paid features up until this point so we aren't sure how the system in game will work yet. Apparently the larger game developers are taking notice of the grow in mobile gamers and we are happy to see them interested.
---