Welcome to Android Advice and Tutorials.
---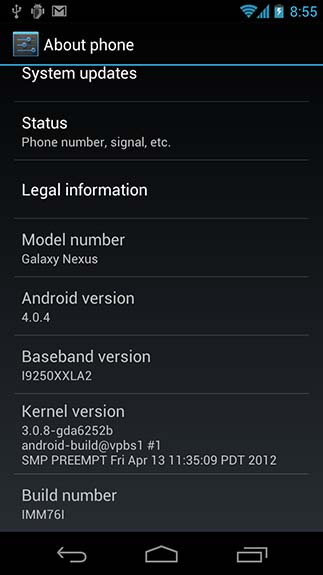 If you have an unlocked international GSM version of the Samsung Galaxy Nexus and are regularly losing signal the fix is out. There is an OTA (over the air) update to your device bringing it to software build IMM761. Many users of the Galaxy Nexus have been reporting connectivity issues and this update resolves that issue.
There isn't much else that we have had reported, there was also no change in the OS version, radio, or kernel so unless you have an issue with your signal you can just go about your business. If you do get the update please let us know if it actually does fix the signal and anything else you may notice.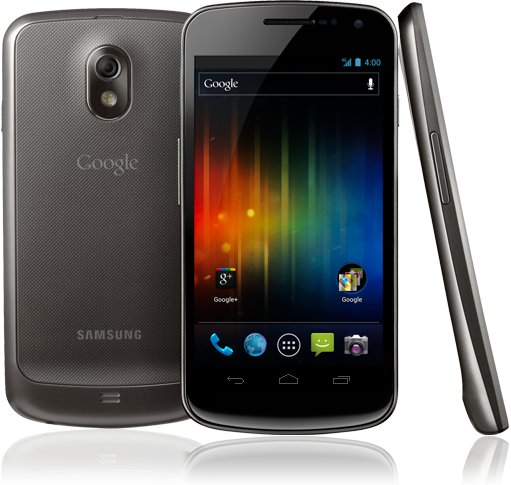 User arzbhatia over at XDA has come up with a fix for the Galaxy Nexus gradient mapping. Those annoying horizontal lines that have been showing up on the Galaxy Nexus settings and other applications that use gradient now have a fix. This fix has been tested and works on the stock 4.0.4 ROM, AOKP B32, AxiOm Patient Zero M1, Bugless Beast, and Slim ICS 3.3.
Download the Appropriate Galaxy Nexus Gradient Fix Below:
How to Fix the Galaxy Nexus Gradient Issue:
ADB Push the framework-res.apk to /system/framework/framework-res.apk
This will replace the current one on the phone
Reboot the phone and Viola all fixed!
Let us know if you have any issues or need a bit of help. The fix is small and shouldn't be problematic for anyone. After you complete the process please let us know what you think.

Verizon's opting to not include Google Wallet on their Galaxy Nexus wont stop you from getting it on your phone anyway. ITs a really simple process and allows you "pure Android" phone to be just that. Google Wallet can be installed simply by rooting your Galaxy Nexus and installing Rom Manager.
How to Install Google Wallet on the Galaxy Nexus:
(REQUIRES ROOT) – Root instructions here
Install ROM Manager from the Android Market
Place the Google Wallet Fix on your SD Card (Download Link)
Search and flash the Google Wallet Fix through ClockworkMod
Congrats you have Google Wallet and a $10 signup bonus!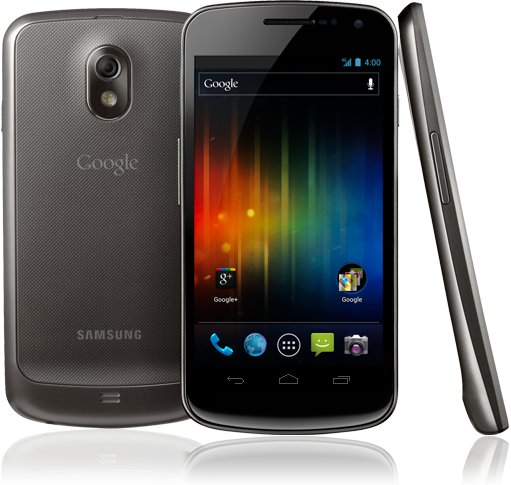 Whether you already have a Galaxy Nexus or waiting for yours in the mail there is already an update for the device. The update is not a large one but does fix some issues that have been reported during the release.
Galaxy Nexus Bug Fixes in Update:
Optimized Mobile Hotspot when used with VPN.
Optimized 3G/4G data sessions for faster response times.
Fixed an incorrect notification that "data was disconnected due to roaming".
Wi-Fi now automatically reconnects when returning to a known Access Point.
Improvements to special visual effects feature when using front-facing camcorder.
Visual improvements to the lock screen.
Fixed an issue where some email attachments would not open correctly.
DivX support has been removed, and will be supported in a future upgrade.
Improved audio volume in Google navigation turn-by-turn directions.
While the update is minor it does remove a feature that many may not want gone. The feature is DivX support that has been said to come back in a future update so we shouldn't get too turned off by its removal quite yet. With this device just being released its once to see it being supported so quickly with even minor updates.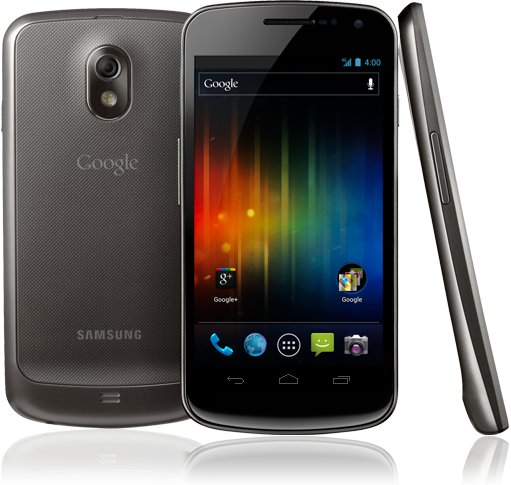 The Galaxy Nexus is a powerful Android 4.0 Ice Cream Sandwich smartphone recently released and already has many developers working on projects associated with it. Jean-Baptiste Queru, a Google Android software engineer has released a factory image of the Verizon Galaxy Nexus. What this means is that developers can use an official build to create new ROM's and recover from Bricking their devices. Also the average user can now flash their devices back to factory in the event they have issues as well.
There has since also been a release of the GSM Galaxy Nexus build so that not only Verizon phones have the image. You can download the factory images below for your Galaxy Nexus:
Download the Verizon Galaxy Nexus ITL41D Factory Image (Android 4.0.1)
Download the GSM Galaxy Nexus ITL41D Factory Image (Android 4.0.1)
Download the Verizon Galaxy Nexus ICL53F Factory Image (Android 4.0.2)
Download the GSM Galaxy Nexus ICL53F Factory Image (Android 4.0.2)
With the release of the Galaxy Nexus today so are the instructions to unlock it's bootloader. You don't need to hack the bootloader to unlock it all you have to do is follow some rather simple instructions. The method below requires a Windows based PC and the Android SDK but should prove to be easy for almost anyone.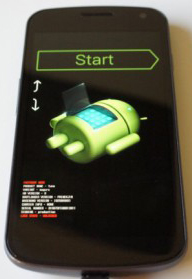 Unlock the Galaxy Nexus Bootloader:
Install the Galaxy Nexus Drivers (Download Link)
Install and setup the Android SDK on your PC
Place fastboot.exe in your SDK/Tools directory (Download Link)
Make sure that the AdbWinApi.dll file is also in the Tools Directory
At this point adb.exe, fastboot.exe and AdbWinApi.dll should be in the same folder
Turn on USB debugging on your Galaxy Nexus
Plug your device into the PC via USB
Navigate to your SDK/Tools folder on your PC
Hold Shift and Right Click "Open command window here"
In the command window type "adb reboot bootloader" press enter
Wait for the device to reboot into the bootloader
Type "fastboot oem unlock" press enter
Use the volume keys to select yes and power button to select
The bootloader is now unlocked and will reboot
After unlocking the bootloader you have full control over your Galaxy Nexus. You will also still get OTA (over the air" updates with the bootloader unlocked so no worries there. Please let us know if you have any questions or run into any issues along the way.
User Paulobrien at XDA has published a thread on how to root the Galaxy Nexus using Superboot r2. What this will do is root your Galaxy Nexus without needing to flash any partitions. Its a boot.img file that will run on bootup and install su and superuser apk without the need of ADB.
Instructions to Root the Galaxy Nexus:
Download and unzip Superboot.zip (Download Link)
Reboot phone into bootloader mode "vol up + vol down"
Double Click "install-superboot-windows.bat"
Congrats your Galaxy Nexus is Rooted!
If you are using a Mac replace step 3 with:
Open Terminal and navigate to the folder with Superboot
Type "chmod +x install-superboot-mac.sh" press enter
Type "./install-superboot-mac.sh" press enter
If you are using Linux replace step 3 with the following:
Open Terminal and navigate to the folder with Superboot
Type "chmod +x install-superboot-linux.sh" press enter
Type "./install-superboot-linux.sh" press enter
Let us know how it goes and remember to head on over to XDA and give paulobrien his due props for the method. As always place any questions you have here in the comments.
The Galaxy Nexus is the most advanced device currently running the newest of everything and already rooted. Full credit for this root method goes to MoDaCo and if your feeling supportive you should consider supporting them by signing up for MoDaCo Ad Free.
Superboot is the boot.img that roots the device on boot up without anything having to be done on the users end and automatically installs the su and Superuser APK. You will not need to flash any partitions or mess with ADB at all.
Galaxy Nexus Root Instructions:
Download the Superboot.zip file (Download Link)
Extract it to a directory on your PC
Reboot your Galaxy Nexus holding vol up + vol down
Your device should enter bootloader mode
Run "install-superboot-windows.bat'
Congrats your Galaxy Nexus is Rooted!
NOTE: if you have a retail Galaxy Nexus make sure the bootloader is unlocked. You can do this by using "./fastboot-windows oem unlock". Also note that this will wipe all data from your Nexus.
Google and Samsung have finally made the announcement officially in Hong Kong that the previously Nexus Prime is called the Samsung Galaxy Nexus. The specifications have also been released and are a force to be reckoned with.
Samsung Galaxy Nexus Features:
Android 4.0 Ice Cream Sandwich
4.65 inch HD Super AMOLED display
1280×720 Screen Resolution
1.2 GHz dual-core processor
1 GB RAM
16 GB or 32 GB internal storage
5 MP Rear Camera
1.3 MP Front Camera
1080p Video Recording and Playback
Bluetooth 3.0
NFC embedded module
Gyro, Proximity sensor, and Barometer
1750 mAh battery
Since the Galaxy Nexus is coming with Android 4.0 Ice Cream Sandwich there will be a slew of features that we wont list here although they are sweet. A few features we will mention are "Face Unlock" which unlocks your phone based on facial recognition. There is "Android Beam" which is the Near Field Technology that lets you share by being near someone. The entire phone OS and all is a complete redesign from what you have seen previously.
Android 4.0 Ice Cream Sandwich will include native screenshot capabilities at launch. Finally no need to root or find a reliable third party screenshot app for our Android devices. With the Nexus we see that holding the volume down and tapping power will save a screenshot.
There have been a few binaries found inside Ice Cream Sandwich that a couple apps "screenshot and screencap" will be responsible for the screenshot feature. While you can see these in Honeycomb it will not require root to use them in Android 4.0.
screenshot
usage: screenshot [-s soundfile] filename.png
-s: play a sound effect to signal success
-i: autoincrement to avoid overwriting filename.png

screencap
[-hp] [FILENAME]
-h: this message
-p: save the file as a png.
If FILENAME ends with .png it will be saved as a png.
If FILENAME is not given, the results will be printed to stdout.
Android 4.0 Ice Cream Sandwich was caught on video running on the Samsung Galaxy Nexus. More people are excited about the release of Android 4.0 than any other version of Android to date. We have noticed that it looks to run smoother and has a cleaner look than any previous version yet. While we assume this is the Galaxy Nexus there is nothing stating that it is.
With the disappointing news that Ice Cream Sandwich will not be launched in October at the Unpacked Event we are glad to see the progress to keep us all waiting patiently.
---