Welcome to Android Advice and Tutorials.
---
The Samsung Galaxy Note has an update to Android 4.1.1 Jelly Bean that has been leaked with build version N7000XXLS2. The leak seems to be dated October 9th so this means even with its leak it took a while to hit the main stream. This being said there is actually a build version N7000XXLS7 seen on a few Galaxy Notes which is Android version 4.1.2. The 4.1.2 has TouchWiz Nature UX skinned over it.
Since the leak we actually see available to all is Android 4.1.1 and Android 4.1.2 has been spotted (without general availability) we can assume the original Galaxy Note will update directly to 4.1.2 and skip 4.1.1 completely. If you own a Galaxy Note you can expect the Android 4.1.2 update by the end of this year.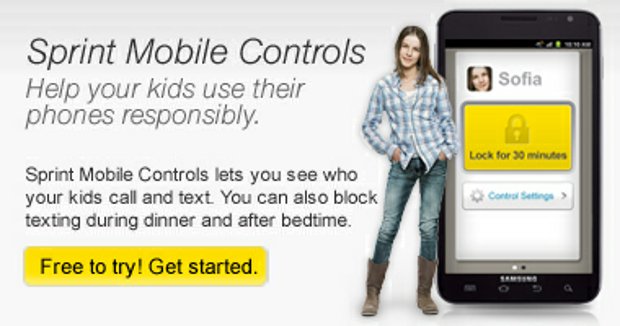 Sprint has put out an ad for their mobile controls that curiously shows what looks like a Samsung Galaxy Note in the ad. While we don't have definitive information on a release of the Phone tablet hybrid on the "Now Network" you have to take this ad as a sign that they will be getting the popular device at some point soon.
This could be a marketing mishap or even a graphic designer that just happened to find an unbranded image of a Galaxy Note and figured it fit but those on the Sprint network can at least have the hope that it may hit the carrier in the coming months.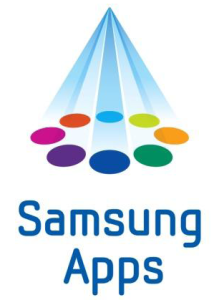 The Samsung Galaxy Note has proven to be a very popular device. With this popularity people wonder where to find apps compatible with the S-Pen that comes along with the Galaxy Note. Since this phone tablet hybrid device has sold over 2 million units Samsung's best interest was to create an app store specifically for the S-Pen device.
While the Google Play Android App store has many apps that are compatible with the S-Pen it can be frusterating to find ones designed for it. Samsung has made the process of finding these apps much easier within their "Samsung Apps Store". The Samsung store will allow you so navigate the apps for your Galaxy Note so that you can find what your looking for and then redirects you to the Google Play store to complete the download process.
The Samsung app store has a category specifically for the S-Pen and associated devices and then lets you grind down to productivity, kids apps, art, etc. The Samsung App store is already on your Galaxy Note so get to it and have a stress free app download process.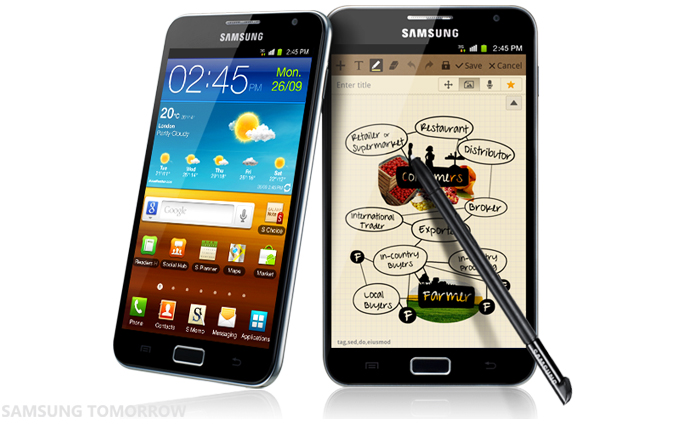 Samsung has promised a first quarter update to Android 4.0.3 to their innovative Samsung Galaxy Note and it seems it will be pushed. Now Samsung has announced that the ics update will be coming in Q2 of this year with a new "premium suite upgrade" We could have gathered the update wasen't going to be here this quarter as its wrapping up within a week.
According to Samsung, with the update in Q2 to Ice Cream Sandwich the devices will also be getting extra multimedia features and new apps designed for the S-Pen stylus. One of the new features that Samsung mentioned was the S Note feature that will further integrate written content with digital data.
S Note also includes the innovative Shape Match and Formula Match applications that help correct and digitize geometric shapes and even solve numeric formulas hand-drawn with S Pen, increasing your on-the-go efficiency and productivity. You can draw tables and grids which are instantly digitized, saving time and effort. Moreover, by using the S Note's integrated knowledge search engines, users can quickly search, and obtain information.
We don't currently have any information on the exact date of the updates release not even to the month. Although we are confident that it will be before the end of Q2 as Samsung usually follows through with their word and pushing once is enough.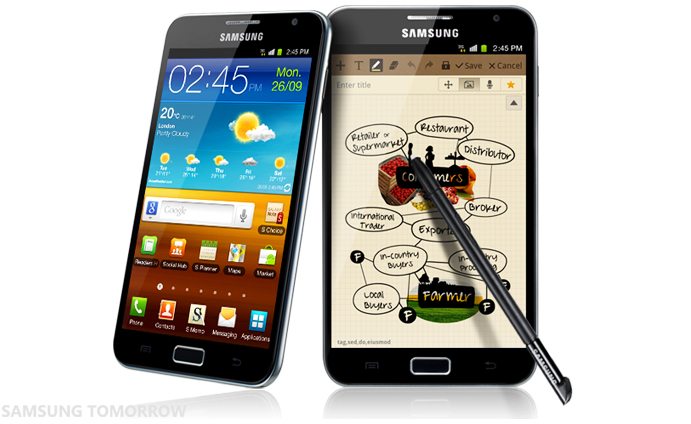 Root access for the Samsung Galaxy Note running Android 2.3.5 – 2.3.6 has been achieved before even available in the US. This root method along with others like it come to us thanks to XDA member dr.kretan. Those of you that have been waiting for an easy way to root the Galaxy Note this is it. Be sure to backup anything you don't want to lose before you root the device in case you need to reset your phone.
Root Instructions for the Samsung Galaxy Note:
Download and extract DooMLorD Rooting Toolkit (Download Link)
Enable USB debugging on your Galaxy Note "Settings -> Applications -> Development"
Connect your Galaxy Note to your PC via USB
Set your phone to "Charge Only Mode" (notification bar)
Open your DooMLorD Root Toolkit folder and run runme.bat
Follow the on screen instructions
Congrats your Samsung Galaxy Note is Rooted!
As always we aren't responsible for the use of these instructions but please feel free to let us know if you run into any issues or need help at all.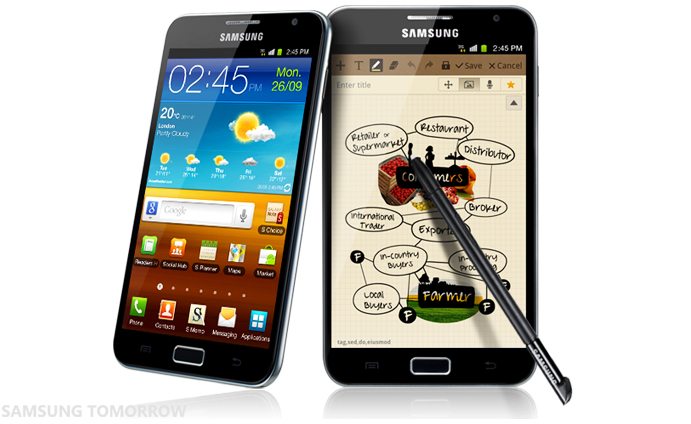 Samsung has been pretty good about getting the source files out to users/developers to easily make changes and/or recover their devices. Samsung announced the source files for the Samsung Galaxy Note for the following models:
Samsung Galaxy Note Source Files:
SGH-I717D_TLS – (Download Page)
SGH-I717M_BMC – (Download Page)
SGH-I717R_RWC – (Download Page)
Use these files how you wish and please let us know what your doing with them if anything other than recovery.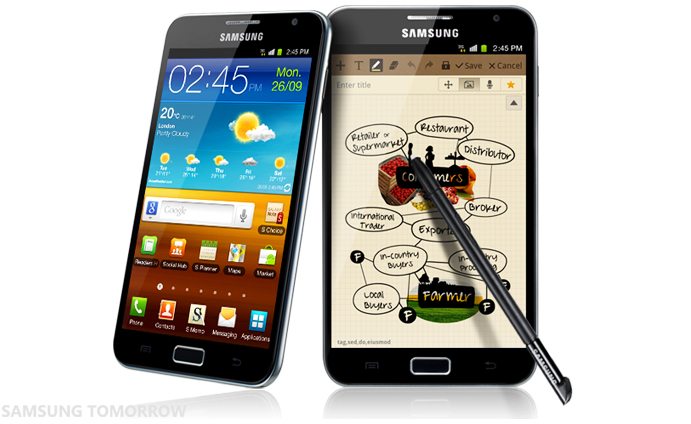 The Samsung Galaxy Note was announced back in September at IFA in Berlin and has since been released outside of the US. The Us will finally get this phone tablet hybrid device with AT&T on February 18th for $299 on a two year contract. We were able to play with Samsung's new device this year at CES 2012 in Las Vegas and its a pretty solid device.
Based on leaks from BGR and Phonearena the Samsung Galaxy Note will hit AT&T with a couple other devices like the Samsung Rugby Smart and the AT&T Fusion. Let us know what you think about this great new device coming to AT&T and if your thinking about getting one.
The 5.3 inch Samsung Galaxy Note phone tablet hybrid has already been pushed updates to the international version. The current update is said to be huge with many improvements, tweaks and changes for this great new device. The biggest of the update features is the new "one handed typing option".
Those of us in the US have been waiting patiently for the Galaxy Note to hit AT&T but in the mean time international users are getting fixes and updates to the device already. This update still leaves the device running Android 2.3 Gingerbread but does add a fifth row of keys to the keyboard and the one hand keyboard allows you to place it to the left or right and can be seen in the image above.
Some of the other notable features that have been added to the device include:
Changes to Brightness levels
Lockscreen tweaks
Keyboard options added
Torch app added for LED flashlight
We cant wait to see this device in the US and are happy to see all of the improvements before we get it so that the bugs are ironed out before our hands get dirty. We will let you know as more information comes available and as always please let us know anything you notice in the update.
Samsung has officially announced the devices that they will update to Android 4.0 Ice Cream Sandwich and the dates expected. Samsung Electronics stated the devices and plans for them in their official blog:
Samsung Electronics plan to provide the Android 4.0 Ice Cream Sandwich update for GALAXY devices. The platform update for GALAXY S II and GALAXY Note will start in the first quarter 2012, and other GALAXY devices will soon follow.

The ICS-upgradable devices are the GALAXY S II, GALAXY S II LTE, GALAXY Note, GALAXY R, GALAXY Tab 10.1, GALAXY Tab 8.9, GALAXY Tab 7.7, and GALAXY Tab 7.0 Plus.
According to a press release from Samsung Electronics the upgrades to Android 4.0 Ice Cream Sandwich scheduled to start between January and March 2012.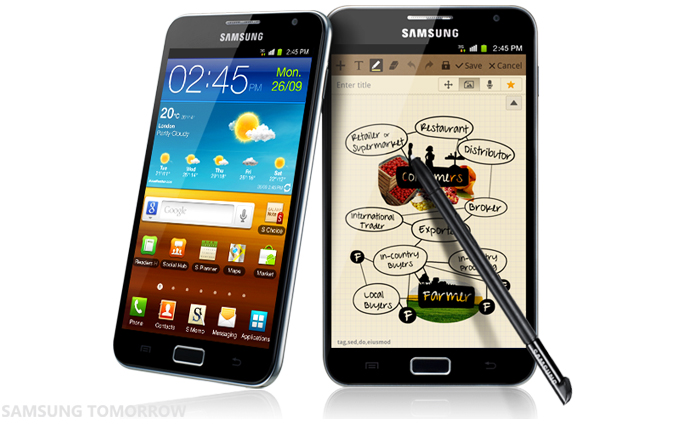 PocketNow has reported that the Samsung Galaxy Note will be available via AT&T with 4G/LTE. The Galaxy Note is the new hybrid device that merges the smartphone and tablet. It has not only a 1.5 GHz dual core processor and 5.3 inch screen but comes with built in "S Pen" for using as a tablet. It has also recently cleared the FCC in Columbia Maryland making it only a matter of time before release.
PocketNow says that the Samsung Galaxy Note will be available some time early 2012 and that the US version may come with a Qualcomm Snapdragon processor to support the 4G LTE stack. This would be replacing the Samsung Exynos processor that we have seen previously in its specifications.
Samsung has confirmed some of the devices that will receive the anticipated Android 4.0 Ice Cream Sandwich updates. These updates while it would be nice to see this year are projected for 2012. The confirmation of Android 4.0 comes from a blog post on HD blog according to mydroidworld.
Samsung Ice Cream Sandwich confirmed devices:
Samsung Galaxy S II
Samsung Galaxy Note
Samsung Galaxy Tab 10.1
Samsung Galaxy Tab 8.9
Samsung Galaxy Tab 7.7
Samsung Galaxy Tab 7.0 Plus
While no date was confirmed they are promising that they will be assessing the Android 4.0 features before giving a commitment. As long as the above devices are able to run Android 4.0 Ice Cream Sandwich they will receive the update in 2012.
---