Welcome to Android Advice and Tutorials.
---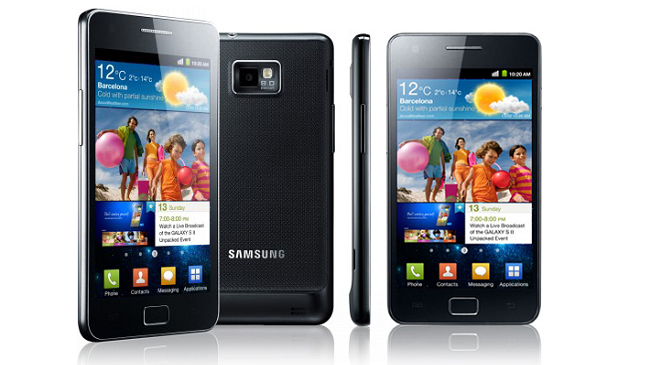 The Samsung Galaxy S II is currently getting the Android 4.0.4 Ice Cream Sandwich update even with the release of the Galaxy S III. Samsung has started pushing out the Android 4.0.4 update to the Galaxy S II which has been running until now Android 4.0.3.
With the push of Android 4.0.4 it brings the Samsung Galaxy S II to the most up to date version of Android without taking Jelly Bean into account. Those that are hoping for the Android 4.1 Jelly Bean update will likely see it on the S II although will still have a while to wait before its available.
This update to the Galaxy S II will not be pushed over the air although it can be easily obtained via Samsung Kies. Currently the update is available via Kies in a few countries for the International and Global versions of the S II. Once the update is verified to be successful on these devices the US variants of the Galaxy S II will start to see the update.
If you have an International version of the Samsung Galaxy S II open Kies and get updating. After you update let us all in the US know how its going and any bugs or new features you see.

CyanogenMod 9 is available for the Samsung Galaxy SII in the form of a CM9 nightly build. If you remember, there was recently a leaked version of the official Ice Cream Sandwich build available but if your interested in the CM9 version you can now get that as well.
CyanogenMod 9 is the fully custom Android 4.0.3 Ice Cream Sandwich ROM by CyanogenMod that is by far the most popular Android ROM development team there is. CM9 for the Samsung Galaxy S II is the complete Ice Cream Sandwich experience without TouchWiz getting in the way.
To download the CyanogenMod 9 Nightly build for the Samsung Galaxy S II follow the source link below. If you try it out let us know what you think and if you notice any issues.
Source: CyanogenMod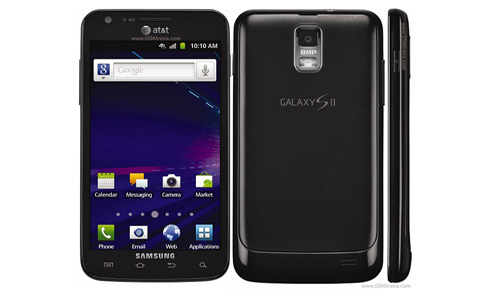 Introduction to the Samsung Galaxy S II Skyrocket HD
What strikes one immediately about the Samsung Galaxy S II Skyrocket HD is the design. It has a thin body, making it comfortable to hold. The 4.65 inches of screen (when measured diagonally) makes it large enough to satisfy any need, be it watching videos, surfing, reading e-books, editing documents or playing games. The Super AMOLED Plus capacitive touchscreen reproduces colors with jaw-dropping perfectness. The high-speed, dual-core processor is responsible for making this phone fast and smooth; things like downloading and multi-tasking are made so much easier. The operating system is also among the latest– Android Gingerbread. This gives the phone enhanced capabilities.
Another plus for Gingerbread is that it gives access to almost all the apps in Android Market. The cameras on Samsung Galaxy S II Skyrocket HD are fantastic. The one on the back is an 8MP camera aided by features like autofocus, face and smile detection, image stabilization, and a LED flash; it captures excellent pictures. It records HD-quality videos. Video chats can be conducted with the front-facing camera, which has a resolution of 2MP and it makes images appear crystal-clear. There is a facilitation for push email, instant messenger, and also the ability to subscribe to RSS feeds, so that one need not go to the trouble of visiting one's favorite websites every time.
Samsung Galaxy S II Skyrocket Specifications
The most prodigious specifications of Samsung Galaxy S II Skyrocket HD are listed below:
3.5G Network: 4G Network :- LTE 700 LTE 1700 / 2100
OS: Android OS, v2.3.5 (Gingerbread)
GPS: Yes, with A-GPS support
Browser: HTML5, Adobe Flash
Proximity sensor: Yes
Conclusion
The audio and video file types that the Samsung Galaxy S II Skyrocket HD can play include all the commonly used ones, plus DivX, Xvid and HD-quality files for videos. Among other connectivity options Bluetooth, USB, Wi-Fi (including the ability to act as a Wi-Fi hotspot for other devices) and GPS are the prime ones. The HTML browser supports Flash; hence any website can be browsed and surfing facilities can be availed to the fullest. The phone is Java-enabled- making almost all apps can work. Viewing as well as editing Microsoft Office files is enabled; hence one can make use of the large screen for all types of work purposes. The phone is fitted with a very efficient battery, lasting long on one charge. All in all, this is a very well-endowed and efficient smartphone.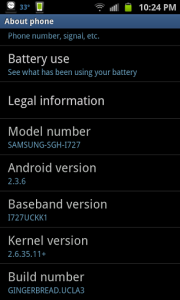 Users of the Galaxy S II Skyrocket have been reporting that an OTA (over the air) update have been hitting their phones. The update doesn't seem to change anything big and was never announced to our knowledge but does remove Carrier IQ from the device. We do however expect that the update does more than just remove Carrier IQ as it weighs in at 21MB.
There are a few other things that the update does but still doesn't account for the 21MB. Some of the changes you will notice are of course the Carrier IQ missing but also a new lock screen and phone icon. As others get the update and report on any other changes we will let you know.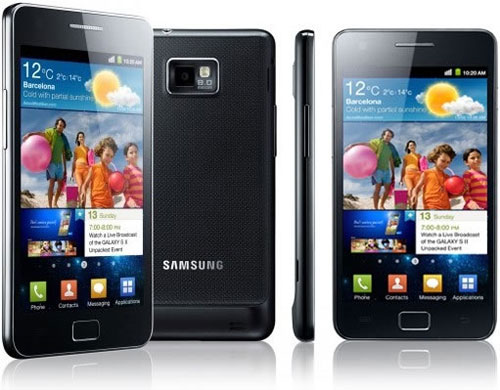 If you have managed to mess up your Samsung Galaxy S2 already then have no fear there is a way to get it back on the stock firmware. There are many different methods available to get your high end Galaxy S2 back to working condition but this one is courtesy of Intratech over at XDA and provides kernels for for different regions.
Make sure that you don't have Samsung Keis running in the background before completing the instructions below.
Instructions to Flash the Samsung Galaxy S2 back to Stock:
Download ODIN and extract it to your PC (Download Link)
Download the correct Firmware from XDA (Source Link)
Extract the Firmware on your PC somewhere you can find it
Download and Install Samsung Keis
Make sure you have the correct drivers for your device installed
Reboot your computer after installing Keis
Put the Galaxy SII in USB debugging mode (Settings -> Applications -> Development)
Reboot your Galaxy S2 into Download Mode (hold vol down + home + power)
Press volume up at the warning to continue
Start Odin
Connect the Galaxy s2 to your PC via USB
ODIN will show the device connected after a few seconds
Make sure only "Auto Reboot" and F. Reset Time" are checked
Press the "PDA" button and select the firmware you downloaded earlier
Press "Start" and wait for your Galaxy S2 to reboot
Congrats you are now on the stock Samsung Galaxy S2 ROM
If you have any issues please feel free to post them here. Also if you notice anything that should be mentioned here outside of the current instructions bring it to our attention and we will be sure to add it.
Samsung has officially announced the devices that they will update to Android 4.0 Ice Cream Sandwich and the dates expected. Samsung Electronics stated the devices and plans for them in their official blog:
Samsung Electronics plan to provide the Android 4.0 Ice Cream Sandwich update for GALAXY devices. The platform update for GALAXY S II and GALAXY Note will start in the first quarter 2012, and other GALAXY devices will soon follow.

The ICS-upgradable devices are the GALAXY S II, GALAXY S II LTE, GALAXY Note, GALAXY R, GALAXY Tab 10.1, GALAXY Tab 8.9, GALAXY Tab 7.7, and GALAXY Tab 7.0 Plus.
According to a press release from Samsung Electronics the upgrades to Android 4.0 Ice Cream Sandwich scheduled to start between January and March 2012.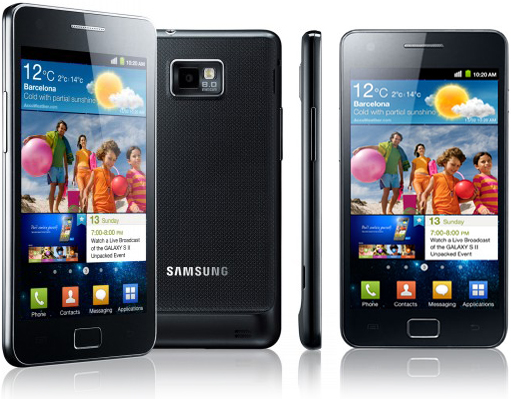 Today Samsung has officially announced and confirmed that the Samsung Galaxy S II will be getting the Android 4.0 Ice Cream Sandwich update. Samsung Tweeted that the device will get the update although there weren't many details on it.
This update looks to start rolling out in the UK first but they didn't specify any time frame. Since other devices that have been confirmed to get the Android 4 update will be doing so early 2012 we can only assume this will be no different.
Just to be clear the tweet was from Samsung UK so it may or may not roll out for others at the same time. They did however state that as they get closer to release of the update they would let us all know a little more. Lets hope for Q1 2012.
Samsung has confirmed some of the devices that will receive the anticipated Android 4.0 Ice Cream Sandwich updates. These updates while it would be nice to see this year are projected for 2012. The confirmation of Android 4.0 comes from a blog post on HD blog according to mydroidworld.
Samsung Ice Cream Sandwich confirmed devices:
Samsung Galaxy S II
Samsung Galaxy Note
Samsung Galaxy Tab 10.1
Samsung Galaxy Tab 8.9
Samsung Galaxy Tab 7.7
Samsung Galaxy Tab 7.0 Plus
While no date was confirmed they are promising that they will be assessing the Android 4.0 features before giving a commitment. As long as the above devices are able to run Android 4.0 Ice Cream Sandwich they will receive the update in 2012.
The Samsung Galaxy S II on T-Mobile has already received root access since Samsung has released the kernel source. All you have to do is flash the new recovery with Odin and then you can flash unsigned packages. Thanks to no locked bootloaders Samsung and T-Mobile have given us the freedom we expect with Android devices.
Root Instructions for the Samsung Galaxy S II:
Download and install Odin (Download Link)
Connect your Galaxy S II to your Computer via USB
Make Sure your device is recognized by Odin
Reboot your device holding "Vol up + Vol down"
Download and place recovery-cwm-hercules.tar on your SDcard (Download Link)
Select the PDA button and browse to the recovery-cwm-hercules.tar
Click Start
Your Galaxy S II should flash and reboot
After reboot extract su.zip and copy Superuser.apk to SDcard (Download Link)
Reboot into recovery by holding "Vol Up + Vol Down + Power"
PERFORM NANDROID BACKUP
Select install from SDcard and choose Superuser.apk
Reboot your device
Congrats your Samsung Galaxy S II is Rooted!
Please keep in mind that not all details are listed above but with some knowledge of Odin you should be fine.  If for any reason you are still having issues following the steps above check out the source at Rootzwiki for the original details.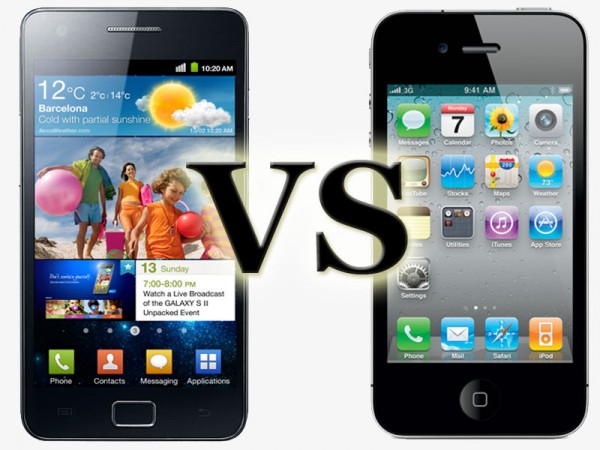 So which phone is stronger the iPhone 4s or the Samsung Galaxy S II? The video below shows that while the iPhone 4s is a nice looking device with its all glass design, it can't hold up against even a simple drop.
The Samsung Galaxy S II is easily a much stronger device with its plastic back as opposed to the glass back. Also the strong Gorilla glass on the Samsung Galaxy S II barely shows a scratch while the iPhone 4s looks like a spider built a web over it.
Its easy to tell that the Samsung Galaxy S II is a better built device than the iPhone 4s. Everyone reading this has dropped a phone at least one time at waist high. If you have an iPhone 4s we hope you have a backup device.
There is a video floating around that we have seen at GSMArena showing Ice Cream Sandwich running on the Samsung Galaxy S II. With Android 4.0 and Google announcing their newest smartphone we would have assumed that the Galaxy S II was running a ported version of Ice Cream Sandwich although nothing seems to show that the ROM came from the new Nexus to be released.
The Android 4.0 build running on the Galaxy S II looks to be the real Ice Cream Sandwich although will not be able to confirm this until we see what Google tells us in Hong Kong tomorrow.
We are sure that the Samsung Galaxy S II will get Ice Cream Sandwich officially but aren't sure when. We can however see here that an unofficial release will be available to S II users soon. The ROM for the Galaxy S II has not been released yet but is promised to be released soon. We will let you know when it comes available for public download.
---