Welcome to Android Advice and Tutorials.
---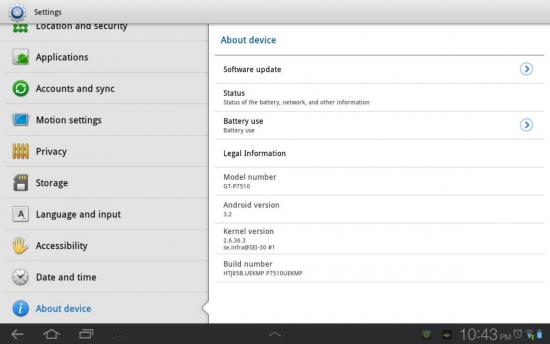 Samsung is pushing an OTA (over the air) update to its Galaxy Tab 10.1 that will bring it to build HTJ85B.UEKMP P7510UEKMP. This update is for the US Wifi version and is a maintenance release like we saw back in January. We have noticed that the update seems to be pushing out in very small phases but be patient as it will make its way to you.
Samsung Galaxy Tab 10.1 Update Features:
Android 2.3 build number HTJ85B.UEKMP P7510UEKMP
Email attachment issues fixed
Screen rotations issues fixed
Wifi connection bug fixed
Various system force close fixes
Improved battery life
3.4.4 Version of Android Market
Be sure after you get the update to delete old shortcuts you have to the Android Market and replace them with the new market's shortcut. Let us know when you get the update and where you live as well as anything you notice not listed with the update.
The Samsung Galaxy Tab 10.1 running on Verizon's 4G LTE network has had connectivity issues up to this point. Verizon is set to put an OTA (over the air) update to the 4G LTE devices shortly to fix the network connectivity issue.
While this is a minor update and not a full fledged upgrade it will prove to be a much needed improvement to those of us with Galaxy Tabs paying for a sub par connection on a network that boasts about speed. After the update your Galaxy Tab should run much smoother all around.
Android Community stated the following:
I know many users (myself included) were hoping this would be an update to Android 3.2 Honeycomb or even the recently released Touch Wiz UX that the Wi-Fi version received but it is neither. This update is a minor software update and nothing more. While I wish we were receiving an update to the stable 3.2 Honeycomb, I'm still happy that they are providing some fixes and hopefully users have a more stable connection following the update.
The Samsung Galaxy Tab has proven to be one of the fastest, smoothest and cleanest design of any Android Tablet on the market today. With this update we should see the Galaxy Tab being the best on the market to date.
Samsung just released an update for the Wi-Fi Galaxy Tab 10.1 to fix the graphical corruption bug that showed up after the TouchWiz option came around. The update is only 3.22 MB so no worries about time, you can get this update while getting a drink and BAM! its done.
If your Galaxy Tab is rooted you should do a android backup so that you don't risk bricking the tablet.
You can check for the update in the usual way under "Settings -> About Tablet -> Software Update". The OTA update has already started and you may notice it soon even if you don't manually run the update check.
---