Welcome to Android Advice and Tutorials.
---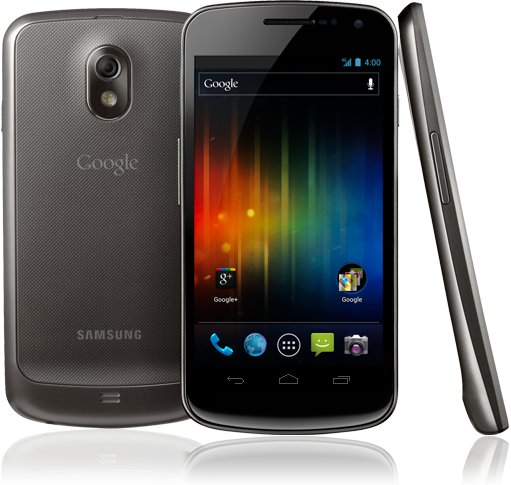 Verizon has announced the Official Android 4.0.4 Ice Cream Sandwich update for the Samsung Galaxy Nexus bringing it to software version IMM76K. The update is rolling out in phases really slow so if you haven't received the OTA (over the air) update yet don't worry you will get it soon. You can however manually install it as well if your rooted and not in the business of being patient which covers me as well.
There have been custom ROM's for the device for a while now to get the Android OS to the version being pushed out in this update although this one is official. If you want to go from the leaked version of the earlier IMM30B ROM then you will need to flash your Galaxy Nexus back to the stock ICL53F ROM before running the OTA update. Otherwise you can wait for an update to the IMM30b ROM to show up somewhere which should not be too far off. If you are rooted running the stock ROM then all you have to do is update the device and be done.
For full instructions to update your Samsung Galaxy Nexus with the Official ROM while not running the stock setup visit XDA and read carefully. You will need to use the file for your device specifically. Any questions of concerns can be added here in the comments.
If you have been lucky enough to get your hands on a Galaxy Nexus and all of its new features you also know that there is a volume bug. Galaxy Nexus users have been waiting patiently for a fix and the time has now come. Samsung is pushing out an OTA (over the air) update now that is being pushed in phases.
Even Galaxy Nexus devices that were supposed to arrive with the volume issue fixed were delivered without the update. These users did however get the update almost as soon as they powered on the device.
The volume issue seems to only effect Galaxy Nexus users that are running at 900MHz on 2G networks which is almost all UK users. We haven't had anyone report the issue on 3G networks yet unless they had a very weak connection.
If you haven't received the update via OTA you can either be patient or manually check for updates. We have had 2 people already claim that while they did not get the OTA update when they manually checked it came through. Good luck and let us know how the update works on your Galaxy Nexus and if it fixes what it claims to.
Google and Samsung have finally made the announcement officially in Hong Kong that the previously Nexus Prime is called the Samsung Galaxy Nexus. The specifications have also been released and are a force to be reckoned with.
Samsung Galaxy Nexus Features:
Android 4.0 Ice Cream Sandwich
4.65 inch HD Super AMOLED display
1280×720 Screen Resolution
1.2 GHz dual-core processor
1 GB RAM
16 GB or 32 GB internal storage
5 MP Rear Camera
1.3 MP Front Camera
1080p Video Recording and Playback
Bluetooth 3.0
NFC embedded module
Gyro, Proximity sensor, and Barometer
1750 mAh battery
Since the Galaxy Nexus is coming with Android 4.0 Ice Cream Sandwich there will be a slew of features that we wont list here although they are sweet. A few features we will mention are "Face Unlock" which unlocks your phone based on facial recognition. There is "Android Beam" which is the Near Field Technology that lets you share by being near someone. The entire phone OS and all is a complete redesign from what you have seen previously.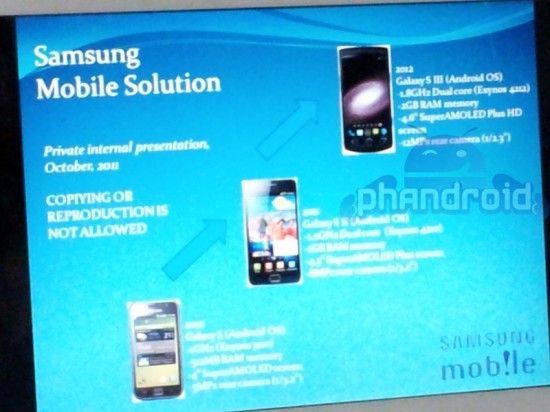 It looks like Samsung has already "accidentally leaked" some specs for the newest device in the Galaxy S series of Android Devices. The Galaxy S III specs have been released with an expected 2012 release date already posted to it. We can almost guarantee that the specs you see here will change as the new device progresses through the next year.
Current leaked Samsung Galaxy S III features:
Android 4.0 Ice Cream Sandwich
1.8 GHz dual-core Exynos 4212 processor
2 GB of RAM
4.6 inch Super AMOLED Plus HD Display
12 MP Rear Facing Camera
At this point Samsung shows that the camera will use the W750 BSI CMOS sensor with LTE and NFC support. The device will be lighter and thinner that the Galaxy S II and probably support the same TouchWiz UI seen in earlier versions.
Of course this is a very early leak and once released may not even be close although it is good to see that Samsung is moving forward so fast. As we find out more and the device is developed further we will keep you up to date on progress.
This has been verified to be fake.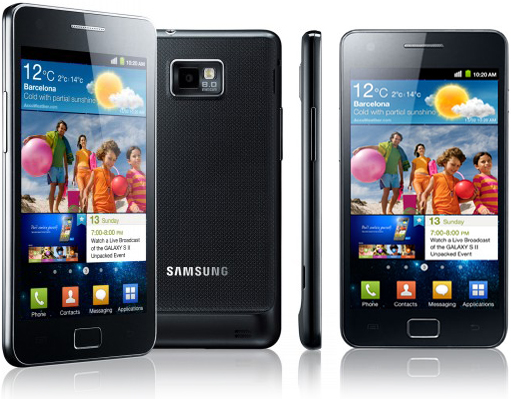 The Samsung Galaxy S II is one of if not he most powerful Android Phone to date. While the root method has been available for a while now I will break it into easy instructions for the average user. The Developers over at XDA were the ones that actually obtained root and the credit for the root method.
Instructions to Root the Samsung Galaxy S II on Gingerbread:
Put your Galaxy S II in USB Debugging Mode (Settings -> Applications -> Development)
Connect your Galaxy S II to the computer via USB
Reboot your Galaxy S II in Flash Mode (Volume down + Home +Power while booting up)
Start Odin3 Downloader on your PC (Download Link)
Wait for Odin to see your device (it will say device connected)
Select the options "Auto Reboot" and F. Reset Time" (only these 2)
Click the PDA button and select the XWKDD_insecure.tar (Download Link)
Click "Start" (Odin will flash the device then reboot your S II)
After rebooted Start SuperOneClick on your PC (Download Link)
Select the option to Root and wait for the device to reboot
Congrats your Samsung Galaxy S II is now Rooted!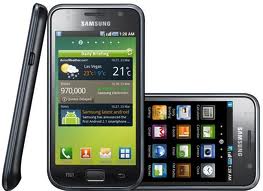 Everyone in the US including myself has been waiting for the release of the Galaxy S 2 forever it seems. Now that Hurricane Irene has decided to make a presence it seems we will have to wait an extra day.
The Samsung Galaxy S II press event was supposed to take place Monday although it seems the event will be Tuesday. This isn't a huge deal but is kind of like waking up on Thursday thinking its Friday … What a bummer. Those that are traveling to the event will just have to rearrange schedules so that you can stay an extra day.
At any event its great that the time has finally coming to see this new Samsung powerhouse for ourselves.
With all of the students going back to school the question is up in the air, can you use a tablet in place of a laptop and if so are the functions and software there to support using one.
Personally we say yes a tablet has the same features as most laptops with many advantages. Of course the first and most important aspect of a tablet is ease of transporting followed closely with the incredible battery life that tablets possess.
Some of the Advantages of a Tablet over a Laptop:
Weight and Size
Battery Life
Fast wake up
Speed because of lightweight OS
Ability to have 4G built in
"It depends on how much content creation they're going to be doing versus consumption," said Nick Stam, director of technical marketing at NVIDIA. "That holds true for not just the back to school kids but for everyone."
Of course we are thinking high end tablets when we are talking about replacing your laptop. This would include tablets like the Motorola Xoom, Samsung Galaxy Tab 10.1, ASUS Transformer, etc.
While many users such as engineering majors and businesses that require more intense processor speeds this would not be a viable option. Those that are using it for school and basic business functions will easily be able to do everything if not more on a tablet. We have no doubt that in the near future tablets will fully replace laptops and desktops alike.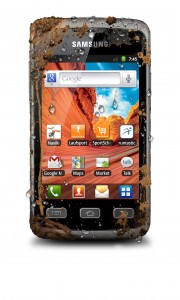 The Samsung Galaxy Xcover is the first Samsung phone in this category with its water-resistant case and running Android 2.3 Gingerbread. The Galaxy Xcover also sports a protective housing with IP67 certification and a scratch resistant touch screen making this an ideal phone for those in construction and other rough conditions.
According to the press release below the Xcover will be available in October.  This should be a a great addition for those that are in the construction industry as there are currently very few truly tough phones available.  We are interested to see how well this device does.  If the Xcover does well we can only assume that those in the demographic this phone supports will get many more like this.
Samsung's Press Release on the Galaxy Xcover:
Water-resistant case meets social networking and Android ™ 2.3: The Samsung Galaxy Xcover

Tuesday, 9 August 2011The combination of protective housing with IP67 certification, scratch-resistant touch screen display, Android and Samsung Social Hub ™ 2.3 makes the Samsung Galaxy Xcover the ideal device for users with an active lifestyle

Schwalbach / Ts., 9 August 2011 – With the Galaxy Xcover Samsung expands its range of rugged mobile phones for outdoor use. The device combines outdoor skills with the ability of a powerful smartphone.

Whether water, dust or hard surfaces: the Samsung Galaxy Xcover is well prepared against harmful environmental influences. This IP67 certified enclosure protects the unit against dust and dirt there. In addition, the Samsung Galaxy Xcover to a depth of one meter for a period is waterproof up to half an hour.The touch-screen display with a diagonal measurement of 9.27 inches is made of scratch-resistant tempered glass. The 3.2-megapixel camera of the Samsung Galaxy Xcover is supported by an LED photo light, which can be used when needed as a flashlight or signal light.

Smart through social networking apps and
running the Samsung Galaxy Xcover with the Android ™ 2.3 platform and is using apps ideally suit her personal needs. Provide wireless connectivity for fast n-standard, and an HSDPA connection with a transfer rate of up to 7.2 Mbit / s.

The Samsung Galaxy Xcover is available from October in the trade.



---