Welcome to Android Advice and Tutorials.
---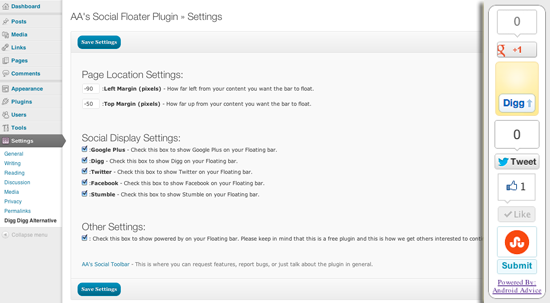 If you are looking for a Digg Digg alternative that is faster loading with cleaner code for SEO friendliness then AA's Digg Digg Alternative WordPress plugin is for you. Here at Android Advice, we needed the social sharing options that Digg Digg offered but didn't want the slow loads and puffed up code that it adds to every page of the site. Our answer to this was to create our own floating social sharing toolbar.
After a few requests by visitors to our site for our social sharing toolbar plugin we decided to turn it into a WordPress plugin and release it. The plugin has a simple structure and one short page of settings. You can move the bar around if you want to tweak its location and choose which social networks to show up.
Benefits to AA's Digg Digg Alternative over Digg Digg:
Much faster load time
Cleaner SEO Friendly code
Substantially less code
Much easier to customize
Less settings to run through to get it working
We ran speed tests using the Digg Digg social plugin and our own and every website it was tested on came up with better results using our Digg Digg alternative than the Digg Digg bar itself.
How to Install the AA Digg Digg Alternative Floating Social WordPress Plugin:
Upload the plugin to the `/wp-content/plugins/` directory
Activate the plugin through the 'Plugins' menu in WordPress
Choose your options via "Settings -> Digg Digg Alternative"
Frequently Asked Questions about the Digg Digg Alternative Social WordPress Plugin:
My Toolbar is not Floating where I want it to?
If you go to the settings for the toolbar "settings -> dig digg alternative" you will see location settings. You need to change those numbers to move the toolbar around. (i.e. changing left margin from -90 to -100 will move it further left by 10 pixels, changing top margin from -50 to -40 will move it to the right 10 pixels)
Why are there only 5 social platforms?
We created the toolbar for our own website originally and decided to release it, we only needed those 5. We will be adding other networks now that its released based on user feedback and requests.
Demo of the Digg Digg Alternative Social WordPress Plugin:
Its the toolbar you see floating to the left of this article.
Please leave us a comment below with any bug reports, feature requests, and or general comments about the plugin itself. Please take note that this is the initial release and we will be adding other social networks shortly.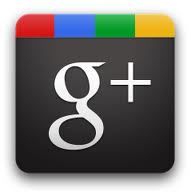 A few days ago (yeah I know we are a bit behind on posting this) several Google+ accounts were shutdown since they weren't being used as personal accounts. Most of these shutdowns started around 3:00pm EST on July 22nd. Google is not only after business pages but those users with fake names on their accounts as well.
Google has promised business pages in a matter of time although no date is given and only a few business pages have been allowed so far. These testing business pages are held by Ford Tech, MTV and Mashable that we know of.
There have been many accounts suspended since and many more to come. To remove risk of losing your account, use your real name for the name and use the business or nickname in the nickname field provided.
Google+ Circles vs Facebook Friends List:
Facebook doesn't encourage grouping friends although you can still create groups using their list feature. This is not as easy as googles drag and drop interface. Google Plus has introduced a whole new concept of grouping made easy using their html5 drag and drop interface. Google Plus easily wins in this fight.
Google+ Hangout vs Facebook Video Calling:
Recently Facebook has partnered with Skype to introduce their new video chat feature. This new feature allows leaving video messages however doesn't support Linux or group chatting. Google Plus allows group chatting with up to 10 people with focus automatically going to the person speaking. Google Plus allows video messaging and supports Windows, Mac & Linux. Again Google Plus wins.
Google+ Huddle vs Facebook Chat for Mobile Devices:
Google Plus Huddle is a text chat app for movie devices with no limit on group size (that we are aware of). There is also the availability of Gtalk on desktop browsers. Facebook has no chat feature included in their mobile app although they do have XMPP or Jabber protocol to allow creating custom chat applications for mobile devices. Although Facebook has the ability to be head to head with Google Plus in this category, standard function goes to Google+.
Google+ Location vs Facebook Places:
Facebook does not allow you to share location information directly from your wall and is limited to some countries while Google Plus has one click sharing with your friends. Again Google Plus seems to win.
While Google Plus seems to win in all of the major categories there are a few things that Google Plus still has yet to implement that Facebook has.
Facebook Business Pages
Facebook Games
Facebook Questions
We know its only a matter of time before all of these features are added to Google+ seeing as the business page concept is already in testing and available to a select few businesses already.
If your not in the US or can't download it yet for your phone on the Google Market here it is. XDA Developer sacredsoul has given everyone the opportunity to have the app on their android device.
You can either download the apk (download link) or scan the qr code.
---