Welcome to Android Advice and Tutorials.
---
What are the top 5 Android phones currently available on the market? Now that we are in 2013 it makes sense that they are all devices that were released last year at some time. When you are looking for a new phone odds are you are going Android based on the overwhelming statistics showing Android is the OS of choice. This being said when you go to look through all of the Android devices available, how do you decide which one is the best. We will tell you, thats how

… If we are wrong you can slam us in the comments section at the bottom of this article.
1.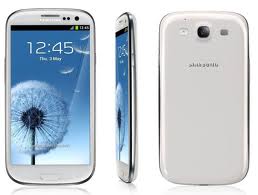 Samsung Galaxy S3 (by a landslide)
Every Android enthusiast has followed Samsung and have noticed big things coming from the popular company. The Galaxy S3 just being made by Samsung gives it an advantage. This device is Samsung's latest flagship Android phone and has a crystal clear 4.8 inch Super AMOLED HD display and a quad-core processor. What this means for you is no laggy graphics and speed to support any app you want to run on it. You will also get a removable battery and micro SD card support which most newer devices are starting to phase out.
Not only are the hardware specifications impressive but the software is loaded with extra features that are actually useful. Samsung has its own interface called TouchWiz making the device much more user friendly than the average Android device. Its also important to note that this is the most widely owned and supported Android device on the market to date.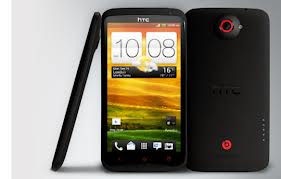 2. HTC One X+
HTC has created a thin powerful family of devices with their One series. This phone runs on a quad-core processor putting it in line with the best specs available on a mobile device. You can get the One X+ with 64GB of storage. One thing to keep in mind is that while this device has an awesome screen that is the largest in its class and very clear that the battery life suffers and if you don't like charging the phone at all during the day it may not be for you. You will get this device with Android 4.1 out of the box and HTC's Sense UI which is second only to Samsung's TouchWiz.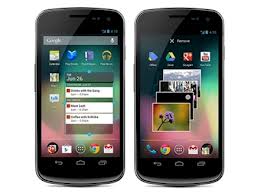 3. Google Nexus 4
Many Android developers and enthusiasts would argue that this device should be number one on the list although for the average user based on the purpose of this article it comes in third. Its a very affordable device that can be purchased out right for half of most other high end Android devices. This is also a Google device meaning that its always up to date and is the cleanest Android experience available.
The design of the Nexus 4 is small form and comes with a display that is on par with the top 2 devices in this article. If you don't want the custom overlays that you get with HTC and Samsung this is the perfect device. It is fast enough to handle any app on the market today as well as coming with the most up to date Android OS 4.2 Jelly Bean. We do have to note that its storage is lower than the others and it lacks the 4G connectivity that we have all come to need in our high paced lives.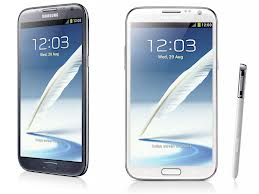 4. Samsung Galaxy Note 2
Of course another Samsung phone would be on this list as they are as stated before king of the mobile industry right now. The Galaxy Note 2 is more of a phone Tablet hybrid as it has a large 5.5 inch display and a stylus. If you want a phone and a tablet but only want to have one device this one is easily the choice for you.
The Galaxy Note 2 is a powerful device with Samsung's TouchWiz interface making it a very user friendly device for anyone. You will also get the most recent version of Android when you first turn the device on. The battery life is average for a device of its size and can easily last all day short of serious gaming.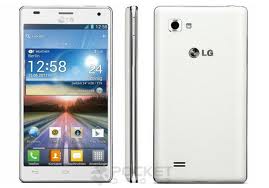 5. LG Optimus 4X HD
When we think powerful smartphones LG usually does not hit our radar although they have proven to be a high end manufacturer with the Optimus 4X HD. This device comes with a quad-core processor, 4.7 inch display, and a screen resolution of 1280 x 720 making it very appealing to the eye.
The 4X HD is a great device for those that want a completely custom Android experience out of the box due to LG adding their own overlay that covers the stock Android look and feel. This device is however not for those that want the power and design of the previous devices mentioned.

The Google Nexus 7 tablet has started receiving the Android 4.2 Update over the air bringing it to the most recent Android OS to date. Not only is this a big deal but it comes very soon after the sales started for the Nexus 10 that comes with Android 4.2 out of the box. Owning a Google branded device has proven to be the only way to guarantee quick and up to date OS updates.
What to expect added to your Nexus 7 after the update:
First is something that most people may not use but is a pretty cool feature just the same called Daydream, which is simply a kind of screensaver for your device. Next a more talked about feature is Photo Sphere for taking panoramic photos easily. Currently the Photo Sphere images can only be viewed in Google Plus or within Google Maps but the Android Community will likely create their own Photo Sphere viewers shortly.
If you haven't already been notified by your device about the OTA (over the air) update you can always manually check for the update manually. To check for the Android 4.2 update on your Nexus 7 simply go to "Settings -> About Tablet -> System Updates". If you still don't see the update don't worry you will just be patient, those that have already updated please let us know what you think.

Google has decided it was time to release the source code for a few of their Nexus devices on Sprint and AT&T. Samsung just recently released source for their Galaxy S III Mini, Galaxy Note II and Galaxy Tab devices. Now its Google's turn with source codes released for a few of theirs.
The devices that Google has released factory images for are the Galaxy Nexus on Sprint with Android 4.1.1 available, as well as Sprint's Galaxy Nexus S 4G images for Android 4.1.1. If that wasn't enough the factory image for Android 4.1.2 was also released for the AT&T Nexus S. With the closed source CDMA devices like Sprint uses these are nice to see since in the past it was much more difficult to obtain.
If you want to hack or mod your device follow the link below to get the image for your phone. Also these are a great way to get your Nexus devices flashed back to stock if you ever break them.
Source Links Directly from Google Developers:
https://developers.google.com/android/nexus/images#mysidspr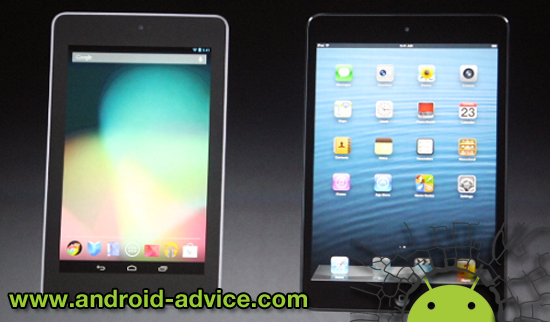 We compare the Google Nexus 7 and the iPad Mini based on device specifications and features. With Apple trying to say their iPad Mini is a better option by comparing nothing more than a webpage and its size seems a bit close minded so we have decided to go through everything and see how they rally compare. Not actually having an iPad Mini in hand does pose some difficulty when comparing some features so we will leave those out for now.
Apple iPad Mini
Google Nexus 7
Operating System:
iOS 6
Android 4.1
Display:
7.9 inch IPS
1024×768 (163ppi)
7 inch IPS
1280×800 (216ppi)
Size:
7.9 x 5.3 x 0.28 inches
7.8 x 4.7 x 0.41 inches
Weight:
0.68 lbs/308 grams
0.75 lbs/340 grams
Processor:
Dual-core A5
Quad-core Nvidia Tegra 3
Storage:
16GB, 32GB, or 64GB
8GB or 16GB
Camera:
5MP rear, 1.2MP front 1.2MP front
1.2MP front
Battery Life:
10 hours (rated)
10.1 hours (tested)
NFC:
No
Yes
As you can see from the comparison above the Nexus 7 still seems to hold up against the iPad Mini and even beat it in some areas. While the iPad Mini has an A5 that is comparable to the quad-core Tegra 3, it falls short of the display and smaller form of the Nexus 7. Ultimately it will come down to the question of wanting the iPad Mini because you are an Appl fan or the Nexus 7 because you are not.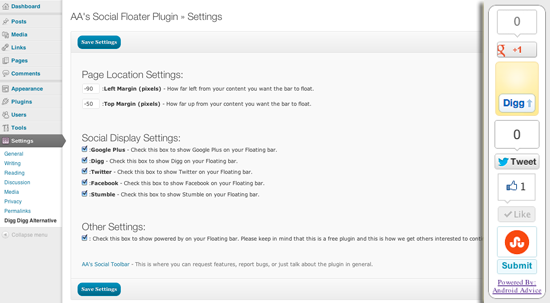 If you are looking for a Digg Digg alternative that is faster loading with cleaner code for SEO friendliness then AA's Digg Digg Alternative WordPress plugin is for you. Here at Android Advice, we needed the social sharing options that Digg Digg offered but didn't want the slow loads and puffed up code that it adds to every page of the site. Our answer to this was to create our own floating social sharing toolbar.
After a few requests by visitors to our site for our social sharing toolbar plugin we decided to turn it into a WordPress plugin and release it. The plugin has a simple structure and one short page of settings. You can move the bar around if you want to tweak its location and choose which social networks to show up.
Benefits to AA's Digg Digg Alternative over Digg Digg:
Much faster load time
Cleaner SEO Friendly code
Substantially less code
Much easier to customize
Less settings to run through to get it working
We ran speed tests using the Digg Digg social plugin and our own and every website it was tested on came up with better results using our Digg Digg alternative than the Digg Digg bar itself.
How to Install the AA Digg Digg Alternative Floating Social WordPress Plugin:
Upload the plugin to the `/wp-content/plugins/` directory
Activate the plugin through the 'Plugins' menu in WordPress
Choose your options via "Settings -> Digg Digg Alternative"
Frequently Asked Questions about the Digg Digg Alternative Social WordPress Plugin:
My Toolbar is not Floating where I want it to?
If you go to the settings for the toolbar "settings -> dig digg alternative" you will see location settings. You need to change those numbers to move the toolbar around. (i.e. changing left margin from -90 to -100 will move it further left by 10 pixels, changing top margin from -50 to -40 will move it to the right 10 pixels)
Why are there only 5 social platforms?
We created the toolbar for our own website originally and decided to release it, we only needed those 5. We will be adding other networks now that its released based on user feedback and requests.
Demo of the Digg Digg Alternative Social WordPress Plugin:
Its the toolbar you see floating to the left of this article.
Please leave us a comment below with any bug reports, feature requests, and or general comments about the plugin itself. Please take note that this is the initial release and we will be adding other social networks shortly.

Now that Google has full control over their recently acquired Motorola Mobility they are laying off 20% or around 4000 of their staff to refocus and head in a winning direction. Almost one third of those laid off will be US based employees. This is not a new idea within Motorola as they not too long ago laid off 40% of their higher paid presidents and other Executives. This was a decision to effect overall cost of operation to allow Google to get Motorola back on top.
Google has now decided that Motorola should focus less on releasing so many devices and more on high end quality devices. This means that the low budget Motorola devices are a thing of the past and we will likely see only a few here and there ever be released. Now with the release of the Motorola Photon 4G LTE, which is the first Motorola phone with an unlocked bootloader, Motorola will likely see more support in the Android community.
Not only have the reduction in low end devices been mentioned but also the fact that they will be pulling out of their less profitable markets and cleaning up markets like Asia and India. Google has stated while they are removing many of the staff from Motorola's US staff they will be increasing staffing in the R&D locations in Chicago. We haven't heard much from Motorola since Google's acquisition but can see now that Google does have big plans.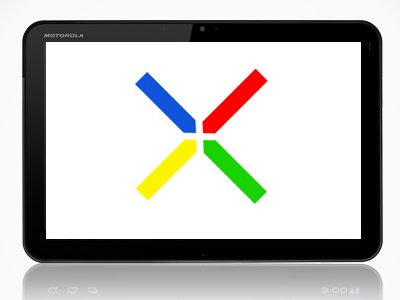 There have been more than one source mention the announcement of an update to Android 4.0 Ice Cream Sandwich to Android version 4.1 at the end of this month. Google I/O will be June 27th and this is when we are expected to hear more on the update.
What we do know about Google I/O is that this is when the Nexus Tablet is to be unveiled and possibly released as soon as early July. The Google Nexus tablet will be a 7 inch powerhouse said to hold NVIDIA's KAI quad-core processor and price out at $200. With Kindle Fire sales down this may all but halt Amazon's sales of the once popular 7 inch tablet.
As we get more information on the release of Android 4.1 and the Nexus tablet we will be sure to let you know.

Google has made known that the next phase of the Chrome OS is to gradually merge it with the Android OS instead of Chrome OS based tablets. Both Google's Chrome OS and Android are Google products and as such why shouldn't they combine them into one super mobile/desktop OS.
While the Chrome OS will still be around as a desktop system it will be seamlessly integrated with Android. The result will be the same idea behind Apple's Mac OSX and their mobile OS and its integration between the two. The idea behind the new system is to allow them to coexist with different sets of expectations but tie together in a way that they are closely related.
The new steps for Chrome should allow Android apps to run within the OS along with the web apps already supported. Not only would this open the doors for Google Apps to run on the desktop Google OS but also sync with your mobile devices without syncing being app specific. We will ultimately have to wait and see where the Chrome OS is taken over the next several months and hope for the same ease of use as always.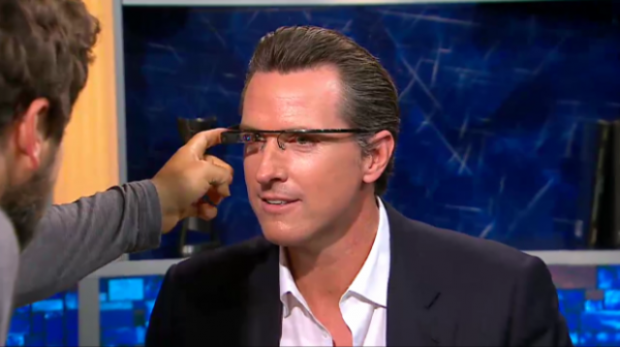 By now you have already heard that Google has been working on a pair of augmented reality glasses known as Project Glass. The Android glasses are still in the prototype stages an being tested by Google employees although we have seen some great things till now about the new device. Google co-founder Sergey Brin went on the Gavin Newsom show and talked about the high tech glasses and even let the Lieutenant Governor of California try them on.
Newsom also had an interview with Wired Magazine where he said that the glasses were incredibly light, comfortable and unnoticeable when worn. Newsom also stated that the image was remarkably clear and that you could tell the high quality of the display.
"You can easily forget you have them on, and sense the capacity of use in the future," said Newsom.
While Brin says that Project Glass has been in production for almost 3 years there are hopes that the release will be 2013.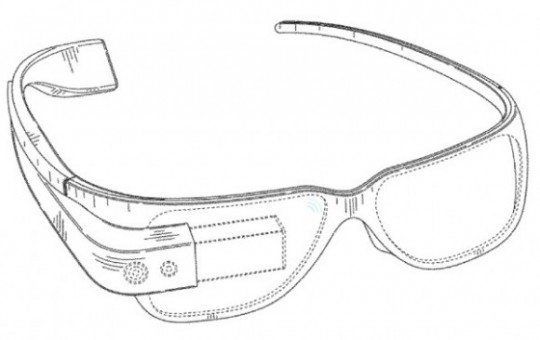 When we saw the first video of Google's augmented reality, full vision glasses all we wanted to know is when we could get ahold of a pair. Now it seems that the full vision dream that we all see in videos may not become a reality. The glasses are now being described a bit differently as floating above the user's line of vision like the brim of a hat.
This can be seen in the concept drawings of the Google glasses as a small bar about eyebrow height on one side of the glasses. The design alone shows that the glasses would not completely cover your line of sight. Google has already submitted patents with the design above for both prescription and non-prescription to confirm this will be the near final design.
While we are a bit disappointed in the actual design there is still a good use for glasses that don't cover your full vision. While we wont be playing the first person shooters that we have seen using the full line of sight earlier concepts we will likely see some useful features like facial recognition and navigation.

With Google Drive so close to launch with a free limit of 5GB Google has now upgraded the limit for Google Docs from 1GB to 5GB. This storage limit increase is quite possibly due to the face that the 5GB limit for a free Drive account will be the same. You can however increase your Google Drive storage to 100GB if you have a paid account and when its available.
Google Drive however currently will price out at $0.25 per GB but could of course change at time of it's release. The current documents available on Google Drive shows that there will be a great integration of Google Docs and Google Drive creating a thorn in the side of Dropbox, Box.net and other Remote storage services.
---