Welcome to Android Advice and Tutorials.
---

The AOKP update for the Samsung Galaxy S2 to Android 4.2.2 Jelly Bean is now available for those waiting on the update from Samsung. AOKP ROM's also called Open Kang Project, are a popular set of ROM's for updating devices and or installing custom ROM's. They are fast, stable and based on the AOSP release of the Android OS.
NOTE: The instructions here are for the Samsung Galaxy S2 I9100 only. Your device must already be rooted to perform the instructions below.

NOTE 2: Samsung KIES will no longer detect your phone after updating to Android 4.2.2 using the following method.
Before you begin be sure that you have done the following to your device. Root the device as stated above, backup any apps or data that you would like to keep, and wipe your dalvik cache.
How to Update the Galaxy S2 to Android 4.2.2 using AOKP build:
If you haven't already done so install ClockworkMod Recovery (we assume this has already been done but figured we would mention it)
Download the Android 4.2.2 AOKP ROM (Download Link)
Download Google Apps (Download Link)
Connect your Galaxy S2 to your Computer via USB
Copy the files from step 1 and 2 to your phones SD card in the root folder
Turn off your Galaxy S2 and disconnect from the computer
Turn the phone back on while holding volume up, menu and power buttons at the same time.
Wait for the device to show the recovery mode screen
Perform a full data wipe and dalvik cache wipe first thing
Scroll down to "Install zip from SD card" use arrows and power button to select the zip file.
Confirm the installation on the following screen
Once complete go back and select the Google Apps zip file in the same way
After this is completed go back and select restart device from the recovery menu and wait for it to reboot.
Be patient as the first boot may take longer than normal
Congrats your Galaxy S2 is now running Android 4.2.2 Jelly Bean
If you want to verify that everything went ok then you can navigate to your "Settings -> About Phone" and look at the Android version there. If you have any issues as always leave us a comment below. As always these instructions are for your information and you are responsible for the use of them but we will help as able.
Many of us drop our tablets from time to time and most of us are worried about repairing ourselves. This being said the process to replace the screen on the Samsung Galaxy Tab or Tab 2 is a very easy process that anyone can do themselves. All you have to do is take the time to order a replacement screen, which sells for around $35-$40. Also the process takes no special tools.
Instructions to Replace the Screen on Samsung's Galaxy Tab and Tab 2 10.1:
First you will need only 3 tools, a razor knife, a putty knife (or something else thin and strong enough to pry with) and a blow dryer or heat gun.
Use the putty knife and pry the back off of the main tablet components (as shown in video above)
Set the back of the Galaxy Tab to the side and flip over the tablet you just removed
Unclip the middle cable as shown in the video above
Flip the Galaxy Tab back over and heat around the tablets frame (black part around screen)
Use the razor knife to cut the glue between the screen/digitizer and LCD (as shown in the video)
Remove the broken screen and clean the LCD to your satisfaction.
Place the new screen in place in the correct orientation as the previous screen
flip the tablet back over and plug the cable back into the tablet.
Set the main tablet and screen into the backing
Be sure to re-clip the tablet to the backing all the way around (you will hear snapping sounds as you do this)
Turn your Samsung Galaxy Tab on and play with your like new tablet!
If you have any issues during the process please feel free to comment here as well as watching the video above to be sure you understand the process.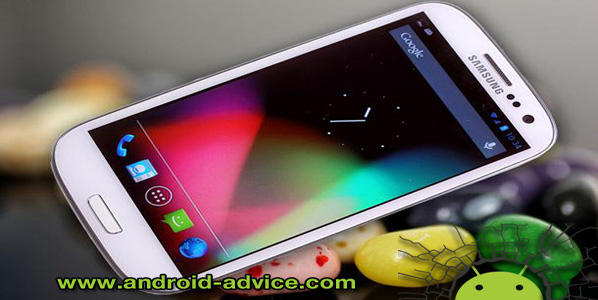 If you have a Samsung Galaxy S3 there is a good chance you want Android 4.2 Jelly Bean on it without having to wait on your carrier. This will explain how you can install Android 4.2 on your Galaxy S3 easily without waiting. Thank you to all of the developers at CyanogenMod that have made this possible.
NOTE: You must have your Samsung Galaxy S3 rooted with an unlocked bootloader in order to complete the process below.  You will have to Google the instructions to Root your version of the Samsung Galaxy S3 as well as unlocking the Galaxy S3 Bootloader.  It seems there is no universal method currently that we can find.
Before you begin be sure to download the appropriate version of Android 4.2 and GAPPS and place them on either your internal storage or SD card (we recommend using the SD card).
Process to Install Android 4.2 Jelly Bean on the Samsung Galaxy S3:
Go to Google Play and install "Rom Manager" its a free app
Open Rom Manager and use it to Boot into recovery via "Reboot Recovery"
Backup your current ROM by navigating via volume buttons and selecting "backup" with your power button.
Clear Data by navigating to "Wipe Data/Factory Reset".
Next Wipe Cache by navigating to "Wipe Cache partition"
You are now ready to install the new ROM you Downloaded by navigating to "Install Zip from Internal" and selecting the CyanogenMod 10.1 file.
Last you need to install GAPPS the exact same way as you did the ROM in the last step.
Reboot your device and you now have Android 4.2 Jelly Bean on you Galaxy S3.
We have tested this on an AT&T Galaxy S3 although the others have been verified by the community. If you have any issues throughout this tutorial please let us know via comments below. You may also go to CyanogenMod for more information via the source link below.
Source: CyanogenMod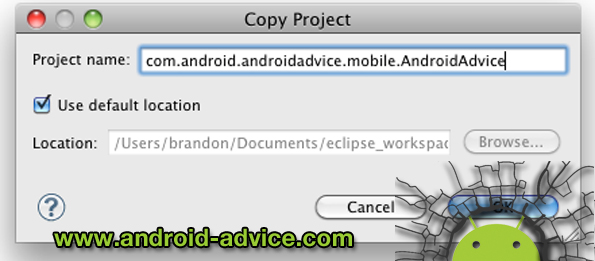 Most new developers for Android will create an app and then want to create a completely new one without starting from scratch. Basically if you have already created a project and want to use it as a starting point for something new, why start over? Keep in mind that there may be a little cleanup beyond what will be discussed here if the app is completely different but close projects being duplicated can save a lot of time and effort.
Copy an existing Project with a new name (package and resource refractor):
Before you copy a project you will need to make sure that the project your copying is open in eclipse otherwise it will not copy. Changing the icons for the app will be discussed after the renaming process.
Select the project that you want to copy, right click it and select copy
Right click in the white space below that project in your package explorer and select paste.
You will now be forced to rename the package so that there is not a duplicate.
Open your AndroidManifest and rename the package-name and save
Next you should have the ability to "Update Launch Configuration", do it.
Next rename the main package by selecting it, right clicking, select refractor and then rename
You will now change the name of the package, preview and continue
After saving it will ask you to "Update References", do this as well.
Replace old icons with new ones in Eclipse and change App Name Label:
First we will open "AndroidManifest.xml"
Click on the tab below the editable file that says Application
Find the Text Box labeled "Icon" and click Browse
At the bottom you will see a button that says "Create New Icon", click it
Create your new icon and click finish
If you get windows saying "Yes to All", click them
If this process created another set of icons instead of overwriting the old ones you will need to go into your "res" folder and delete the old ones and rename the new ones to match.
After completing the two processes above you should now have a new project that is completely independent of the one copied. Now you can create an entirely new app as a new project. If there are any steps that you notice have been left out or have anything else to add please feel free to leave it via comments below.
Family Feud is now available for Android devices and allows you to easily play with your friends and family via Facebook connections. The game acts and looks like the TV show and allows its players to play the three rounds of questions and if you win play the fast money round.
Family Feud for Android Features:
Social game play with Facebook friends, and the ability to follow personal and friends' progress via daily high score rankings.
Favorite elements from the TV show, including thousands of survey questions, 'Fast Money' play, authentic theme music and the familiar scoreboard in dazzling HD.
Predictive text input and auto spell checker to make typing answers lightning fast.
Challenge your friends! Whoever gets the highest score after 24hrs gets bonus cash
Game Play within the Family Feud Android App:
When playing the game you are answering questions within a time limit to try and get the top answers for each. Levels are based on the original TV show allowing you to play three rounds each with a multiplier. Once you win (if you win) then you get to play the fast money round to try and score at least 200. If you lose the first three rounds you can use one coin to play fast money anyways. If you do not get the 200+ points in the fast money round then you can ask Facebook friends to help you out and get a $1000 bonus if they complete it.
How to Play Shows each day:
You will get an option to spin a slot machine style game and get coins once each day for free with additional spins costing you $.99 each. You will always get a minimum of 3 coins with each spin with a chance of more. When you pay for a spin you get a multiplier as well in the fourth column. What these coins are used for is playing a show or fast money round even if you lose. Games cost 2 coins and fast money round if a loser costs 1 coin.
How to Get Free Coins in Family Feud:
You can get free coins within the Family Feud for Android game by either your daily spin or by downloading apps that they have available in game. After each show you will see an advertisement to download an app for coins. In most cases you get 1 coin for each app you download. There is also a way to see all available promotions for free coins within the app. You can also send invites to friends and get a coin for every friend that joins via your link.
Family Feuds Social Game Play:
Currently the social features within the Family Feud app are the ability to compete in a daily challenge with your friends should they accept. The daily challenge means you verses a friend and whoever has the highest score for a single game wins extra cash towards levels the following day. The second social feature is the ability for you to ask friends to help you with the fast money round if you aren't able to get the 200+ yourself. When a friend completes the fast money round they will get the rounds total points and you will get a $1000 bonus towards your next level.
Leveling up in Family Feud:
In order to gain levels when playing Family Feud for Android you will need to make money. Each level will be shown at the top left of your screen and the amount you need to gain a level will be shown there as well. Each time you gain a level you will get free coins towards playing another round. The higher your level the more coins you will get each time.
Drawbacks to Family Feud for Android:
Each game as stated above costs coins to play, these coins are rather expensive. The only version available is fermium meaning you cannot just pay for a paid version and play all you want but rather have to pay for coins if you want to play more than the free version allows. You cannot pay to remove ads either which are shown at the end of every game.
Overall Family Feud for Android is a great time waister that is a lot of fun. The game itself does not consume a lot of your time unless you are willing to pay to continue playing more than a game or two each day. I recommend downloading the game and at least giving it a shot.
Get Family Feud Free for Android from Google Play:
https://play.google.com/store/apps/details?id=com.ludia.familyfeudandfriends.free
If you got your hands on the Nexus 4 before Google Play ran out then you will be happy to know you can root it as soon as it hits your hands. XDA Member HQRaja has given us a root method that you can use on the Nexus 4 right out of the box. The root process is pretty easy and should be simple enough for just about anyone to use. The full root instructions can be found below.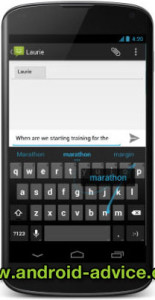 How to Root the Nexus 4 (with required files):
Download Fastboot if you don't already have it (Download Link)
Download CWM Recovery (Download Link)
Unzip the recovery file to your fastboot folder
Enable USB Debugging "settings -> developer options"
Connect Nexus 4 to Computer via USB
Install Nexus 4 Drivers (Download Link)
Download SuperSU with Busybox (Download Link)
transfer SuperSU/Busybox package to phones internal SDcard
Open Command Prompt and navigate to your fastboot folder
Reboot into Bootloader (fastboot)
Unlock the Bootloader (this will wipe all user data on the device)
Boot from the CWM image downloaded earlier

fastboot boot cwm-recovery-mako.img

Select the recovery option from your device using volume to navigate and power to select.
Once in recovery you can make a backup if you choose (recommended)
From recovery flash the SuperSU and busybox package downloaded earlier
Clear your cache and dalvik cache (up to you but recommended
Reboot your Nexus 4 and Congrats on a Rooted Device!
NOTE: if you get the error "stem/bin/sh: su: can't execute: Permission denied" it means you need to boot from the unsecured boot.img first so go back to that step and try again.
Those of us that have been using Android 4.1 Jelly Bean have noticed that we miss flash since its no longer supported after Android 4.0 ICS, until now. XDA user truth77 has posted an update to Adobe Flash to version 11.1.115.20 for Android 4.1 Jelly Bean users.
The update to Flash is available on Google Play although when trying to download it on an Android 4.1 device will tell you that its not compatible. All you need to do is download the APK and side load it on your device instead of going through the Play store.
After you have installed the apk you will notice that when using the Chrome browser you are still out of luck. This Adobe Flash version will only work on the stock Android browser and not Chrome. We have tried the apk on a few different devices and it has worked on them all so let us know below if it doesn't work for you and the device you are using.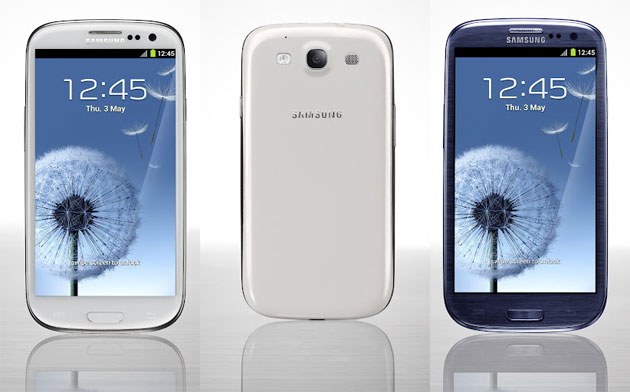 Even thought the Samsung Galaxy S3 is one of the greatest Android devices available right now, even the best will have an issue now and again. Reseting the Samsung Galaxy S3 to its factory condition is not a difficult process and can be easily done by any level of user. The easiest solution to fixing device errors is doing a factory reset or "hard reset". What a hard reset is, is basically a software process that erases all information that has been added to the device since turning it on for the first time.
There are many reasons to do a factory reset on your Android device like getting it ready to sell, corruption to the file system by apps, or just slow down from everyday usage.
NOTE: Factory resetting the Samsung Galaxy S3 will erase all data on the device so be sure to backup anything that you don't want lost forever.
How to Factory Reset (Hard Reset) the Samsung Galaxy S3:
View your Apps and tap on the "Settings" app
Once in Settings tap on the "Storage" tab
Scroll to the bottom and tap on "Factory Data Reset"
Follow on screen instructions and select "Erase Everything"
Last confirm the action by tapping "Yes"
Your Galaxy S3 will now reboot after the process is completed
Congrats your Samsung Galaxy S3 is back to Factory condition
Once you factory reset your Samsung Galaxy S# you will need to setup your Google Play account again by attaching your Google account and then re-install all of the apps that you need.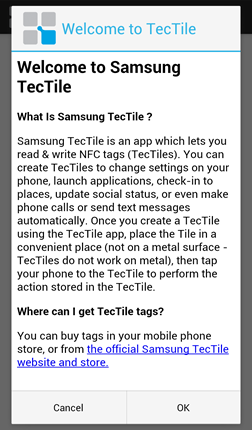 TecTiles are small programmable NFC(Near Field Communication) tags that can be read using the NFC technology on your Samsung device through an application that can be found on the Google Play store. The main function of a TecTile is to program it to complete tasks on your device like turning on your Bluetooth, Wifi, or opening certain applications by simply touching your device to the tag.
Some TecTiles can be accessed simply by using the NFC technology on your enabled device although some require that you use the free application on the Android Market. If for any reason you set you phone on a TecTile and it cannot read it and complete the action it will let you know that the application is needed.
How to Program a TecTile?
You will need to download the "Samsung TecTile" app in order to program one. Next you will need to open the TecTile app and press "OK" on the welcome screen. If you don't have NFC enabled your device will ask you to do so at this point. The NFC feature can be easily found in your phones settings. Next you will be required to select the type of TecTile that you would like to create (you will have the options of Settings & Apps, Phone & Text, Location & Web, or Social). At this point you just need to follow the on screen instructions.
How do you use a Programmed TecTile?
You need to make sure that your NFC is enabled on your phone, this can be done by going to settings -> More Settings -> NFC. Touch the back of your device to the TecTile and you will see a "New Tag Collected" screen. At this point your device will open an applications, change some settings, oir whatever else the TecTile is programmed to do.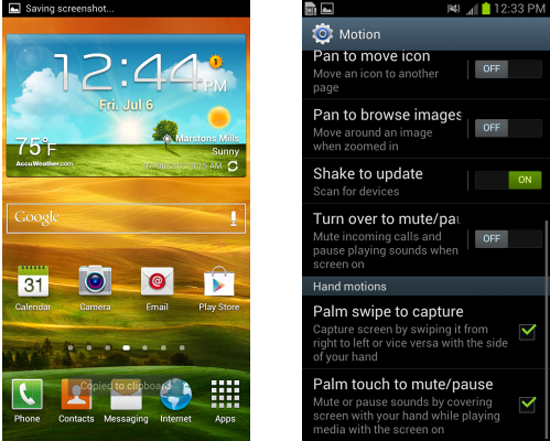 One of the most basic features that most Android users want is the ability to take screenshots although its slightly different on the Samsung Galaxy S III. There are currently two different ways that you can take a screenshot with your Galaxy S III with neither one of them being holding the power button and volume down button at the same time (which is the normal Android way to take a screenshot). Method one for taking a screenshot is close to other Android devices while method two uses Samsung's features called "motions".
How to take a screenshot on the Galaxy S III (Method 1):
Go to the screen that you want to capture
Press the power button and home button at the same time
Screenshot will be saved to your Gallery
How to take a screenshot on the Galaxy S III (Method 2):
Go to your Galaxy S III settings
Open the Motion tab by tapping it
Make sure the top Motion checkbox is checked
Make sure "Palm swipe to capture" is checked
Use the side of your palm and slide it on the screen
Presto it takes a screenshot
Either way you choose is fine and both will save the screenshot to your Galaxy S III gallery. Its nice to see that you have two different options for taking screenshots. Anything you have to say or questions can be posted in the comments below.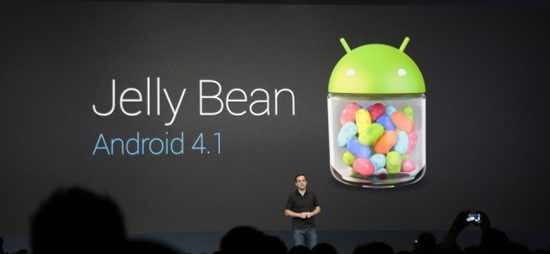 With the release of Android 4.1 Jelly Bean there are many questions about using the new features in the up and coming Android OS. One of these features is the ability to turn off notifications on an app by app basis. Many apps that you download will not have an in app way of turning off all notifications and can get quite annoying at times. This being said Android 4.1 Jelly Bean has a new feature to allow you to disable an apps notifications anyway.
How to Turn Off Notifications:
The new feature to disable app notifications can be found on the app info screen. You can get to the app info screen by long pressing a notification or going to "settings -> Apps" and then selecting the app you want to change. Tap the checkmark beside show notifications and accept the warning. At this point you have turned off notifications for the app you had selected and will no longer receive them from now on. If later you decide you want the notifications you can re-check the box in the same way.
This is one of the more useful features that have been added to the Android 4.1 Jelly Bean OS that may be overlooked by the average person. This will help with those apps like music downloaders that hit you with notifications non-stop. If you have anything to add please feel free to leave it in the comments below.
---