Welcome to Android Advice and Tutorials.
---

The HTC Thunderbolt has had a rough time getting updated to Android 2.3 Gingerbread but this could be the final functional attempt. Verizon sent out the OTA (over the air) update originally in September and is now pushing it out again. This update now is said to be complete and includes the HTC Sense security fix as well.
This update will bring the Thunderbolt to Build number 2.11.605.5, Baseband 1.48.00.0906w_2. Some of the Enhancements and additional features that can be found in this update are:
Download manager app – new app to manage all downloads from web browsing and other apps.
App and Power Management Details – under manage applications a new running tab displays a list of active apps and the storage, memory being used by each. Power efficiency mode also available under "Settings -> Power"
New Homescreen – new widgets, icons, and screens
Alarm notifycations no longer appear when in emergency mode
Improved security features that reduce device vulnerability.
Lets hope that the Thunderbolt can finally get away from Froyo for everyone. The Thunderbolt is a good 10 months out of date now and it looks like you can finally update to make your device a bit more user friendly.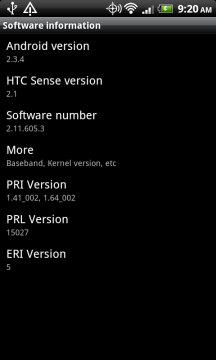 Finally after a long wait the HTC Thunderbolt is receiving the Android 2.3.4 Gingerbread Update. The OTA (Over the Air) update can be installed via the phone options on your device.
HTC Thunderbolt Gingerbread Update Instructions:
Settings -> Software Update -> Check New
Thunderbolt Gingerbread Features and Enhancements:
Download Manager App
New Desktop User Interface
New widgets, icons and screens with refreshed colors
Improved audio quality while using Bluetooth
V CAST Tones pre-loaded
New Google Books app
DroidTh3ory the developers behind GINGERTH3ORY have updated it to version 4.5.2 for the HTC Thunderbolt. Features added in GINGERTH3ORY 4.5.2 are listed below.
GINGERTH3ORY v4.5.2 Updates:
New Lean Kernel 3.4.0 with Modded RAMdisk
Toned down hidden APP Allotment
Fully functional Skype with Video Calling
Added Notification Tones
Patched some Lib's to combat FC on Google Music
And some other improvements.
To Download GINGERTH3ORY v4.5.2 You can click the link below:
http://th3oryrom.com/ROMS/INJ3CTTH3ORY_V4.5.2_Signed.zip
Please let us know how this ROM works with your Thunderbolt.  We no longer have one and would like your input.
Please keep in mind that this is not our list (we will come out with one shortly).  This list is according to PC Worlds Top Picks for 2011 at this point.  These choices are based on user reviews throughout their website.  We agree with some of the choices but not most.
Top 10 Android Phones according to PCWorld:
HTC ThunderBolt - The well-appointed ThunderBolt is the phone to buy if you want to see what 4G can do.
T-Mobile G2x (with Google) - The T-Mobile G2X is a no-frills powerhouse that excels at gaming, multitasking and video.
Motorola Atrix 4G (AT&T) - This dual-core phone is fast and boasts solid data speeds, but the Atrix-powered laptop accessory is a good idea poorly executed.
Samsung Charge - The LTE speeds dazzle, the AMOLED display shines, and you get a free mobile hotspot at least for a little while. What's not to like? Well, the battery life disappoints, but that may not be enough to spoil the fun.
Samsung Epic 4G - The standout of the Galaxy S phones, the Epic 4G offers some enticing features like a physical keyboard, front-facing camera and 4G network support.
T-Mobile myTouch 4G - The powerful myTouch 4G delivers when it comes to multimedia and performance, but make sure you live in an HSPA+-supported area before purchasing it.
HTC EVO 4G - The speedy HTC EVO 4G packs in some powerful specs and a variety of multimedia features into a stylish, minimalist design, but not everybody will get to enjoy one of its best features–4G connectivity.
Motorola Droid X - Motorola Droid X shines at multimedia playback, network performance, and features; but the interface can occasionally be sluggish.
Samsung Galaxy S 4G - The Samsung Galaxy S 4G is a solid, powerful phone, but it doesn't have the specs to compete with the next generation of smartphones.
HTC Incredible 2 - The HTC Droid Incredible 2 is an excellent upgrade from the original Incredible in terms of display, design, and camera, but it lacks 4G support.
Keep checking in for our complete list of the top android phones of the first half of 2011.  We will break it down by carrier to make sure each of you can see the top phones for your carrier.
Verizon and HTC released an update for the HTC Thunderbolt last month to fix GPS and 3G connection issues.  A bug in this update now causes Thunderbolt users to have their phones randomly reboot.  Verizon and HTC both say they are working on this issue and we have came across confidential document within Verizon that states the following:
Issue Description
Some Customers may experience occasional device power cycling/resetting after upgrading to the latest SW maintenance release (1.13.605.7).
Short Term Resolution
There is no known short term resolution at this time.  If the severity of the issue is unacceptable from a customer perspective, then a CLNR device should be provided.  However, if the issue only occurs infrequently, then the customer should be informed that the issue will be addressed shortly in the next SW maintenance release.
Resolution Plan
The issue is expected to be addressed in MR2, scheduled to be released in the second half of June 2011.

Notice: Proprietary and confidential.  Not for disclosure outside Verizon Wireless.
According to Verizons "internal memo" users are to be told that the fix will be in the next update although if you want to get a replacement just tell them its happening all the time and you cannot use the phone like that.  They will replace it for you.
Manufacturer
HTC
Carriers
Verizon Wireless
Compatible networks
LTE 700
CDMA EvDO revA
First released
March 17, 2011
Predecessor
Droid Incredible
Dimensions
4.8 in (120 mm) H x 2.6 in (66 mm) W x 0.52 in (13 mm) D
Operating system
Android 2.2 Froyo
CPU
1 GHz Qualcomm Snapdragon (MSM8655)
Memory
768 MB RAM
Storage
8 GB eMMC
Removable storage
32 GB microSD card preinstalled
Battery
1.400 Ah
Display
4.3 in (110 mm) diagonal 1.95:1 aspect ratio widescreen
LED TFT capacitive touchscreen
480×800 resolution at 180 ppi
0.38 Mpx
Corning Gorilla Glass
crack and scratch resistant
Rear camera
8 Mpx with autofocus
2 LED flash
720p video capture
Front camera
1.3 Mpx
Connectivity
CDMA 800/1900 MHz EVDO Rev. A
4G LTE 700 MHz
Wi-Fi (802.11b/g/n)
Bluetooth 2.1 (upgradeable to 3.0)
A2DP stereo and EDR
A-GPS
FM tuner
3.5 mm stereo audio jack
Micro-USB
Mobile MiFi Hotspot
Today Qualcomm uploaded a nice little video on their YouTube channel showing off the speed improvements of their 2nd generation single-core Snapdragon processor over Nvidia's dual-core Tegra 2.  We would assume with the announcement of the Tegra 3 that this would be no big news but this single-core processor is one to hold up to the competition.
Qualcomm demonstrates the connectivity speeds of these CPU's via the HTC Thuderbolt on Verizon and the Motorola Atrix on AT&T. Both devices connected to their respective 4G networks. Qualcomm wants you to believe that the technology found in their chipsets offer greater connectivity and are better built to handle all the new 4G networks hitting carriers. Verizon's LTE network is about 3X times faster than anything AT&T can offer right now. This being said the HTC Thunderbolt killed the Atrix in these Qualcomm "speed tests."
With all these dual-core phones hitting the market soon, the only thing really holding back the "speed" of your phone is the network it's connected to. A single-core device will give the user an all around greater sense of speed with less things loading, less videos buffering and pics uploading faster than even a quad-core on another carrier's slower networks.
This is an easy root method for the HTC Thunderbolt. While I say easy it is a long process but easy just the same. This method has only been tested on the HTC Thunderbolt with firmware versions 1.12.605.9 and below (just keep this in mind before you start).
Rooting instructions for the HTC Thunderbolt
Put your phone in USB Debugging Mode (settings -> applications -> development -> Click USB Debugging)
Turn off WiFi and plug your phone into your computer
Start the root program (download link)
Click step 1 … the program will say starting daemon, find your device and then start pushing files (be patient this can take up to 10 minutes)
Your phone will restart when this is complete (if not close rooter.exe, restart it and click step 1 again)
After your phone restarts it will come up to your boot system screen (Bootloader will be highlighted in blue)
Make sure Bootloader is selected and hit your power button (this will take a minute and go through checking PG05IMG.zip)
Your phone will ask if you want to update, press Volume Up
Your Phone will begin updating (when done it will say Update complete.
Press Power to reboot your phone
Your phone will boot to the main screen (skip the phones setup)
Turn USB Debugging mode back on again and unplug and re-plug your phone back into the computer.
Click step 2 … (if your phone comes up with an error close rooter.exe and restart it and click step 2 again)
The program will start pushing files to your phone (when complete your phone will reboot into the system menu again)
Top of your screen will say MECHA XD ENG S-OFF and bootloader will be highlighted in blue again.
Make sure bootloader is selected and press your power button (it will take a minute checking the PG05IMG.zip file)
It will ask you again if you want to upgrade (press volume up and the phone will start updating)
When complete it will say Update complete … Press Power to reboot your phone. (if it boots into clockwork recovery just reboot again into the main system)
Skip through the setup options again, turn USB Debugging back on and unplug and re-plug your phone back in.
Click step 3 … (your phone will sit for a while be patient its doing things, when done your phone will reboot)
If your phone didn't reboot when completed close rooter.exe, restart it, and click step 3 again
Enjoy your Rooted Thunderbolt
As always Android Advice takes no responsibility for use of these instructions as they are here for those of you that already have some idea of what your doing and know that this may void your phones warranty.
Credit for the Rooter.zip can be found at: http://forum.xda-developers.com/showthread.php?t=1005292
---