Welcome to Android Advice and Tutorials.
---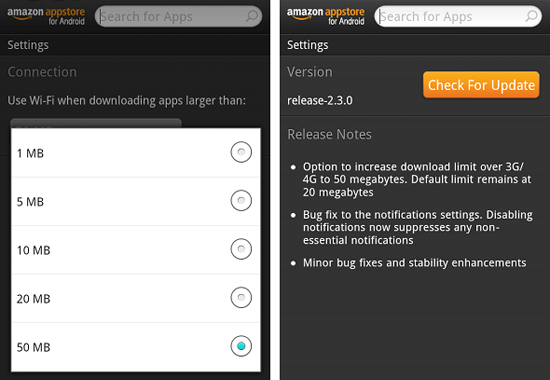 This month Amazon has updated their Android App Store to allow users to turn off notifications. Although we have all noticed that the update really didn't work and notifications are still rolling in. Amazon has now fixed the notification bug version 2.3.0 along with increasing the download limit over network connections to 50MB.
Amazon App Store Version 2.3.0 New Features:
Option to increase download limit over 3G/4G to 50 megabytes. Default limit remains at 20 megabytes.
Bug fix to notifications settings. Disabling notifications now supresses any non-essential notifications.
Minor bug fixes and stability enhancements.
Most of you by now should have received the popup when opening the Amazon App Store to update to the new version. If for any reason you don't receive the update when opening the app you can manually get it by opening the app, going to settings, version and update notes, check for updates.
---