Welcome to Android Advice and Tutorials.
---
In this tutorial we will be showing you how to create a bootable ClockworkMod SD card for the Nook Color. The reason we are creating the example with the Nook Color is because we just happen to need on so might as well write as we do it. You will need the ClockworkMod bootable SD card to root the Nook Color using the Manual Nooter method so here it goes:
How to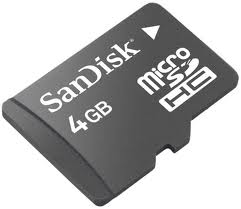 create a bootable ClockworkMod SD card:
Download ClockworkMod version 3.2.0.1 (Download Link)
Unzip the ClockworkMod file somewhere you'll remember
Download Win32 Disk Imager for the flash process (Download Link)
Unzip Win32DiskImager and run the EXE file
Click the blue folder icon and select the ClockworkMod file you downloaded
Under Device select your SDcard
Click Write to write the image
Congrats you have a bootable microSD card for ClockworkMod!
If your creating a bootable SD card for anything else the process is still the same. If you have any issues please feel free to drop us a line.
Kingmax has just revealed the world's largest capacity microSD. Sure we have 32gb microSD's that are readily available, and thats nothing to sneeze at. But, come on! A 64gb microSD card? Thats whole lot of storage for a mobile device. Yet, with all the advances in the mobile computing/smartphone industry, there are those of us out there, that could certainly benefit from an SD card of this size. Right now though, you'll be hard pressed to find a mobile device, with the hardware to support the 64GB microSDXC from Kingmax. And don't run out searching for this monster card, as it hasn't yet been released. But definitely keep your eyes peeled for the up and coming Android devices that will take full advantage of this new card.
KINGMAX Unveils World's Largest Capacity 64GB Micro SD Card:
Wide Application , Perfect for High-End Mobile Devices

KINGMAX has implemented the 9 Stacked Die technology for this Class 6 micro SD card. It complies with the latest SD3.0 and Class 6 specifications but is also compatible with SD Card Association's SD2.0 specification. Although it comes in a compact size, it definitely satisfies consumer' needs for massive multimedia data storage. Simply plug the micro SD card into mobile devices and one can instantly enjoy the convenience of memory expansion. Whether it is high-resolution or video clips, photos, mp3 files, mobile games or multimedia downloads; the 64GB micro SD card makes entertainment on-the-go possible. Moreover, with the help of an adapter, KINGMAX's micro SD card can also be used as a SD card or USB flash drives. With its wide ranging applications from digital cameras, multimedia players, PCs, PDAs, card readers to printers, this multi-purpose tiny memory card is definitely a great value buy!

KINGMAX's micro SD card has a built in Error Correction Code (ECC) which acts through controller to auto detects and reconstructs lost data during transmission to ensure reliable data transfer. In addition, micro SD comes with Wear leveling algorithm function which allocates all the information into different areas in the memory card to increase each area's average usage and helps to maximize product lifetime. From multimedia files, address book, business applications to personal data, KINGMAX's mega-capacity 64GB micro SD card makes files storage fast and easy; enabling consumers to enjoy quality and convenient on-the-go experience.

All of KINGMAX's micro SD cards have been approved by various safety and environmental standards including CE, FCC, and RoHS; they have also been certified compatible with major OS. KINGMAX is proud to say all of its products are subjected to the most stringent quality control; all products go through rigorous testing to ensure product quality. And finally, all microSD products come with lifetime warranty to provide 100% satisfaction guarantee to customers

Product Feature:

High compatibility & reliability
Ultra fast transfer rate
plug and play

Product specifications:

SD3.0
Capacity:64GB
Speed:Class6
Dimension:15 mm x11 mm x1.0mm
Wear leveling algorithm to maximize product lifetime
Built-in Error Correction Code that auto corrects data
Energy efficient, extends mobile devices' battery lifetime
Original Article can be found at: http://www.talkandroid.com/41878-thats-a-whole-lot-of-storage-kingmax-unveils-the-first-ever-64gb-microsd-card/
---