Welcome to Android Advice and Tutorials.
---
Soak testing started in the Motorola Xoom a few days ago and it seems that the update to Android 4.1.1 has gone smooth enough to move forward. What this means is that anyone not involved in soak tests of the Motorola Xoom will be getting the update in the next week or so. You can see from the video above that the install process is quite easy and has no issues that we have found.
As you can see in the video above the Motorola Xoom running Android 4.1.1 runs very smooth and has everything you would expect with the Jelly Bean update besides Chrome. Even though Chrome is missing you can easily download it from the Google Play store. Be expecting the Android 4.1.1 update to your Motorola Xoom very soon. We will let you know when it actually starts pushing out officially.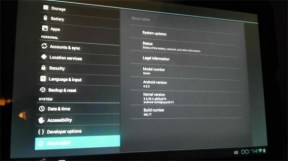 If you own a Wifi version of the Motorola Xoom then your wait is finally over, Motorola is pushing the Android 4.0 Ice Cream Sandwich update right now. This update is a noticeable difference from Android version 3.2 to the newest Android 4.0. While Motorola promised to be the first to update the device and are now following the Transformer Prime with the update at least its happening.
Currently the update is only for the American Wifi version but word is that the International version will follow shortly. We have already updated our Xooms to Android 4.0 and it runs very smooth. The only issue we noticed is that some of the shortcuts to apps stopped working and we had to re-create them but other than that its great.
The Motorola Xoom has been expecting the 3.2 Honeycomb update for a while now and we finally have a hint at release. A Google employee inadvertently gave the Android community an unofficial release timeframe.
While responding to an issue with Exchange running on Honeycomb 3.1 (issue number 16992) this employee hinted that the issue will be fixed in a few days with the Motorola Xoom's update to 3.2 Honeycomb. The only other things that we have heard is that the update would be available some time this summer.
We will just have to wait it out and see if this is true although from everything that we've seen at this point we have no reason to believe that its not.
---