Welcome to Android Advice and Tutorials.
---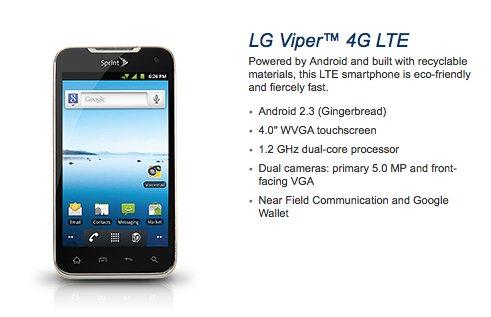 Sprint is slowly becoming a force to be reckoned with its newer lineup of Android devices. Shortly after they got the Galaxy Nexus they now have announced the LG Viper 4G LTE that comes with Android 2.3 Gingerbread and NFC support.
Sprint LG Viper 4G LTE Features:
4G LTE Data
Android 2.3 Gingerbread
5MP rear camera
Front facing VGA camera
VGA quality front-facing camera
1.2GHz dual-core processor
NFC (Near Field Communication) w/ Google Wallet
HotSpot capability
4-inch WVGA NOVA display
While there is no word on whether or not the device will get an official Android 4.0 Ice Cream Sandwich update at some point. We can almost guarantee that it will since its specs seem to support it and most devices get at least one Android OS upgrade in its life.
Near Field Communication (NFC) lets users wirelessly transfer data over short ranges. All you have to do is tap an NFC device against another and the data starts to transfer. At Google I/O 2011 we found that this will be a feature in Ice Cream Sandwich and that it will be used a bit more extensively than the previous Google Wallet.
Google says that you will be able to now transfer information between 2 NFC devices by simply tapping. There will be no need to open an app first, you just tap and done. In their demo's they have shown us that you can transfer contacts, websites, apps, and youtube videos by tapping. Other items that have been mentioned are calendars, music, files, etc.
"We want to build this into as many system apps as we can."
"Here's some ideas we're going to put in the Ice Cream Sandwich Release."
You will of course need NFC on your device although most new phones will have this capability. We also can only assume since the NFC features will be built into Ice Cream Sandwich that any phone coming with it starting in October of this year will also have NFC.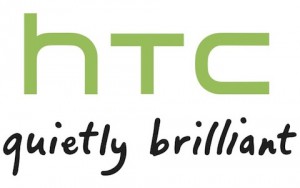 HTC will be releasing the first Near Field Communication device named the HTC Stunning in China next month.  NFC was thought to take off quickly but seems to be one of the slowest features to come around.  This new device will use the UnionPay infrastructure which is the sole issuer of bank cards in China.
There are currently over 400,000 NFC enabled terminals in China and there are expected to be 700,000 by the end of the year.
We don't currently have any images or really any information at all on this new device although as we get more information we will be sure to let you know.
HTC has recently filed a trademark for the term "CLOSECONNECT". This term is just another way for saying "Near Field Communication" and brings up the question, When will this be available on devices?
Computer hardware and software for setting up, configuring, and administering wireless networks; Computer application software for mobile phones, cellular phones, smartphones, PDAs, and tablet computers used to connect to other mobile devices; Computer software for mobile phones, cellular phones, smartphones, PDAs, and tablet computers used for the collection, editing, organizing, modifying, book marking, transmission, storage and sharing of data and information; Computer application software for mobile phones, cellular phones, smartphones, PDAs, and tablet computers used to manage near field communication technology features on those devices; Computer software for setting up, configuring, and administering peer-to-peer networks and local peer-to-peer networks.
We aren't sure if HTC plans on using this to describe the devices that they offer NFC on although many companies tend to purchase new trademarks for old technologies in the hopes that their term will take off. This is more or less a marketing endeavor for pushing a new name for NFC when talking about HTC devices.
According to Bloomberg, Google and Sprint are going to unveil a mobile payment service on May 26 at an event in New York City. The service will allow you to pay for your purchases using Near Field Communication technology.
The NFC system will allow you to pay for purchases at NFC-equipped cash registers by simply placing your phone near a reader. In addition to making payments, you will also be able to redeem coupons via the system.
Although the Nexus S 4G is the only Android phone on Sprint that has NFC capabilities, Sprint is hard at work getting additional phones on board. They are currently working with many handset makers and tech companies to beef up their NFC selection of phones.
Google plans to introduce the service in the following five cities: New York, San Francisco, Los Angeles, Chicago, and Washington D.C.
via DroidMatters
---