Welcome to Android Advice and Tutorials.
---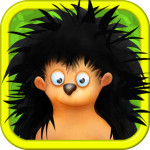 In Frodo, a charming little hedgehog got lost and cannot find the way home. The goal of the player is to help the hedgehog and break the obstacles around him in such a way so that it makes Frodo roll to his cottage. Each level is timed so the quicker you find the solution to the puzzle, the more points you score. There are 40 tricky levels to go, each offering a unique layout of obstacles and multiple ways to solve the puzzle.
TNGames is proud to announce the release of Frodo for Android. In this charming physics-based puzzle adventure, you'll need to use your brains and objects on the screen to help little hedgehog get home. The game is available for download from the Google Play.

Here's a sample how to solve a puzzle: break the box, the hedgehog starts rolling and gets into the cannon, shoot him at the big red button on the wall that gets pressed and lifts the stone wall up, the hedgehog rolls down and into his cottage. The game play resembles a pinball game and is sure to please the whole family.
Key Features found in Frodo for Android:
Over 40 brain-teasing levels to play through, each with its unique set of obstacles
Cartoon-like graphics and nice sound effects
Perfect physics-based puzzle gameplay for all ages
Updates add new levels

TNGames is an independent game development company focused on creating casual games for Apple iOS, Android and other platforms. TNGames was established in 2012 by a group of software developers. For more information about the company and its projects please visit http://www.tngames.us.  If you download the game and play please leave some constructive criticism in the form of a comment below.
"Where's My Water" is a free physics game with a paid version that features an alligator that really needs a bath. The point of the game is to solve puzzles that increase in diffuculty as you continue through the levels. Disney created "Where's My Water" with great graphics and sound effects that pull a great game with fun puzzles together. The game is marketed to children although is fun for adults as well (to be honest some levels took me a few tries to complete).
How Easy is "Where's My Water" to Play:
While the game can take a little bit to figure out it shows very detailed instructions for each level. Based on the device you are running "Where's My Water" on, it can take a little longer than you would like to load.
"Where's My Water" will take a little patience from younger kids although it will teach them great problem solving skills. Once your kids get the hang of it they will be addicted. There are many worse things to be addicted to then a brain trainer like "Where's My Water". As stated before there is a free version although it will only set you back $.99 if you want the full version.
Disney's Where's My Water on the Android Market:
https://play.google.com/store/apps/details?id=com.disney.WMWLite
Where's My Water for Android requires Android 2.1 or higher and takes 22.34 MB. We recomend running it on a newer device to reduce load times although most Android devices that have Froyo and up work really well.

Pinball Man is a unique ragdoll flipper game! Hit a man instead of a ball!  Ever wanted to play a pinball game with a man instead of a ball?  What about hitting this man with flippers while he's bleeding or going on fire?  And what if flippers were crocodiles? And why there are shurikens?  Check it out with Pinball Man, a unique ragdoll physics flipper in Android Market:  https://market.android.com/details?id=com.mattia.fortunati.pinball.man
Pinball Man for Android Features:
multiple touch!
accelerometer sensor!
vibration!
ragdoll physics!
quests!
blood,fire and scream effects!
Follow me on twitter:
https://twitter.com/#!/mattiafortunati
---