Welcome to Android Advice and Tutorials.
---
Anyone who follows Android is looking for the next version of our favorite mobile OS which in this case is going to be Key Lime Pie. The current rumor for official announcement of the Android 5.0 OS is May 15th at Google I/O. We could have all assumed this would be the case but we are actually seeing a little bit of buzz to verify (to an extent). Keep in mind that most of this is speculation and others thinking out loud but there will be some truth to most of it.
The first rumor that looks to be a positive feature of the new Android OS is the fact that it will have a Linux 3.8 kernel. Those of us that flash custom ROM's on a regular basis understand that a stable kernel is one of if not the most important thing we need when flashing. The kernel is the brain and helps with faster and more stable multi-tasking, RAM usage and even battery drain. With Android's integration of Project Butter into Jelly Bean we can assume this will improve it even more than its predecessor.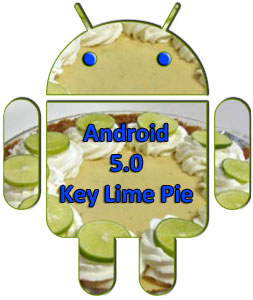 Another feature that may or may not come to light or even be slightly true is Project RoadRunner. This is something that seems to come from the Motorola acquisition based on the awesome battery life of newer Motorola devices. This would if true increase our battery life substantially and remove the worse con of most Android devices, which is poor battery life.
One rumor that we assume is just that is Key Lime Pie only supporting devices with quad-core processors. There are too many devices that are running dual-core processors that are new that would be stuck on Jelly Bean indefinitely if this were the case. This being said there would be a huge number of ROM developers trying to remove the restriction almost right out of the box if it is the case. Challenges over restrictions are something that the Android community takes very serious and love to take on so it wouldn't last long in our opinion.
Google Now is expected to reach its next level of development with upgrades allowing users to perform useful actions with voice like turning on and off WiFi or Bluetooth. Other enhancements that are rumored are changing screen brightness and improved voice recognition. Sorry to those of you that are looking to be able to have full on conversations with your phone like Siri does (kind of a pathetic use of technology don't you think?).
Upgraded keyboard which seems to be the case with every new OS in some way is also rumored to be on the new 5.0 OS. Google Babel would be an all in one messaging system that will be announced during Google I/O regardless of the announcement of Key Lime Pie. Babel will also likely be available in some form close to its announcement either way.
A new Play Store is also rumored on the device but we look at a new version of the Play Store as a given since it seems to align with historical releases. The assumption is addition of personalized search, optional promotional campaigns, more billing options and easier in app purchasing.
Addition of "Customization Center" allowing us to customize our devices even more than before. The biggest thing that users should get out of the Customization Center is the ability to use the stock Android UI skin if you would like instead of the custom overlays all these phones get from manufacturers. Other customizations will be organized here as well like ringtones, wallpaper, and launchers.
We are hoping for an announcement of the Google Nexus 5 along side the release of Key Lime Pie although no official word has been given. If Google is going to release the Nexus 5 we can only assume they will package the new OS on it to stay ahead of the curve and do what Google does. While all of this is not likely true we can go ahead and make an educated guess that some of it is. Let us know what you've heard and what you think about the features listed here.

Rumors have been flying around about Samsung's newest flagship smartphone to be released this year 2013 the Samsung Galaxy S4. Samsung has many new devices in the works for 2013 but none that will match the Galaxy S4. They are easily the manufacturer that keeps Android the top mobile OS and largest Apple competitor. While Samsung is very good at keeping things quiet about their new devices there will be no lack of rumors, leaked specs and benchmarks.
Even though there has been no official announcement for the Galaxy S4 modeled the GT-I9525 there have been some specifications shown in more than one location to give a good idea of what the device will have in store for us all.
Samsung Galaxy S4 Rumored Features:
Android 4.2 Jelly Bean (possibly 5.0 Key Lime Pie)
5-inch 1080p HD Display
1920 x 1080 screen resolution
Eight core Exynos 5 Processor
13 MP Camera
Built in Wireless Charging
While none of the specifications above are confirmed they seem to be the logical next step for Samsung to have in their newest flagship device. There were rumors earlier on that said they would likely unveil the new device at CES 2013 which of course was not the case. Samsung will likely announce the Galaxy S4 at the Samsung Unpacked event that they hold every year around May.
There is also no price being rumored although we can go ahead and assume that it will fall in line with other Galaxy S devices at time of release. The only thing that could effect this and drive the price down a bit is the competition it will face with the Google Nexus 4. Let us know what you think and if when the time comes you plan on upgrading the the newest Samsung powerhouse.
With the Android event scheduled for today being canceled the internet is buzzing with information on the new products that were to be announced. One of these devices is the Samsung made Google Nexus 10 Android tablet. This tablet is to be released on November 13th and the specifications have been released today.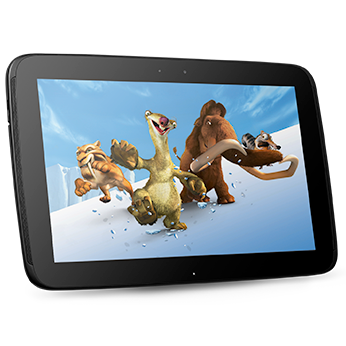 Google Nexus 10 Specifications:
Android 4.2
1.7GHz A15 dual-core processor
16/32GB Storage
2GB RAM
10″ WQXGA (2560×1600, 300ppi) display
Front 1.9MP and rear 5MP camera's
263.8mm x 177.8mm x 8.9mm form factor
Weighs in at 603g
9,000mAh Li-ion Battery
This is easily the nicest tablet available on the market today (or shortly anyway). With specs like this we will surely see it beat out others in its class. As always this being a Google released device updates will be prompt and first, Samsung creating helps as well being the best in quality at this point.
Acer has announced that they will be releasing their Acer Iconia Tab A110 in the U.S. on October 30th for $229.99. The Acer Iconia Tab A110 is a 7 inch Android 4.1 Jelly Bean tablet that sports a Tegra 3 processor. With its $230 price tag it will surely be another competitive device to rival the Google Nexus and Amazon Kindle Fire HD.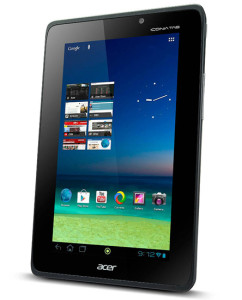 Acer Iconia Tab A110 Features:
Android 4.1 Jelly Bean
7-inch 1024×600 display
Quad-core Tegra 3 processor
2-megapixel front facing camera
1GB RAM
8GB storage
microSD slot
While the Acer Iconia Tab A110 is a powerful tablet can it still compete with the Google Nexus 7? It has a slightly lower resolution and prices out at almost $30 more than the Nexus 7 but seems to be close enough in specs that it could be a choice in your list. As far as the Amazon Kindle Fire HD, the fact that the specs are what they are on the A110 and its not covered by Amazons Theme it may be a better choice there. If you get your hands on an A110 on October 30th please let us know what you think of Acer's new tablet.

Samsung has already mentioned a counter flagship device to the Apple iPhone 5 which will be named the Samsung Galaxy SIV. Samsung has mentioned that they will likely announce their successor to this years Galaxy S III at February's MWC 2013 to counter the sales of Apples newest iPhone. There has also been someone at Samsung that stated the official release of the device would be some time in March 2013.
The Samsung Galaxy S4 is said to come with Qualcomm's quad-core Snapdragon S4 Pro chipset. This new chipset blows the HTC One X and even the current Galaxy S3 out of the water by a long shot. Tim Leland who is the director of product management said, "With Adreno 320 there's an uplift of around 3-4-times the performance" and also stated "that means more geometry in scenes, better lighting and support for beyond 1080p – wide HD, as well as better artificial intelligence". Another feature worth mentioning is the 13 MP camera that is said to come on the Galaxy S4.
Samsung settled on the timeframe just three days after the release of the iPhone 5 hoping to bring some attention away from Apple and back to Samsung.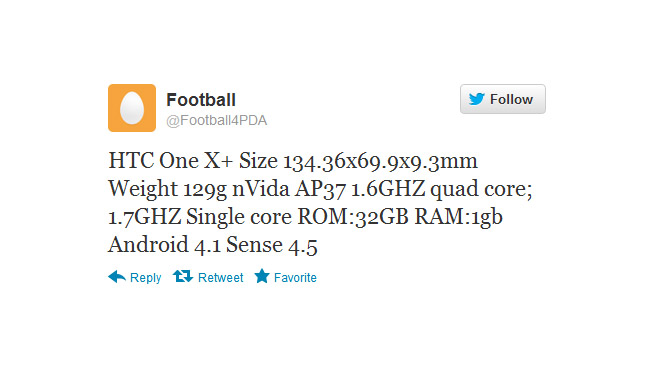 The HTC One X+ has had a few leaks come out over the last several days one of which contains the specs of the upgraded HTC One X. While the HTC One X+ seems to be no more than a minor upgrade from the original One X HTC seems to think its worth releasing a new device.
The HTC One X+ specifications were recently leaked via a tweet mentioning it will come with a 134.36×69.9×9.3mm form factor, weighing in at 129 grams. This upgrade to the One X also will sport an nVidia AP37 1.6GHz quad core processor, 32GB of storage and 1GB of RAM. The OS which is what almost everyone is interested in even above specs will be the newest Android 4.1 Jelly Bean build with Sense 4.5.
The release date for the HTC One X+ has not been given a definitive release date although is said to be announced officially this month on the 19th at HTC's event. At this time we should have a better idea of actual release date and all other specifications not mentioned in the tweet.
Last year at the IFA conference in Berlin Samsung announced their Galaxy Note to the World. Currently there is a rumor that Samsung will be unveiling the next version of the popular phone/tablet hybrid, the Galaxy Note 2 this year at the IFA conference. While there is no word if this is actually true or not or whether or not the name will be the Galaxy Note 2 there is a lot of buzz about it already.
The Samsung Galaxy Note 2 is said to be the same size as far as form goes but will have a screen that is a bit larger than its previous model at 5.5-inches (original is 5.3). They supposedly will keep it the same size with a larger screen by reducing the bezel a bit. As far as hardware goes the assumption at this point is that it will come with a Exynos quad-core processor with a design more like the Galaxy S III.
The final word will come at the conference this year at the end of August. We are sure there will be much more information surface and maybe half of it to be true. The image above courtesy of GSMArena is a rendering of what the device may look like although this is of course not from Samsung themselves.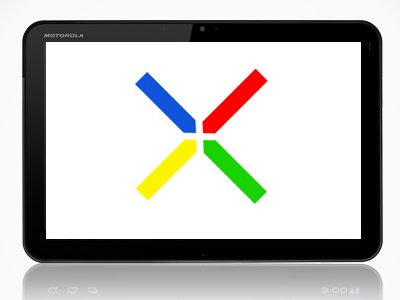 There have been more than one source mention the announcement of an update to Android 4.0 Ice Cream Sandwich to Android version 4.1 at the end of this month. Google I/O will be June 27th and this is when we are expected to hear more on the update.
What we do know about Google I/O is that this is when the Nexus Tablet is to be unveiled and possibly released as soon as early July. The Google Nexus tablet will be a 7 inch powerhouse said to hold NVIDIA's KAI quad-core processor and price out at $200. With Kindle Fire sales down this may all but halt Amazon's sales of the once popular 7 inch tablet.
As we get more information on the release of Android 4.1 and the Nexus tablet we will be sure to let you know.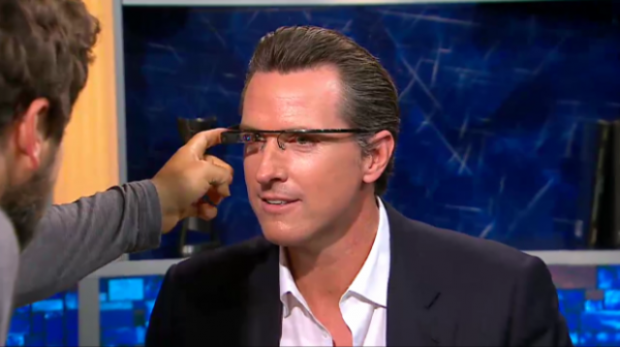 By now you have already heard that Google has been working on a pair of augmented reality glasses known as Project Glass. The Android glasses are still in the prototype stages an being tested by Google employees although we have seen some great things till now about the new device. Google co-founder Sergey Brin went on the Gavin Newsom show and talked about the high tech glasses and even let the Lieutenant Governor of California try them on.
Newsom also had an interview with Wired Magazine where he said that the glasses were incredibly light, comfortable and unnoticeable when worn. Newsom also stated that the image was remarkably clear and that you could tell the high quality of the display.
"You can easily forget you have them on, and sense the capacity of use in the future," said Newsom.
While Brin says that Project Glass has been in production for almost 3 years there are hopes that the release will be 2013.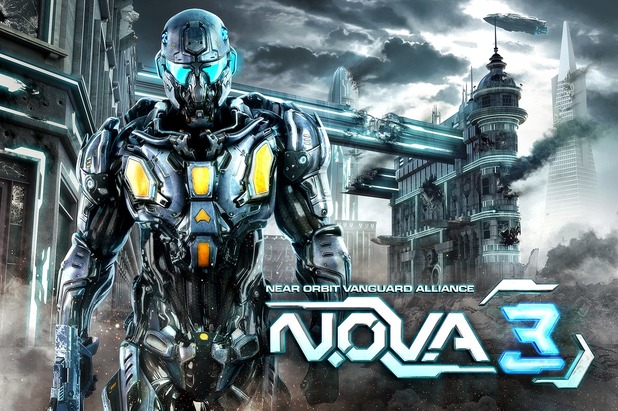 Near Orbit Vanguard Alliace 3 which is the sequel to Gameloft's 2012 title N.O.V.A 2: The Hero Rises has been officially announced. N.O.V.A 3 should prove to have much better graphics and some added features. The N.O.V.A series has thus far been praised as one of the best First Person Shooter's available on mobile devices.
There is little information available about the new N.O.V.A title although is said to be powered by the Unreal Engine. This being said we can go ahead and assume that the hardware requirements will be up there (dual-core or better we suspect). Gameloft has promised to release more information shortly so only time will tell.
The video above shows Kal Wardin the lead character in N.O.V.A crash landing as he enters Earth's atmosphere trying to get to San Fransisco. It shows us nothing of gameplay features although Gameloft does tend to do a very good job with action trailers. N.O.V.A 3 will be releasing for both Android and iOS.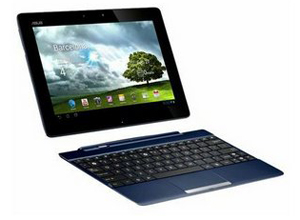 The next Asus Transformer Pad will be released by the end of May this year with the name Asus Transformer Pad TF300T. While this is a new device it will be released as the more cost effective Transformer Prime. At the time of its launch it will be available to only one retailer in the UK with the keyboard dock included for around £399 or $483 USD and should prove a good selling device for Asus.
Asus Transformer Tab TF300T Features:
Android 4.0 Ice Cream Sandwich
NVidia Tegra 3 CPU
10.1″ Display
16 GB Internal Storage
8 MP Camera
UK Press Release about the Transformer Pad TF300T:
United Kingdom (April 23, 2012) – Announced at Mobile World Congress in February, the new ASUS Transformer Pad is a powerful, yet affordable, tablet with a host of features onboard. Available in three stylish colors, the ASUS Transformer Pad is aptly named thanks to the mobile dock that allows it to transform from a tablet into a notebook. When docked, total battery life is rated up to 15 hours, while also increasing productivity with a full QWERTY keyboard, multi-touch touchpad and USB/SD Card ports. Housed in the Transformer Pad is a powerful NVIDIA® Tegra® 3 Quad-core CPU, ASUS SonicMaster technology for an incredible audio experience and an 8MP auto-focus camera that shoots crystal clear photos. The Transformer Pad is running the AndroidTM 4.0 operating system (Ice Cream Sandwich) that is upgradable and features exclusive software for added productivity.

The Transformer Pad comes in three stylish colors: Royal Blue, Iceberg White and Torch Red. It also boasts an elegant concentric patterned finish that hints at the ASUS Zen philosophy found in the ZENBOOKTM and Transformer Pad Prime. With a profile that's 9.9mm thin and 635g light, the Transformer Pad can easily be carried around all day, and when combined with the ASUS exclusive Mobile Dock, it turns into a productivity workstation. A QWERTY keyboard and multi-touch touchpad offers a true notebook experience, while a USB port and SD card slot provide additional storage options.

Powering the Transformer Pad is NVIDIA's Tegra 3 4-PLUS-1TM quad-core CPU with an integrated 12-core GeForce® GPU that provides superior performance, multi-tasking, smooth Full HD 1080p video playback and console-quality gaming. The "PLUS-1″ is an extra battery-saver core in the CPU that handles low-power tasks like active standby, music and video, and is transparent to the OS and applications. It offers the best combination of ultra-performance with low power consumption – up to 10 hours on the Pad and extended up to 15 hours when combined with the Mobile Dock.
---