Welcome to Android Advice and Tutorials.
---
This is a review of the Google Nexus 7 Keycase, which is a leather keyboard case for the Nexus 7. Generally I'm not one for the keyboard cases on tablets simply because of the size of them in most cases but this case is one of those exceptions. When you first open the box that holds the Nexus 7 Keycase you will find instructions on pairing the keyboard, a USB cable for charging the keyboard, and a case that has a foam insert where your tablet will go. You will also notice that the keyboard can easily be removed to use independently from the case itself.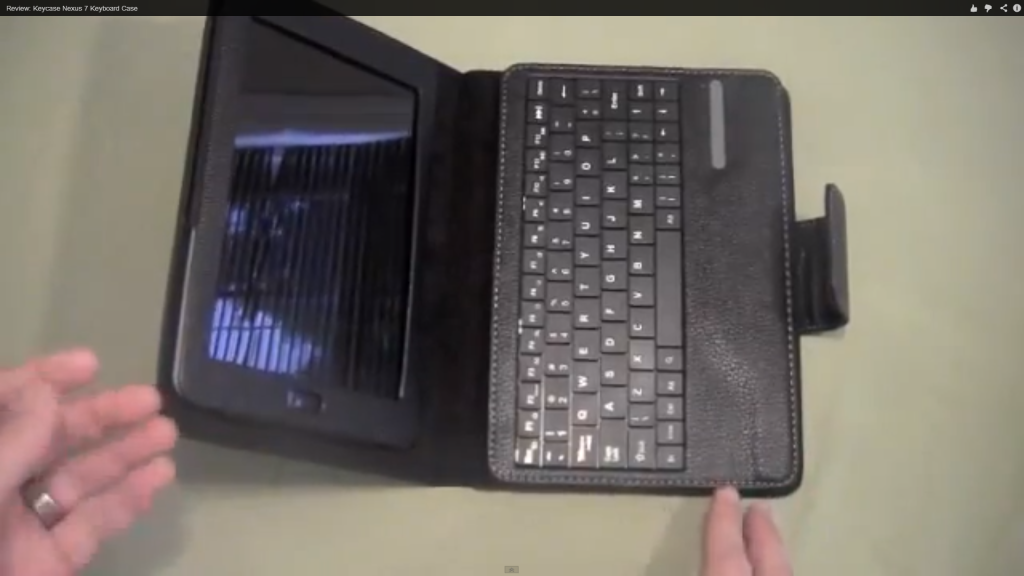 Nexus 7 Keycase Design:
The Keyboard case is made of a strong leather that is not only solid and not flimsy as you expect from leather cases but the seams are tight and strong. The enclosure for the tablet itself is very snug with a flap on the bottom that velcro's under the tablet to hold it tightly in place. You will also notice that the keyboard itself is tightly sown into a leather enclosure as well. This case is as solid a design as you will ever see in a leather case and still has many features to be desired. One of the other design aspects worth mentioning is the fact that it has a stand in the back so it can be propped up to be used like a laptop. This stand closes when your not using the tablet flush with the outside of the case. The case when closed is held closed by a flap that slides into the top holding it tightly. The only negative that we found with the case design is that flap although it is one of those things that looks to be the best way to do it.
Nexus 7 Keycase Keyboard:
The best feature by far on this case (and the reason most are buying it) is the keyboard. The small keyboard is roughly the same dimensions as the Nexus 7 as far as width and high (easily thinner) but still large enough to be useful and feel like a real keyboard. You can turn the keyboard off with a switch on the bottom right which is also how you pair it via Bluetooth. While its a nice looking and functional keyboard you can also remove it from the case easily by lifting it up. The keyboard stays in place by an almost unnoticeable magnet although is held on nicely. You can lift the keyboard out of the case and in the future if you decide to change cases it can still be used independently from the Keycase.
Nexus 7 Keycase Protection:
This was the area we were initially worried about although this case gives as much if not more protection than your rugged cases due to the tight design and slightly wider edges than the device itself. When closed your Nexus 7 is in a leather enclosure that almost nothing is exposed. When open the tablet is completely covered besides the screen although the leather around the front will still protect your device from a front drop.
We love the Nexus 7 Keycase Keyboard case design, functions and features as well as the professional quality. Of course we will give you the negatives as well although don't expect anything too bad as its a great case. It is much larger than most Nexus 7 cases (although rather thin for having a keyboard in it). Many people look for keyboard cases that are solid although you will have a hard time finding one that protects as well as this one. Last but not least, when using the Keycase the tablet sits at a 45 degree angle and cannot be adjusted.
Overall this is the best keyboard case we have used for the Nexus 7 and we recommend it to anyone looking to use their Nexus 7 as a laptop. If you have this case please drop us a line and let us know how you like it and if your thinking about getting it and have questions ask those as well.
Where can you get this case:
http://www.gearzap.com/tablet-accessories/google/nexus-7-accessories.html
Samsung's Galaxy Note 2 is one of the more popular Android phones due to its large screen and Samsung's easy to use interface. This being said there are so many different accessories to choose from how do you pick the right one? One of the first things we purchase for our new phones is a case to protect our investment. Here we will review one of our favorite cases for the Galaxy Note 2, the FlexiShield Skin from MobileFun.com.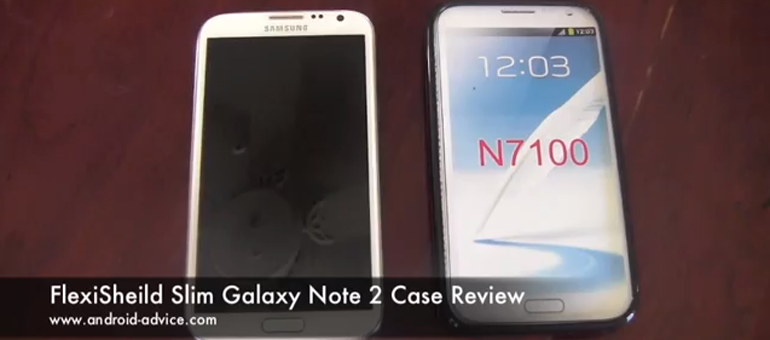 Design of the FlexiShield Skin Case for the Note 2:
Its called a skin and rightfully so as you can barely tell its on the device since it fits snug with a thin design. Not only is it ultra-thin but its also a strong gel material that protects and gives a bit to take some of the impact if dropped. With its precision design it fits tightly on the Note 2 and easily taken off with a little effort (it won't fall out I promise). The cutouts for the speaker, microUSB, mic, headphone jack, stylus, etc. are all perfectly placed with a soft bevel to avoid rough edges. Also even though we reviewed the black case you can get it in white or transparent in the event you want the device to look like there is no case at all. You will notice that the power button and volume rocker aren't cutouts but raised mimicked buttons. This feature allows those areas to be covered but still are easily pressed.
Protection of the FlexiShield Skin Note 2 Case:
Of course you wouldn't buy a case unless it gives your phone the protection that its meant to give. The FlexiShield Skin is made of a flexible but solid gel that can handle a good bit of impact and absorb it. This gel also has the rubber feel that creates much less risk of dropping your phone in the first place as opposed to the slick shell of the Galaxy Note 2 itself. Like other gel cases this also has the raised beveled edge around the screen so you can place the phone face down without risking scratched screen and nicks. This bevel comes up and around the screen securely so that it seals the edges to reduce risks of dust getting in and around the screen as well.
Overall the design of the case is modern and smooth and doesn't booger up the nice design of the phone and the protection is still there as expected from a case. After our video we actually did drop the Note 2 and it bounced twice without any issues. The drop was not on video because it was not intentional but just wanted to emphasize the integrity of the cases protection. In a world where thinner is better the FlexiShield cases are something everyone should at least consider.
Where can you find this case? Galaxy Note 2 Cases
"Where's My Water" is a free physics game with a paid version that features an alligator that really needs a bath. The point of the game is to solve puzzles that increase in diffuculty as you continue through the levels. Disney created "Where's My Water" with great graphics and sound effects that pull a great game with fun puzzles together. The game is marketed to children although is fun for adults as well (to be honest some levels took me a few tries to complete).
How Easy is "Where's My Water" to Play:
While the game can take a little bit to figure out it shows very detailed instructions for each level. Based on the device you are running "Where's My Water" on, it can take a little longer than you would like to load.
"Where's My Water" will take a little patience from younger kids although it will teach them great problem solving skills. Once your kids get the hang of it they will be addicted. There are many worse things to be addicted to then a brain trainer like "Where's My Water". As stated before there is a free version although it will only set you back $.99 if you want the full version.
Disney's Where's My Water on the Android Market:
https://play.google.com/store/apps/details?id=com.disney.WMWLite
Where's My Water for Android requires Android 2.1 or higher and takes 22.34 MB. We recomend running it on a newer device to reduce load times although most Android devices that have Froyo and up work really well.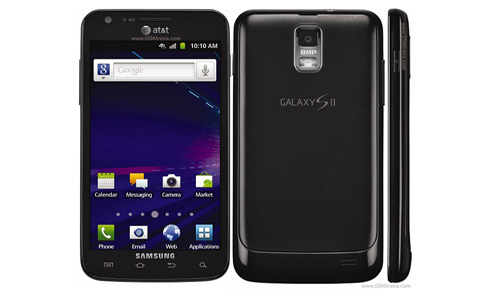 Introduction to the Samsung Galaxy S II Skyrocket HD
What strikes one immediately about the Samsung Galaxy S II Skyrocket HD is the design. It has a thin body, making it comfortable to hold. The 4.65 inches of screen (when measured diagonally) makes it large enough to satisfy any need, be it watching videos, surfing, reading e-books, editing documents or playing games. The Super AMOLED Plus capacitive touchscreen reproduces colors with jaw-dropping perfectness. The high-speed, dual-core processor is responsible for making this phone fast and smooth; things like downloading and multi-tasking are made so much easier. The operating system is also among the latest– Android Gingerbread. This gives the phone enhanced capabilities.
Another plus for Gingerbread is that it gives access to almost all the apps in Android Market. The cameras on Samsung Galaxy S II Skyrocket HD are fantastic. The one on the back is an 8MP camera aided by features like autofocus, face and smile detection, image stabilization, and a LED flash; it captures excellent pictures. It records HD-quality videos. Video chats can be conducted with the front-facing camera, which has a resolution of 2MP and it makes images appear crystal-clear. There is a facilitation for push email, instant messenger, and also the ability to subscribe to RSS feeds, so that one need not go to the trouble of visiting one's favorite websites every time.
Samsung Galaxy S II Skyrocket Specifications
The most prodigious specifications of Samsung Galaxy S II Skyrocket HD are listed below:
3.5G Network: 4G Network :- LTE 700 LTE 1700 / 2100
OS: Android OS, v2.3.5 (Gingerbread)
GPS: Yes, with A-GPS support
Browser: HTML5, Adobe Flash
Proximity sensor: Yes
Conclusion
The audio and video file types that the Samsung Galaxy S II Skyrocket HD can play include all the commonly used ones, plus DivX, Xvid and HD-quality files for videos. Among other connectivity options Bluetooth, USB, Wi-Fi (including the ability to act as a Wi-Fi hotspot for other devices) and GPS are the prime ones. The HTML browser supports Flash; hence any website can be browsed and surfing facilities can be availed to the fullest. The phone is Java-enabled- making almost all apps can work. Viewing as well as editing Microsoft Office files is enabled; hence one can make use of the large screen for all types of work purposes. The phone is fitted with a very efficient battery, lasting long on one charge. All in all, this is a very well-endowed and efficient smartphone.
---