Welcome to Android Advice and Tutorials.
---
Until recently the only method to root the Motorola Photon 4G was connecting it to the HD Dock. Now there is an even easier method that does not require the dock. We have only attempted this on one Photon and it worked flawlessly.
Root Instructions for the Motorola Photon 4G:
Download photon-torpedo.tar (Download Link)
Place photon-torpedo.tar into the "/data/tmp" folder
Install "Superuser" from the Android Market
Install "Android Terminal Emulator" from the Android Market
Run Android Terminal Emulator
Run "cd /data/tmp"
Run /bin/tar xf /data/tmp/photon-torpedo.tar
Run /data/tmp/photon-torpedo.sh
Run /data/tmp/install-su.sh
Congrats your Motorola Photon 4G is Rooted!
Thank you to XDA member edgan for posting these instructions in the XDA forums.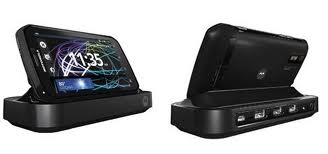 For those of you that have gotten the Photon 4G and really want to root it there is already a way to do this.  The only downside is that you need to have the HD Station to do it for now.  This is a permanent root for the Photon 4G and hopefully we will have a method for those without the hd station.
What you need to Root the Motorola Photon 4G with Webtop:
HD Docking Station for the Photon 4G
HDMI cable that came with HD Station
Monitor or TV with open HDMI port
Wifi connection on the phone
Computer with network access to the phone
If you don't have an SSH program on your pc download Putty (Download Link)
Root Instructions for the Motorola Photon 4G:
Install Superuser from the Android Market
Install SSHDroid from the Android Market
Open SSHDroid and make sure its listening on port 2222
Connect Photon to the HD Station
Connect the HD Station to the TV/Monitor via HDMI
Open Firefox in Webtop
Go to http://higgs.cygnusx-1.org/~edgan/pulse.tar (do not save it)
Instead of saving it open it
Extract pulse.tar to /var/tmp
Connect to your phone via SSH at the ip address in SSHDroid port 2222
Type /var/tmp/pulse/pa_race
Type /var/tmp/pulse/install-su.sh
Type rm -rf /var/tmp/pulse*
Congrats your Photon 4G is rooted
Original instructions can be found at XDA in the forums located at:
http://forum.xda-developers.com/showthread.php?p=16254545#post16254545
---