Welcome to Android Advice and Tutorials.
---
Unlocking the Samsung Captivate and other Galaxy S devices is very easy with the help of "Galaxy_S Unlock Tool from the Android Market. Not only does it SIM Unlock your Android phone but it does it for free. Follow along witht the instructions above in the video or use the SIM unlock instructions below.
This method does require Root access on your Captivate. Go to "Root Samsung Captivate with SuperOneClick" for the Root instructions for your device.
SIM Unlock Instructions for Samsung Galaxy S Devices:
Go the Android Market and Install "Galaxy_S Unlock"
Open the Galaxy_S Unlock" App and Allow Root Access
Select Step1 and allow it to backup efs
Select Step2 and allow (this takes about 30 seconds)
Your phone will reboot
Once booted open "Galasy_S Unlock" and select step3
Congrats your SIM is unlocked!
You can now place your T-Mobile SIM into the captivate and go nuts. The device will still allow the AT&T SIM just fine. If you run into any issues the Galaxy_S Unlock app will allow you to revert back so that you can relock it back to the way it was originally.
While this method is meant for the Samsung Captivate it can also be used for all Galaxy S devices like the Vibrant and Fascinate. The Captivate is an older Android phone but still very popular. The Samsung Captivate is an AT&T phone but also easily SIM unlocked to work on other carriers like T-Mobile. The first step is to root the device and here it is.
Samsung Captivate Root Instructions:
Download SuperOneClick and Extract it to your PC (Download Link)
Put you Captivate in USB Debugging Mode (Settings -> Applications -> Development)
Plug your Captivate into your PC via USB
Open SuperOneClick (wherever you just extracted it)
Click the "Root" button
When asking if you want BusyBox say Yes
When completed unplug your Phone and Reboot it
Congrats you now have root access on your Captivate!
If you want to test your Super User rights download Titanium Backup or any other app that requires root access and open it. You should get a superuser access window to accept and your good to go. As always follow these instructions at your own risk we are not responsible for its use.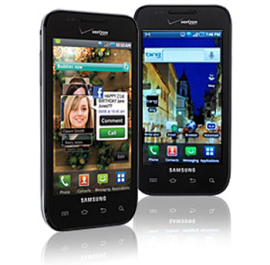 Finally those users of Verizon's Samsung Fascinate will be getting the update from Android 2.2 Froyo to Android 2.3.5 Gingerbread. This OTA (over the air) update has already started pushing out. If you haven't updated yet you can easily check for the update by going to "Settings -> About Phone -> System Updates".
This update to Gingerbread now leaves the Fascinate one OS version behind but is nice to see finally getting to the device. Please let us know what you notice in the update and if there are any bugs you encounter.
---