Welcome to Android Advice and Tutorials.
---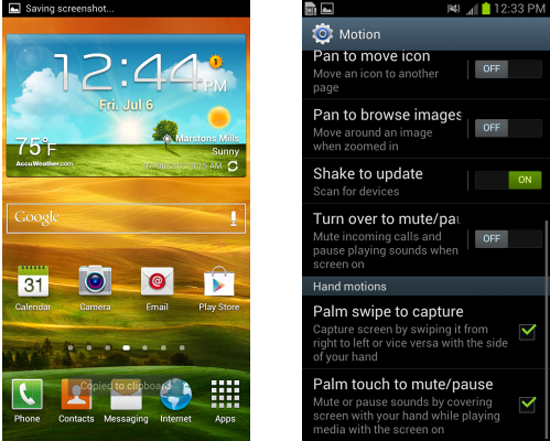 One of the most basic features that most Android users want is the ability to take screenshots although its slightly different on the Samsung Galaxy S III. There are currently two different ways that you can take a screenshot with your Galaxy S III with neither one of them being holding the power button and volume down button at the same time (which is the normal Android way to take a screenshot). Method one for taking a screenshot is close to other Android devices while method two uses Samsung's features called "motions".
How to take a screenshot on the Galaxy S III (Method 1):
Go to the screen that you want to capture
Press the power button and home button at the same time
Screenshot will be saved to your Gallery
How to take a screenshot on the Galaxy S III (Method 2):
Go to your Galaxy S III settings
Open the Motion tab by tapping it
Make sure the top Motion checkbox is checked
Make sure "Palm swipe to capture" is checked
Use the side of your palm and slide it on the screen
Presto it takes a screenshot
Either way you choose is fine and both will save the screenshot to your Galaxy S III gallery. Its nice to see that you have two different options for taking screenshots. Anything you have to say or questions can be posted in the comments below.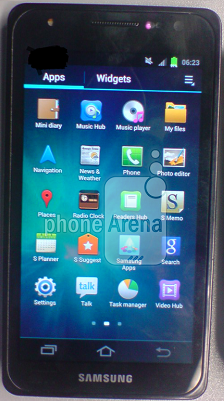 There has been alot of speculation on an upcoming Samsung Galaxy S III, could the leaked GT-0I9300 be the Galaxy S III? PhoneArena got their hands on an image of the Samsung GT-I9300 that looks to be the Galaxy S III based on its specifications although the device does not say Galaxy S III anywhere on it. While the Galaxy S II was released under the model GT-i9100 followed by the Galaxy Nexus with model number GT-i9250 we can assume this is a high end
Galaxy device.
The leaked image from PhoneArena does give some insight as to this new device. It shows that the new Galaxy device will be running Android 4.0.3 Ice Cream Sandwich with a button free front. The Android phone will also have a front facing camera, a speaker and the usual sensors found on Android devices. It doesn't seem to have a new TouchWiz interface from what we have found although could just not be changing the app drawer.
Since this is not official it may not be the Samsung Galaxy S III although there will be a new high end Samsung device. As Samsung makes this new GT-i9300 official we will keep you updated. Also let us know if you notice any other information on this device in the form of a comment below.
One of the most anticipated Android phones of 2012 is the Samsung Galaxy S III which has been left out of Mobile World Congress by Samsung has some amazing specs. BGR has reported that they have seen the specs and they will have you giddy with anticipation.
Samsung Galaxy S III Features:
Android 4.0.3 Ice Cream Sandwich
1.5GHz quad-core Samsung Exynos processor
4.8-inch "full HD" 1080p resolution
16:9 aspect ratio display
A 2-megapixel front-facing camera
8-megapixel rear camera
Ceramic case
4G LTE
We currently have no picture for the Galaxy S III although there have been renderings to show what the device may look like when released. As Samsung announces the device soon after MWC as they have stated we will update you with the full specs and hopefully an image.
We aren't sure if this is legit or not but there is an online store that is allowing pre-order of the Samsung Galaxy S III called Kimstore. Samsung still has not officially announced the device but Samsung Telecommunications President JK Shin did leak it already. We have been expecting the announcement at Mobile World Congress although have since been told it will be announced at a separate event after MWC.
The Samsung Galaxy S III Specs According to Kimstore:
SuperAmoled Plus display with capacitive touchscreen and 16m colors
720×1280 resolution at 4.6″
12 megapixel rear facing camera
Video recording at 1080p
16gb or 32gb onboard storage and 2gb of RAM
Android 2.3 Gingerbread
We can assume this is only an attempt to generate traffic to their site since we can assume that Samsung would release this device with Android 4 ICS and not the Android 2.3 stated at Kimstore. They will however get their wish for traffic due to the ad seen above.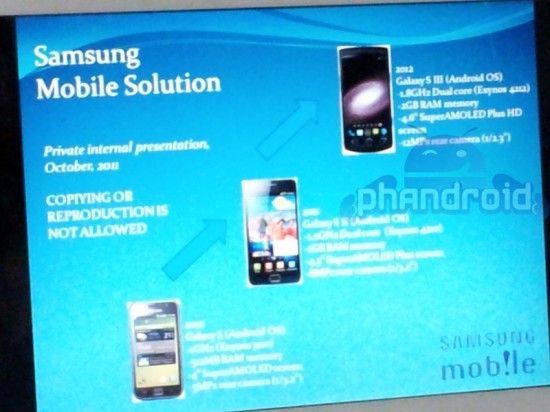 It looks like Samsung has already "accidentally leaked" some specs for the newest device in the Galaxy S series of Android Devices. The Galaxy S III specs have been released with an expected 2012 release date already posted to it. We can almost guarantee that the specs you see here will change as the new device progresses through the next year.
Current leaked Samsung Galaxy S III features:
Android 4.0 Ice Cream Sandwich
1.8 GHz dual-core Exynos 4212 processor
2 GB of RAM
4.6 inch Super AMOLED Plus HD Display
12 MP Rear Facing Camera
At this point Samsung shows that the camera will use the W750 BSI CMOS sensor with LTE and NFC support. The device will be lighter and thinner that the Galaxy S II and probably support the same TouchWiz UI seen in earlier versions.
Of course this is a very early leak and once released may not even be close although it is good to see that Samsung is moving forward so fast. As we find out more and the device is developed further we will keep you up to date on progress.
This has been verified to be fake.
---