Welcome to Android Advice and Tutorials.
---
I decided with the newest innovation from Samsung comes a lot of questions about cases so we will talk about the Official Samsung Galaxy S4 Flip Case. The Flip case is as thin a case as you can get for you Galaxy S4 as it doesn't cover the back but actually replaces it. If you don't normally put cases on your devices but want a way to cover the screen without a screen protector then this is the way to go. You can get the flip cover in many colors like black, white, light blue, yellow, pink, orange, and lime green.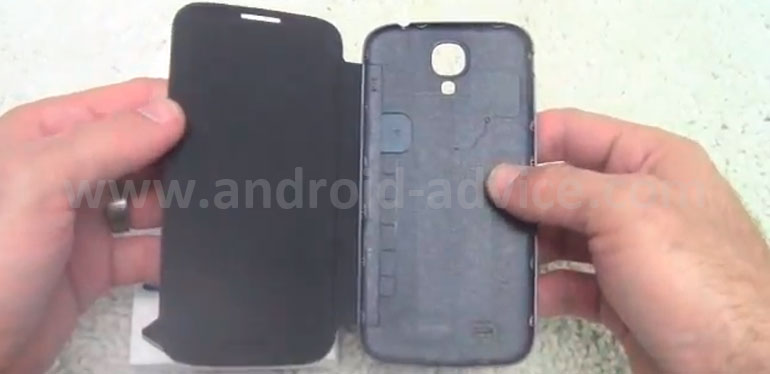 Samsung Galaxy S4 Flip Case Design:
The case is among the easiest to put on your device due to its design being a replacement for the standard back battery door and nothing more but a thin flap that covers the face of your device. The back plate seamlessly replaces the battery door allowing you to put the stock back plate back in the box keeping it in new condition forever. The best part of this is the fact that you can do battery pulls and addition of Micro SD cards no different then if you had no case at all. The face cover is a thin strong flap that folds over the phone when not in use and folds behind the device when in use. The part of the cover that is important is the fact that its not only solid but also has a soft material that sits against the phones screen when closed to prevent scratches.
Samsung Galaxy S4 Flip Cover Protection:
If you are looking to protect your S4 from impact then your looking at the wrong case although the flip cover does create a very protective front to the device to prevent scratches. This case focuses protection on the screen itself and absolutely none to the phones back or corners. This being said there are a large number of users out there that prefer no case at all and this is a great way to keep the thin phone thin while adding incredible protection to the screen.
Overall the Galaxy S4 flip cover is a very nice and perfectly designed accessory for your phone, especially if you don't like bulky cases and want to keep the thin light form meant for the S4. This case is for people who take care of their phones and just need that little added protection. The only con to this case is that its not a smart cover in that when opening and closing the flip cover it does not wake or put your phone to sleep. It does help that this is an official Samsung accessory as well so you know the quality is there.
Where to get this case:
http://www.mobilefun.co.uk/genuine-samsung-galaxy-s4-flip-cover-black-ef-fi950bbegww-p38373.htm
Those of us that like being able to talk to our Android device to perform actions now have the Galaxy S4 S-Voice app available to download. Google Now is great for searching the internet and performing some of our basic needs by voice but Samsung has made some leaps with S-Voice worth checking out.
S-Voice answers questions, makes recommendations and performs actions using a natural user language interface. S-Voice is based on the Vlingo personal assistant and is released with new Samsung Galaxy devices.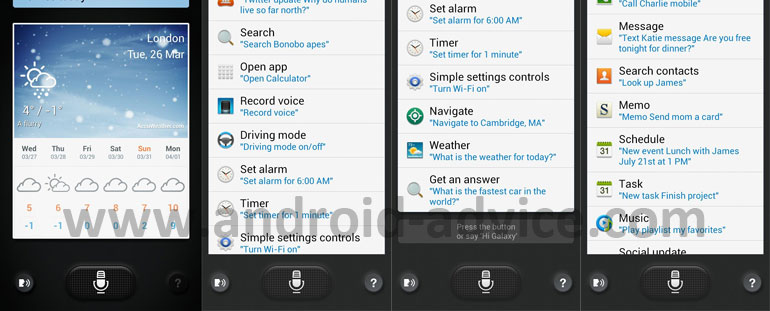 When testing S-Voice from the Galaxy S3 last year we ran into a few issues but depending on your device this version should work rather well. We have tested it on a few devices one of which being the S3 and it seems to be working very well. Our HTC One X crashed once but after a force close and phone restart it seems to be fine.
This APK comes courtesy of SamMobile who ripped it from a Galaxy S4 system dump and released it for all of us to play with. SamMobile tested the APk on a Galaxy Note II, SIII and Nexus 4 and claim that it is working flawlessly on those devices right now. Take note that they have stated some AOSP ROM's are having issues with the APK.
Give S-Voice a shot on your device and let us know your device and how its working. We will continue testing on other devices like the Nexus 7 and 10 as well as the Note II.
This morning we received a screenshot of a Galaxy S5 spec sheet from Samsung's US website. The image (shown below) states that the Galaxy S5 will be running Tizen 2.1 Magnolia. The person who sent this to us said that the page was quickly removed but we tried anyways and sure enough nothing was there. We would like to first state that none of this has been verified and its just an anonymous tip that may mean nothing. Here is the email we received: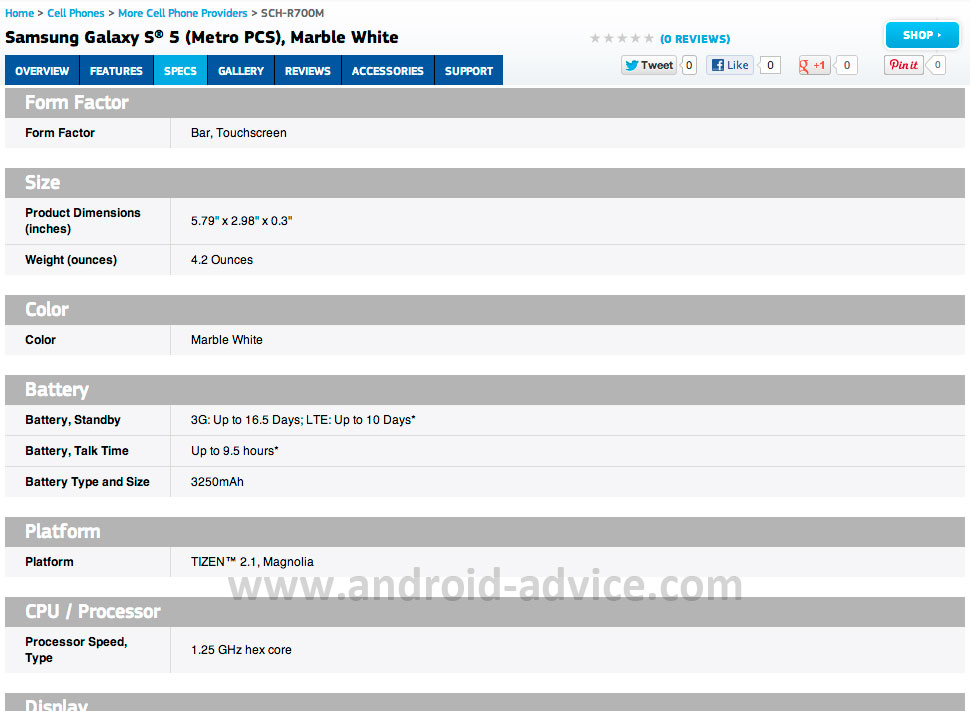 Hello Android Advice,
I was on the Samsung website looking through phones when a listing for a Galaxy S5 showed up in the list. I clicked on it and saw this which I decided to take a screenshot and send on to you. I noticed that it says the S5 will be running Tizen and not Android and figured it would be a good article for you. I tried to go back to it after leaving the page and it was gone so couldn't have been up for more than a few seconds.
The specifications shown for the quick listing of the Samsung Galaxy S5 (SCH-R700M) from the partial screenshot we have is the following:
Form and Color: Bar, Touchscreen Marble White
Operating System: Tizen 2.1 Magnolia
Processor: 1.25 GHz Hex Core
Dimensions: 5.79 in x 2.98 in x .3 in
Weight: 4.2 ounces
Battery: 3250mAh (9.5 hours of talk time)
Samsung rumors of a new phone running Tizen has been mentioned more than once and rumor has it the release will be this year. Most sources currently say some time in August or September ub we all know thats just talk. We will be following Samsung and their intentions with Tizen over the next several months and see where all of the rumors get us.
We don't put much stock in leaks of this nature although its worth showing to see what others think about the anonymous information. We assume that the posting on the website as an actual product would not be the first thing to leak although the sender has nothing to gain so its worth a mention. Let us know what you think of the new Galaxy S5 specs above via comments below.
Tizen is a Linux based operating system a lot like Android but is Samsung's attempt to compete with Google's Android and Apple's iOS. This could be more of a hit to Android than iOs due to the fact that Samsung is the most popular in Android devices holding a firm 40% of the market. In theory Android could lose most of that 40% in a very short period of time once Tizen is released.

Samsung having a huge marketing budget and of course the creativity in commercials that we all have seen and love Tizen could be a success for them. Not only do we need to worry about this possible change in OS by Samsung from a market share but also the fact that developers will be split from Android reducing the number of rooted devices and custom ROM's that we have seen to date.
Samsung has been rumored to be releasing a high end phone with the Tizen OS by the end of this year. I guess we won't have to wait too long to see the direction this new development by Samsung will take. I personally will grab a Tizen phone if and when released to see what its all about although don't see myself jumping the Android ship any time soon.
Samsung's Galaxy Note 2 is one of the more popular Android phones due to its large screen and Samsung's easy to use interface. This being said there are so many different accessories to choose from how do you pick the right one? One of the first things we purchase for our new phones is a case to protect our investment. Here we will review one of our favorite cases for the Galaxy Note 2, the FlexiShield Skin from MobileFun.com.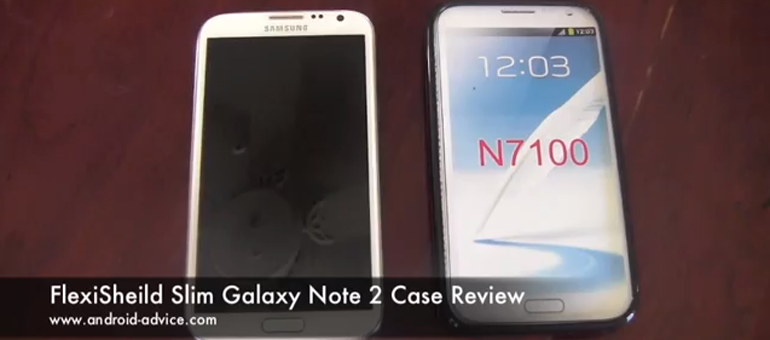 Design of the FlexiShield Skin Case for the Note 2:
Its called a skin and rightfully so as you can barely tell its on the device since it fits snug with a thin design. Not only is it ultra-thin but its also a strong gel material that protects and gives a bit to take some of the impact if dropped. With its precision design it fits tightly on the Note 2 and easily taken off with a little effort (it won't fall out I promise). The cutouts for the speaker, microUSB, mic, headphone jack, stylus, etc. are all perfectly placed with a soft bevel to avoid rough edges. Also even though we reviewed the black case you can get it in white or transparent in the event you want the device to look like there is no case at all. You will notice that the power button and volume rocker aren't cutouts but raised mimicked buttons. This feature allows those areas to be covered but still are easily pressed.
Protection of the FlexiShield Skin Note 2 Case:
Of course you wouldn't buy a case unless it gives your phone the protection that its meant to give. The FlexiShield Skin is made of a flexible but solid gel that can handle a good bit of impact and absorb it. This gel also has the rubber feel that creates much less risk of dropping your phone in the first place as opposed to the slick shell of the Galaxy Note 2 itself. Like other gel cases this also has the raised beveled edge around the screen so you can place the phone face down without risking scratched screen and nicks. This bevel comes up and around the screen securely so that it seals the edges to reduce risks of dust getting in and around the screen as well.
Overall the design of the case is modern and smooth and doesn't booger up the nice design of the phone and the protection is still there as expected from a case. After our video we actually did drop the Note 2 and it bounced twice without any issues. The drop was not on video because it was not intentional but just wanted to emphasize the integrity of the cases protection. In a world where thinner is better the FlexiShield cases are something everyone should at least consider.
Where can you find this case? Galaxy Note 2 Cases


Samsung has started to put their newest flagship Android Phone into commercials to get the hype moving forward. As far as Android manufacturers go Samsung is by far the best at creating entertaining, memorable, and informative commercials. Above you will see their newest ad to promote their Samsung Galaxy S4. The video does tease their new flagship Android phone but gives no real specification or features of the device. We will see more on the Galaxy S4 at their event on March 14th with the official unveiling of the newest soon to be most popular Android device.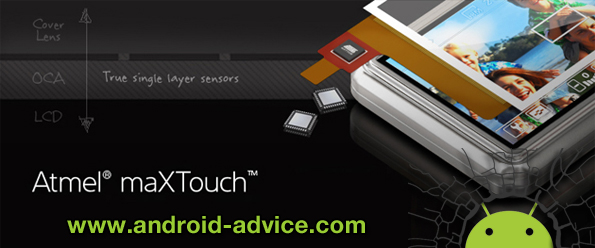 With the many other rumors surrounding the Samsung Galaxy S4 we have news about the possibility of a touches display using maXTouch S sensors. With Atmel's latest maXTouch S sensors the Galaxy S4 will allow its users to gestures in front of the phone to use it instead of actually touching the glass itself. How cool would it be to control your phone in most cases without ever touching the display.
While this would be a new technology for Samsung devices it has been used on other phones so it has been tested and improved on before now. You may have seen this on the Sony Xperia Sola or Pantech Vega LTE but not on a high end device like the Samsung Galaxy S4. The older sensors in the aforementioned devices also used much more battery life than the newer ones that are supposed to be in the S4. On top of this the battery drain that is associated with the S sensor is not only improved but has the 2,600mah battery to work from on the Galaxy S4.
While we are looking forward to the announcement of the Galaxy S4 some time in the middle of March we will likely not get confirmation of these features until April at the earliest. LEt us know what you think of this new feature and if it would be a persuasion to purchase the Samsung Galaxy S4.

One of, if not the most important aspect of choosing a new phone is its battery performance. Samsung is already a leader when it comes to Android devices packing enormous power and draining battery slowly but with the Samsung Galaxy S4 Samsung has a few features to improve its battery life even more than its daddy the Galaxy S3. Some of these features are larger battery, new Broadcom chipset, and low power processor consumption.
The battery that has been mentioned to come with the Galaxy S4 is a much larger 2,600 mah battery over the S3′s previous 2,100 mah battery. With this increase in battery storage there is also mention of using a much more power efficient processor, the Exynos 5 Octa. This is a eight-core processor that uses four at a time choosing based on the actions requirements on the device. The most significant power saving comes with the new Broadcom chip that boasts having the "industry's most advanced idle power consumption performance". This Broadcom chip has been confirmed to be in Samsung's supply chain and is the new Broadcom 4335 chip.
Assuming that all of these features are confirmed when Samsung announces the Galaxy S4 the device will easily have the best battery life of any mobile device on the market to date. With all of this you will likely see the Galaxy S4 outsell the S3 (not that Samsung needs an help). LEt us know what you think or maybe anything else you have heard about the S4 battery life and features that will help improve it via comments below.

As we stated today the Samsung Galaxy S4 is rumored to have wireless charging built in, well here is the wireless charging pad that would go with it. The FCC already has the specifications for the charging pad names the Samsung Qi and we can assume this will be a great new accessory for not only the Galaxy S4 but also any new tablets that Samsung will be releasing this year.
Based on the Specs that the FCC currently has the wireless charging pad will be named the Samsung Qi and will come with the model number EAD-W10EWE. The overall specifications have not been released via the FCC filing although the picture above shows that its all but officially announced. There are details on how to use the wireless charger such as how to plug it in and where to place the device on it to make it charge. A few of the LED features were also released in the filing such as green meaning that your device is charging and red meaning there is an error with the charging (we could assume this pattern).
There has been no official word from Samsung or even a hint at this new accessory although we can assume if the FCC has it that it will be released this year. We are excited to see this become a reality as Samsung is already the leader in Android related everything they might as well have the easiest user friendly accessories when it comes to charging. Let us know what you think about wireless charging on your newest Samsung devices via comments below.

Rumors have been flying around about Samsung's newest flagship smartphone to be released this year 2013 the Samsung Galaxy S4. Samsung has many new devices in the works for 2013 but none that will match the Galaxy S4. They are easily the manufacturer that keeps Android the top mobile OS and largest Apple competitor. While Samsung is very good at keeping things quiet about their new devices there will be no lack of rumors, leaked specs and benchmarks.
Even though there has been no official announcement for the Galaxy S4 modeled the GT-I9525 there have been some specifications shown in more than one location to give a good idea of what the device will have in store for us all.
Samsung Galaxy S4 Rumored Features:
Android 4.2 Jelly Bean (possibly 5.0 Key Lime Pie)
5-inch 1080p HD Display
1920 x 1080 screen resolution
Eight core Exynos 5 Processor
13 MP Camera
Built in Wireless Charging
While none of the specifications above are confirmed they seem to be the logical next step for Samsung to have in their newest flagship device. There were rumors earlier on that said they would likely unveil the new device at CES 2013 which of course was not the case. Samsung will likely announce the Galaxy S4 at the Samsung Unpacked event that they hold every year around May.
There is also no price being rumored although we can go ahead and assume that it will fall in line with other Galaxy S devices at time of release. The only thing that could effect this and drive the price down a bit is the competition it will face with the Google Nexus 4. Let us know what you think and if when the time comes you plan on upgrading the the newest Samsung powerhouse.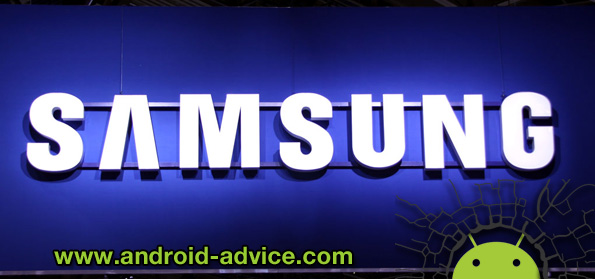 We all look forward to seeing Samsung's new products, lets be honest they are the best in most cases. It looks like they are now getting ready to announce their next Galaxy Tab in the popular lineup of Android tablets, the Samsung Galaxy Tab 3 Plus.
Based on the few specifications that we have found online (very few mind you), this will create competition for the Samsung made Google Nexus 10. Samsung being the manufacturer and the 2560 x 1600 display alone make this tablet worth looking into. We also hear that the Galaxy Tab 3 Plus will come out of the box with Android 4.1 and is rumored to also have the same overall specs as the Nexus 10. This being said we will post more detailed specs as the rumors merge with reality.
The GT-P8200 is supposedly to be announced by Samsung within the next several weeks (give it a month just to be safe). Odds are based on history and other tablets in its class we can assume the price point will be closer to the $499 mark. This being said the actual price and release date assuming this is all true should be announced this quarter.
If this becomes a reality, how likely are you to look into this new Samsung tablet? Will you be getting one if the specs and price is right, or have you already snagged a Nexus 10 and are happy with it? Let us know in the comments below.
---