Welcome to Android Advice and Tutorials.
---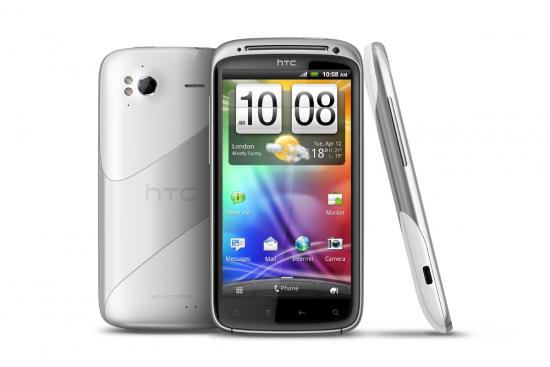 There is a new version of the HTC Sensation being released in Europe that will come with Android 4.0 Ice Cream Sandwich right out of the box. There was a press release from HTC's Dutch branch that announced there would be this new version of the HTC Sensation running ICS and a white body. It was also stated that the release date of this new device would be March 1st this year.
The Dutch Press Release (Translated)
HTC launches the HTC Sensation in Ice White
Thursday, February 2, 2012

Latest Android update for all devices Sensation series

Utrecht, February 2, 2012 – HTC , the leader in mobile innovation and design, announced that the HTC Sensation as of March 1 is also available in color Ice White. The device also features Android 4.0 (Ice Cream Sandwich). Besides the HTC Sensation in Ice White, the update to Android 4.0 soon for all aircraft in the Sensation series available.

The HTC Sensation in Ice White has the same specifications as the model in the color gray, like a stylish aluminum design with a generous 4.3-inch QHD screen. Allows users benefit from an optimal viewing experience. The white version is also equipped with an 8-megapixel camera that is also full HD video can be recorded. Combined with the user experience of HTC Sense this makes for a better and more personalized experience on Android. Android 4.0 The update to the latest Android version allows users of the HTC Sensation , HTC Sensation XE and HTC Sensation XL benefit from faster browsing experience. They can also unlock their device using face recognition (face unlock). With Android 4.0, it is first possible to zoom in on the agenda and at the bottom of the homescreen itself a bar with favorite apps to create. Also offers seamless integration with Google Android 4.0 +, Google's social network. The update will soon Over the Air (OTA) rolled out to all users.
We can assume with the release of this device coming with Ice Cream Sandwich that the current Sensation owners could see the Android 4 update to their devices shortly after.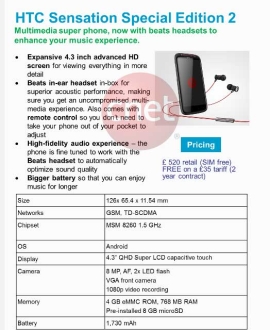 HTC is preparing the launch of an HTC Sensation 2 Special Edition with Beats Audio by Dr. Dre. This seems like it should be a rumor since the original HTC Sensation has only been out a few months and all HTC phones to be released from here on out are supposed to come with beats regardless.
Either way it seems that this device will be released by HTC and according to CNet will have an upgraded 1.5 GHz dual core processor which is up from the original 1.2 GHz processor. While the leaked document with its features say it will have an advanced HD screen it looks like it will be the same 4.3 inch qHD display as the original. Also the rear camera seems to be the same 8 MP camera. The battery will however have an upgraded battery from 1,520 mAH up to a 1,730 mAH battery.
These are however "leaked" details on the device so if you want to believe it go for it but I would wait for something official.
---