Welcome to Android Advice and Tutorials.
---
Voice Answer was developed by Sparkling Apps based in the Netherlands and is usable on any Android device. Just like Siri for iOS, Voice Answer is based on data from Wolfram Alpha but lets users ask questions by speaking to the app or typing a question.
Depending on the answer, additional information such as images will be presented that are relevant to the answer or associated topics. There is also a chatbot feature which will allow you to have a conversation with Eve on any topic.
The company says they are going full speed and plan on implementing more new features to the app including location based place finding and email/SMS and more voice function commands. They even plan on creating an animated robot for the interface which you can see in the video below.
Voice Answer is also available on iOS devices now after being rejected for the past three months.
Get it at the direct Google Play link below.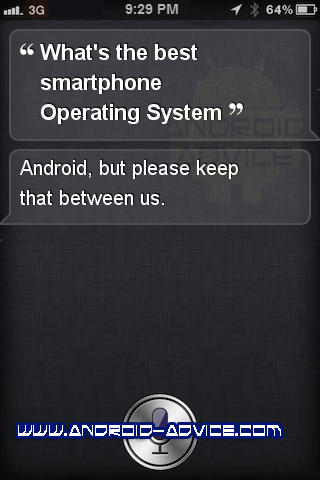 We can assume that Iris which is Android's answer to Siri will be just as funny when it comes to responses. Based on its very early version that is available now Iris already talks back about the same way as Siri. Iris unlike Siri is still in early development but can be found on the Google Android Market.
There are already many sites out there that have some of the funny responses Siri will give with a few easter eggs included. One of these sites is ImSiri.us (http://www.imsiri.us) which has a few videos as well. We can only hope that Iris will come with the same type of function.
I am in no way saying its worth buying a new phone or switching due to this one feature but even as a biased Android man myself I feel its worth noting the fun that it creates.
The only reason the iPhone 4s is selling is the fact that it has Apple's new feature "Siri" built in. Siri is a really cool feature but its not unique, there are other alternatives out there. A few developers from Dexetra.com created a Siri alternative for  Android called Iris within only a few hours.
This new app like Siri will work by asking a question, then the app will look over the internet and find the answer and respond. It was said to just be something to pass the time and have a little fun but now seems to be a worthwhile development.
One of the Developers on the project Narayan Babu says:
When we started seeing results, everyone got excited and started a high speed coding race. In no time, we added Voice input, Text-to-speech, also a lot of hueristic humor into Iris. Not until late evening we decided on the name "iris.", which would be Siri in reverse. And we also reverse engineered a crazy expansion – Intelligent Rival Imitator of Siri. We were still in the fun mode, but when we started using it the results were actually good, really good.
The app has been named Iris and will be available on the Android Market shortly although if you would like to try it out now in its beta stages it is available. Of course those of us that are die hard Android fans knew it would only be a matter of time before Android had its version of iPhone's Siri.
| | | |
| --- | --- | --- |
| | V.S. | |
Apple announce their "New" feature called Siri. This has been available on Android for a long time now in the form of Vlingo, so whats the difference? Well the only major difference is the fact that Siri is integrated into iOS now and easily pulls calendar and maps without referring you to other apps.
Like Siri, Vlingo allows you to call a contact, text a friend, search for businesses, get directions and update Facebook status all with simple commands. Siri and Vlingo both also reads out many things like the weather. A huge difference is that no matter how you spin it Vlingo is free.
Google has mentioned that Ice Cream Sandwich will have a better virtual assistant and that it will be integrated like Siri is on the iOS devices. We look forward to seeing what comes of Android's updated virtual assistant.
Apple is an advertiser that can make anything look good. If Google put the marketing effort into Android that Apple puts into iOS we would see the true winner is Google.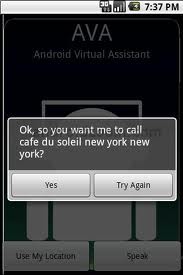 Apple announced with the release of the iPhone 4s that it will include a virtual assistant called Siri. While this is a great feature for Apple to add to their new phones we all know Google is king when it comes to voice recognition at this point. The word on the street is everyone that was hoping for a virtual assistant on their Android devices will get it with Ice Cream Sandwich.
We haven't verified this yet but a tipster from Google says they have been working on taking their Voice Search app up a notch with virtual assistant features already. Google being the leader in voice technologies and facial recognition will bring these new features to Android 4.0 Ice Cream Sandwich.
---