Welcome to Android Advice and Tutorials.
---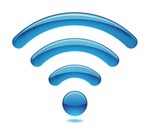 One of the more notable features that is included with the release of Android 4.0 Ice Cream Sandwich is the "Wi-Fi Direct" feature. We have heard a lot by now about the new feature "Android Beam" that uses NFC to transfer and share information but what about the Ad-Hoc wireless sharing? We no longer have to rely on Bluetooth to share information across Android devices.
Wi-Fi Direct lets users connect directly to nearby devices using a Wi-Fi network connection without worrying about data connectivity or tethering. As long as both devices have Wi-Fi Direct compatible devices they can stream videos and share files with it. One of the great benefits to Wi-Fi Direct of Bluetooth is the fact that its a lot faster.
The Wi-Fi Direct app has been tested on the Samsung Galaxy S II already without any issues reported that we can find to date. This is however not integrated into Android 2.3 Gingerbread and is only available via Samsung's custom TouchWiz ROM or Android 4.0 Ice Cream Sandwich.
Apparently its very easy to enable tethering on the Droid Bionic. Of course in order to get the tethering enabled you need to root it so follow this article to "Root the Motorola Droid Bionic" first.
Verizon and Motorola both have made the tethering more secure with the Droid Bionic than previous devices although we all knew that it was only a matter of time before someone got around it. In this case it was XDA member ddv2005 that found a way to enable tethering by changing one line using SQLLite Editor.
Instructions to enable Tethering on the Droid Bionic:
Download and install SQLLite Editor
Modify settings.db for "Settings Storage" application
"Setting Storage Application is com.motorola.android.providers.settings
Set "entitlement_check" to 0
Reboot the Bionic
Cograts your Done!
This method will allow you to tether your tablet to your phone using bluetooth.  This has apparently been available for a while now but just not noticed.  There is no need to root your phone to use this method that we can see.  We have tested this on the wifi Motorola Xoom with the Motorola Atrix.  While our Atrix is rooted we don't see anything that would require it.
Instructions:
Sync your phone with your Tablet

Go to the Bluetooth settings on your Xoom (settings -> wireless and networks ->bluetooth settings ->paired devices -> choose your phone)

click the wrench icon

select the tethering option (who would have thought)

Enjoy your tethered Xoom
We have of course only tested this with our Atrix and heard it works on the Droid X (both rooted) so if anyone has other phones rooted or not please let us know how this works for you.
Please take note that to use Barnacle you must be able to give it Root Access.
Don't want to pay for tethering on your android phone through you carrier? Well there is a FREE app for android devices that can achieve this for you. Not only can you tether your phone to your laptop, tablet and any other device but you can setup security and its a simple 1 click run.
Download Barnacle for Android APK
(Download Link)
A few Features:
Setup custom SSID
Create a WEP key for Security
Easily Tether with one click Start
---