Welcome to Android Advice and Tutorials.
---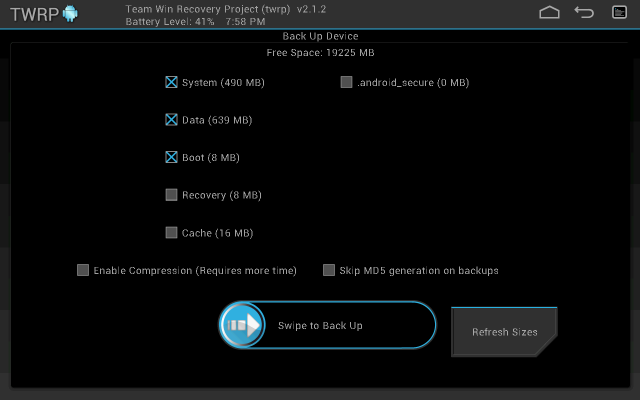 Also known as TWRP, Team Win Recover Project is a utility used to backup and recover your Android device, even when switching between custom ROMs. Version 2.0 worked on a limited selection of devices like Nexus S, Kindle Fire, and TouchPad. With the release of 2.1.2 brings support for Honeycomb tablets and ICS phones like the Galaxy Nexus, and now for the first time supporting the Transformer Prime. Also introduced by Team Win, is an OpenRecoveryScript function that lets apps influence the recovery process by allowing an app to send commands to the recovery for the recovery to perform during startup.
Key Features:
• Touchscreen driven with real buttons and drag-to-scroll
• XML-based GUI that allows full customization of the layout – true theming!
• Settings are saved to the sdcard and persist through reboots
• Ability to choose which partitions to back up and which to restore
• Ability to choose to compress backups – now with pigz (multi-core processor support for faster compression times)
Source: RootzWiki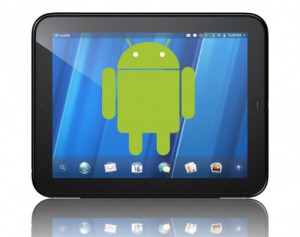 The HP TouchPad just will not die and for good reason. The TouchPad has the hardware to support Android and be a useful tablet, especially for those who got one during the fire sale a few months back. The HP TouchPad Kernel source was released by HP to the ClockworkMod developers to help with the CyanogenMod 9 port to the TouchPad.
HP has been a great supporter of the Android development community since they decided to put a stop to their WebOS.
"HP supports the community and was kind enough to provide us with the Android kernel source and some other GPL components that they modified for the few Touchpads that were accidentally released running Android… What's interesting about this kernel is it seems to be a totally separate development from the webOS kernel (this was suspected from the very beginning), but now the comments in the code seem to imply that HP had another team working on Android port to Touchpad and that team appears to be totally separate from the webOS team. I wonder if that means there was a plan to ship the Touchpad with Android that were then preempted by webOS plans after Palm purchase."
Currently there is no Wifi support on the TouchPad running the Android port. With HP helping CyanogenMod in the process we can assume that its now only a matter of time before CM9 is fully functional on the HP TouchPad and with the massive user base we are certain to see support from all avenues.
Been waiting to get Ice Cream Sandwich on your HP TouchPad? Your wait is over CyanogenMod has release CyanogenMod 9 Alpha 0 for the HP TouchPad. Before you install the custom ROM on your HP TouchPad keep in mind that there are parts of the ROM that are not yet working.
CM9 Alpha 0 Features Not Working:
Hardware video (OMX) – this means no Netflix and only non-HD videos work in YouTube
Audio isn't working right; microphone doesn't work well
Camera doesn't work
Market filters prevent certain apps from being installed
Titanium Backup crashes the kernel
Most of the hardware problems from CM7 still exists in CM9
Gapps intended for CM7/Gingerbread will not work in CM9/ICS
CyanogenMod has not only released the ROM to install Android 4 Ice Cream Sandwich on the TouchPad but also released the source to allow developers to help with improvements.
Have an HP TouchPad running Android via CyanogenMod then the updated version is here on video. If you haven't updated your HP TouchPad with the Android OS yet this video may push you a little closer to getting it done. The devs over at CyanogenMod have stepped it up with the newest release.
HP TouchPad running Android Features:
Bluetooth Streaming now works
Gaming apps like MineCraft seem to work
Live Wallpapers function
Skype calling works
It still seems that the release is in alpha and not available to the general public. You can however see that the progress is still moving forward and that you will before long have a fully functional Android TouchPad.
Thanks to Rootzwiki there is a fix for missing apps for the HP TouchPad in the Android Market. Since the HP TouchPad needs ClockworkMod to install Android on it in the first place you should still have it. If for some reason you have removed it and its still working you will need it to follow the steps below.
Android Market Fix Instructions:
Download the Fix (Download Link)
Connect your TouchPad to your PC via USB
Copy the update file above to your TouchPad
Press and hold the power button and select "reboot"
Select "Recovery" from the next menu
Wait for your TouchPad to load into ClockworkMod Recovery
Use volume buttons to navigate to "install zip from sdcard"
Use volume keys to select the zip file above
Select the file with your home key
Use the volume keys to select "yes"
After installed press power to go back to menu and home to reboot
Congrats you now have the full Market!
If the Market still doesn't see apps:
Open the Android Market then press the back button
Go to Settings -> Applications -> Manage Apps
Press the All tab and scroll down and select the market
Press "Clear Cache" then "Force Stop"
Press the back button and scroll up and select Google Services Framework
Press "Clear Data -> OK" and then "Force Stop"
Press back button to desktop and re-open the market
You will get an error (its a good thing)
Reboot your Touchpad and open the Market again
Congrats you now have the full Market on your TouchPad
The ACME installer requires that you mount the HP Touchpad and then move some files over to the tablet. Once the files are on the Touchpad you can run them. To do this you would have to create a folder called cminstall, copy a zip file over, and then start the ACME installer.
You will also need to get Cyanogen 7 on the tablet and this will let you swap between the WebOS and Android easily. The new OS only needs the ACME installer, Novacom and cm-update payload file. This is not ready for release yet but is so close we can taste it.
As we get more information and the dual-boot files are released for others to test we will let you know. If you have an HP Touchpad, its only a matter of time before you can have it dual booting Android with WebOS.
We previously showed that TouchDroid had the HP Touchpad running an unstable port of Android 2.3.5, but now they have the Touch Screen Drivers functioning. TouchDroid has even reported that multi-touch is working and has been tested with up to 10 fingers. This is a great improvement to the Android to TouchPad port.
In only 10 days the HP TouchPad has almost reached as much ad revenue as all other Android Tablets combined. The TouchPad was a bust until HP decided to close the project, now turning the TouchPad into the widest owned Tablet ever. Of course the $99 close out pricing had more to do with it than anything else but just the same making tons of money for other companies.
A mobile advertising agency called Jumptap sent a chart to ZDNet showing the statistics on the TouchPad's amazing ad revenue generated in just 10 days.
Obviously many of those that have bought the HP TouchPad may not have thought about a Tablet before noticing a $99 price tag on one. These people will be the less tech savvy that are going to click around and try to learn something new. Of course i'm not saying everyone who grabbed one is not tech savvy as this is a Developers dream since it can be completely destroyed and only put you out a hundred bucks.
CyanogenMod has booted the HP TouchPad into Android 2.3.5 Gingerbread via CyanogenMod 7. Unlike many of the reports out there the Cyanogen Team has a nice little video put together and with there record we know its true.
There are a few issues at this point that they need to get past like the touchscreen drivers needing a little more work. We know CyanogenMod will release a public version but not until they at least have it in a Beta state. According to @toastcfh on Twitter the hardware acceleration is all ready to go.
When the video above was uploaded to YouTube there was a letter along side it talking about the port. You can read this below:
Here is some (older) touchpad progress from Friday. The Cyanogenmod team wanted to share it with the public to bring attention to our need for a few more touchpads (for developers currently working without them).

As you can see from this quick demo, we've been working hard and have made progress. Since this video was created last week, the build has been more "tabletized" (tablet tweaks added, etc.), lvm support has been added.

The touchscreen driver issue is now the focus of our attention.

Our ultimate vision is to create a *multiboot* solution where the end user will be able to boot into WebOS, Cyanogenmod, and/or other OSes. This appears to be very possible, and we have discussed several potential implementations with our new friends in the WebOS development community to make it easy for an end-user to set up.

For the moment though, we need about 4 tablets, as we have talented and experienced developers who cannot contribute effectively due to a lack of hardware. If you have an extra touchpad and are willing to help the cause, please let us know in the comments below.

A BIG CAVEAT- PLEASE DO NOT ASK FOR ETAS. For the uninitiated, this is the #1 rule for Cyanogenmod. It will certainly be a long while before our goals become reality. Our goals incidentally are not connected with any bounty- we are motivated to do it right, not do it fast.

And now the obligatory shout outs- Thanks to rootzwiki and all the devs and everyone else who are collaborating and contributing to this project. You know who you are, you.

The CM team

www.cyanogenmod.com
There was a recent fire sale of HP Touchpad's where retailers and HP both were selling them cheap. The 16GB Touchpad was going for $99 and the 32GB Touchpad for $149. Now that more people own a Touchpad than any other tablet developers are all over it. Of course the project was scrapped by HP so the support will not be there but what the heck $99 for a tablet is insane.
We expected Android to be flashed or at least ported over within days. Now there is a video where someone claims to have put Android 2.2.1 Froyo on the HP Touchpad. This being said we don't have the ROM or any other information on the Installation of it. As soon as we get more information and files we will post them here on Android Advice.
---