Welcome to Android Advice and Tutorials.
---

Asus has a reputation of releasing updates to its devices rather quickly, although with the Transformer Pad Android 4.2 Jelly Bean update it will be the first non-nexus device to get it. Asus officially announced that the Transformer Pad TF300 will be updated in the US today. The rest of the world can still expect the update although it will be later this month. We don't currently have a build number or can even verify the release of the update besides what Asus has mentioned.
Source: Asus Facebook Page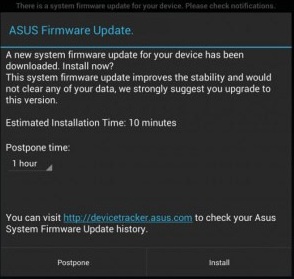 ASUS has started to push out a small update to the Transformer Pad Infinity (TF700) to fix a few WiFi, keyboard and camera issues. This is a very small update and will still keep the Android version at 4.1.1 and you will likely not even notice anything different unless you were having any of the bugs with the WiFi, camera or keyboard. There has also been talks of another update hitting soon to actually make some noticeable changes and updating the Android version to 4.1.2.
While this particular update may be small and nothing that the average user cares too much about ASUS has proven to care about its users and take care as well. As far as updates as users report bugs ASUS is number one and we hope that Motorola, HTC and others will take notes.
As always make sure that your battery is at least 50% charged before you go and try to start the update. Even with smaller updates you can ruin a device if it dies during the update. Those of you that get the update and happen to actually notice something please let us know in the comments below.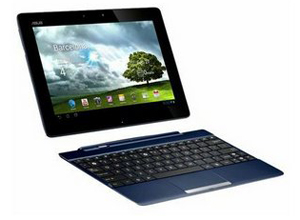 The next Asus Transformer Pad will be released by the end of May this year with the name Asus Transformer Pad TF300T. While this is a new device it will be released as the more cost effective Transformer Prime. At the time of its launch it will be available to only one retailer in the UK with the keyboard dock included for around £399 or $483 USD and should prove a good selling device for Asus.
Asus Transformer Tab TF300T Features:
Android 4.0 Ice Cream Sandwich
NVidia Tegra 3 CPU
10.1″ Display
16 GB Internal Storage
8 MP Camera
UK Press Release about the Transformer Pad TF300T:
United Kingdom (April 23, 2012) – Announced at Mobile World Congress in February, the new ASUS Transformer Pad is a powerful, yet affordable, tablet with a host of features onboard. Available in three stylish colors, the ASUS Transformer Pad is aptly named thanks to the mobile dock that allows it to transform from a tablet into a notebook. When docked, total battery life is rated up to 15 hours, while also increasing productivity with a full QWERTY keyboard, multi-touch touchpad and USB/SD Card ports. Housed in the Transformer Pad is a powerful NVIDIA® Tegra® 3 Quad-core CPU, ASUS SonicMaster technology for an incredible audio experience and an 8MP auto-focus camera that shoots crystal clear photos. The Transformer Pad is running the AndroidTM 4.0 operating system (Ice Cream Sandwich) that is upgradable and features exclusive software for added productivity.

The Transformer Pad comes in three stylish colors: Royal Blue, Iceberg White and Torch Red. It also boasts an elegant concentric patterned finish that hints at the ASUS Zen philosophy found in the ZENBOOKTM and Transformer Pad Prime. With a profile that's 9.9mm thin and 635g light, the Transformer Pad can easily be carried around all day, and when combined with the ASUS exclusive Mobile Dock, it turns into a productivity workstation. A QWERTY keyboard and multi-touch touchpad offers a true notebook experience, while a USB port and SD card slot provide additional storage options.

Powering the Transformer Pad is NVIDIA's Tegra 3 4-PLUS-1TM quad-core CPU with an integrated 12-core GeForce® GPU that provides superior performance, multi-tasking, smooth Full HD 1080p video playback and console-quality gaming. The "PLUS-1″ is an extra battery-saver core in the CPU that handles low-power tasks like active standby, music and video, and is transparent to the OS and applications. It offers the best combination of ultra-performance with low power consumption – up to 10 hours on the Pad and extended up to 15 hours when combined with the Mobile Dock.
---