Welcome to Android Advice and Tutorials.
---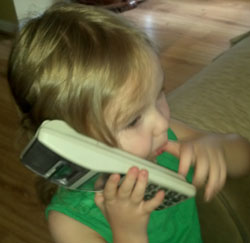 I am willing to bet that nobody has seen this phone in action.  When it was sitting on the table at my neighbors house I had no idea that it could be used as a phone.  Sure enough my two year old daughter picked it up, pressed a few buttons and started talking to someone.
This device not only allows you to talk to anyone but can hold a roll of paper for the built in calculator.  It doesn't have speakerphone, no OS, can't receive calls and its highly unlikely without a pre-existing psychological disorder you will ever hear anyone on the other end.
---