Welcome to Android Advice and Tutorials.
---
The T-mobile Samsung Galaxy S3 is currently getting an update to Android 4.1.2 that adds multi-window support. This update comes in the form of an OTA (over the air) update to the Samsung Galaxy S3 on T-mobiles network bringing it to software version T999UVDMD5. The major update to the device is the multi-window feature which allows you to concurently split between two running applications. Currently the update comes in at around 186 MB so it may be a good idea to connect to Wifi before starting the process.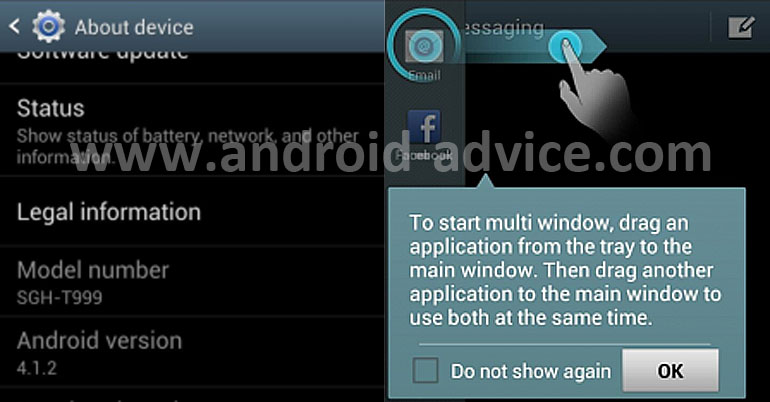 Galaxy S3 Android 4.1.2 version T999UVDMD5 Features:
Android version 4.1.2
Software version T999UVDMD5
Multi-Window
Auto-pairing via NFC
enhanced Camera options
Sound Balance
Paper Artist
Samsung Gallery
Blocking Mode
Easy Mode
Again the update is around 186MB so you may want to connect to wifi to download it. Also be sure you have at least 50% battery before beginning to avoid any issues that a dead battery could cause. If you haven't received the notification that the update is available you can manually check by going to "Settings -> About Phone -> Software Updates". On a side note you can wait and get the update via Samsung Kies although that will not be available until June 16th. Please let us know when you get the update and anything you notice good or bad via comments below.
Users with the Samsung Galaxy S3 or Galaxy Note 2 can expect to an update to Android 4.2.2 Jelly Bean by the end of June. Finally we have been made aware of the update from a reputable source, in this case being SamMobile. There has been no official word from Samsung although SamMobile sent out a tweet April 1st with the news.

Android 4.2.2 updates Galaxy S III and Note II May / June
Of course this could just be a rumor and currently is since the word is not an official post from Samsung themselves although with the release of the Galaxy S4 it doesn't seem far fetched. Samsung did promise an update to both the S3 and Note 2 putting it at the same version of Android as the S4. Since the S4 is expected to be released with Android 4.2.2 its only logical that the S3 and Note 2 have the same version around the same time as its release.
Android 4.2.2 on the Note 2 and GS3 would mean lock screen widgets, quick settings, expandable notifications and more. Also with each new version of Android we seem to see improvements to battery life as well which is a welcome feature for any device.
In the past SamMobile has been 50/50 with early information about Samsung products so we have every reason to believe this could be true but not enough faith to have us expecting it. We of course will see in the coming month or so how accurate this is as the official word shouldn't be too far out. We plan on updating to the S4 either way so it really makes no difference to those of us that upgrade but if its not time yet the updated OS is welcome. Let us know if you have seen anything on this or how you feel about it via comments below.

Asus has a reputation of releasing updates to its devices rather quickly, although with the Transformer Pad Android 4.2 Jelly Bean update it will be the first non-nexus device to get it. Asus officially announced that the Transformer Pad TF300 will be updated in the US today. The rest of the world can still expect the update although it will be later this month. We don't currently have a build number or can even verify the release of the update besides what Asus has mentioned.
Source: Asus Facebook Page

The AOKP update for the Samsung Galaxy S2 to Android 4.2.2 Jelly Bean is now available for those waiting on the update from Samsung. AOKP ROM's also called Open Kang Project, are a popular set of ROM's for updating devices and or installing custom ROM's. They are fast, stable and based on the AOSP release of the Android OS.
NOTE: The instructions here are for the Samsung Galaxy S2 I9100 only. Your device must already be rooted to perform the instructions below.

NOTE 2: Samsung KIES will no longer detect your phone after updating to Android 4.2.2 using the following method.
Before you begin be sure that you have done the following to your device. Root the device as stated above, backup any apps or data that you would like to keep, and wipe your dalvik cache.
How to Update the Galaxy S2 to Android 4.2.2 using AOKP build:
If you haven't already done so install ClockworkMod Recovery (we assume this has already been done but figured we would mention it)
Download the Android 4.2.2 AOKP ROM (Download Link)
Download Google Apps (Download Link)
Connect your Galaxy S2 to your Computer via USB
Copy the files from step 1 and 2 to your phones SD card in the root folder
Turn off your Galaxy S2 and disconnect from the computer
Turn the phone back on while holding volume up, menu and power buttons at the same time.
Wait for the device to show the recovery mode screen
Perform a full data wipe and dalvik cache wipe first thing
Scroll down to "Install zip from SD card" use arrows and power button to select the zip file.
Confirm the installation on the following screen
Once complete go back and select the Google Apps zip file in the same way
After this is completed go back and select restart device from the recovery menu and wait for it to reboot.
Be patient as the first boot may take longer than normal
Congrats your Galaxy S2 is now running Android 4.2.2 Jelly Bean
If you want to verify that everything went ok then you can navigate to your "Settings -> About Phone" and look at the Android version there. If you have any issues as always leave us a comment below. As always these instructions are for your information and you are responsible for the use of them but we will help as able.

The earlier delayed Android 4.1.2 update for the Samsung Galaxy S III for Telstra customers is now rolling out to their devices. Samsung is easily the best Android manufacturer at getting updates to their devices in a timely fashion. They have most of their Galaxy S II devices now running Android 4.1 Jelly Bean and their flagship Galaxy S III devices on 4.1.2. This all comes according to AusDroid.
This Jelly Bean update comes with the "premium suite", Multi-window, and more. Telstra originally posted that the update would start rolling out February 4th although it was quickly pulled after a small rollout had began. Now they have picked up where they left off and are getting the update to all Telstra customers today. This of course will be a staggered rollout as always so you may not see it now but it will come today so be patient.
If you don't get the update pushed to you throughout the day you can always manually check for the update. Once you get the Android 4.1.2 update on your Galaxy S III please let us know how it goes and how you like it. Also noting any bugs or issues that may come up would be a plus. Good luck and happy updating.
Source: AusDroid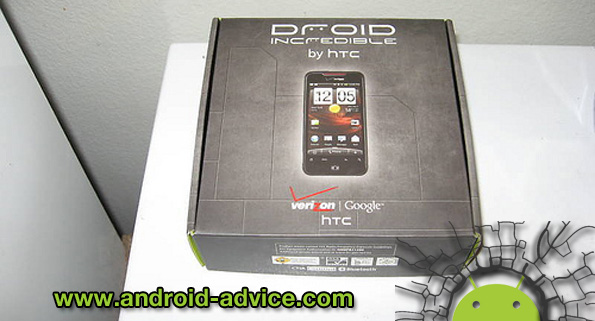 While those of you still owning Verizon's OG HTC Droid Incredible may have thought you were forgotten, since it is pushing three years old. There is an update pushing out to the Android 2.3 Gingerbread device to fix some of the bugs you've been living with since its last update. The one fix that is in the update any Droid Incredible owner can appreciate is the random reboot bug.
Your Droid Incredible will still be running Android 2.3 Gingerbread but now at software version 4.08.605.19 with a hopefully smoother experience. The update should come in at around 4.2 MB so small enough to grab via WiFi. The update has been verified by a few different sources throughout the Android community although it seems the first with the news was Android Central Forums.
There isn't a list of items noted in the update although we can say with certainty that the reboot bug has been fixed and that the update seems to have a few un noted items as well. While strange to see an old device like this getting such a small update, its nice to see HTC and Verizon making the effort to keep even the older device owners supported.
The 4.08.605.19 update for the Incredible should be hitting your device already but if it hasn't go ahead and manually check as it should be waiting for you. Please let us know if you notice anything besides the reboot fix after updating via comments below.
Source: Android Central Forums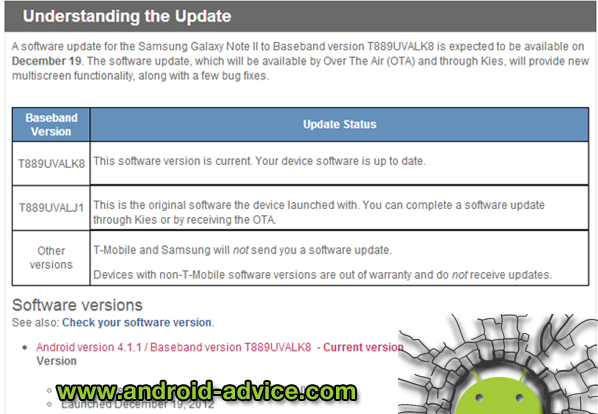 T-Mobile will be pushing out an update to its Samsung Galaxy Note II adding multi-window support via an OTA (over the air) update tomorrow. This will put the Galaxy Note II to baseband version T889UVALK8 and will not change the Android version. A few other items you will notice with the update is a fix for an Exchange calendar sync issue and a Gmail swiping issue. Of course if you would rather update your Note II Kies should have it available as well.
Multi-window if you don't know already gives the popular device the ability to run two apps side by side on its 5.5″ screen. While Samsung is pushing this out to all of the carriers quickly not all of them have it yet. Once you get the update please let us know how it goes and what you think via comments below.
Those of you that have a newer HTC phone has been waiting patiently for news on Android Jelly Bean for your device. HTC has leaked a list of devices that will be getting this update. Currently the leak only states that these will in fact get the update soon but not an actual date. We all know the popular word "soon" could mean months but can hope for weeks. At any event at least there is verification that these will get the update.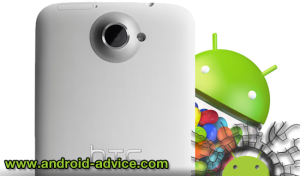 HTC Android Jelly Bean Updates Verified:
HTC One X+
HTC One XL
HTC DROID Incredible 4G LTE
HTC EVO 4G LTE
HTC One SV
HTC One VX
HTC One S
HTC One S C2
HTC J
Obviously all of the One series of phones would be expected to get the newest version of Android although the other two were not a guarantee until now. If your device is rooted then you may want to un-root before the update although worst case would likely be the update doing it for you. As far as we can tell the update (again no date specified) will hit devices starting in January of 2013.

The Google Nexus 7 tablet has started receiving the Android 4.2 Update over the air bringing it to the most recent Android OS to date. Not only is this a big deal but it comes very soon after the sales started for the Nexus 10 that comes with Android 4.2 out of the box. Owning a Google branded device has proven to be the only way to guarantee quick and up to date OS updates.
What to expect added to your Nexus 7 after the update:
First is something that most people may not use but is a pretty cool feature just the same called Daydream, which is simply a kind of screensaver for your device. Next a more talked about feature is Photo Sphere for taking panoramic photos easily. Currently the Photo Sphere images can only be viewed in Google Plus or within Google Maps but the Android Community will likely create their own Photo Sphere viewers shortly.
If you haven't already been notified by your device about the OTA (over the air) update you can always manually check for the update manually. To check for the Android 4.2 update on your Nexus 7 simply go to "Settings -> About Tablet -> System Updates". If you still don't see the update don't worry you will just be patient, those that have already updated please let us know what you think.
Google's Jean-Baptiste Queru has confirmed that the Motorola Xoom will not be getting the Android 4.2 update and will stay on version 4.1.2. The reason stated that the Motorola Xoom will not get the update is due to older hardware currently used in the Motorola Xoom already having speed issues reported with Android 4.1 on the devices.
The Motorola Xoom has had some of the best support by Google when it comes to updates to this point. Those owners of the very old device running a newer version of Android have been lucky to own it. On a side note the Xoom will likely get an unofficial update to Android 4.2 from the Android community so have no fear if you want it you will likely get it anyway.
Even with the Xoom running Android 4.1.2, an early version of Jelly Bean its still as far if not further ahead than most newer devices. Let us know how you feel about the Xoom not getting the update via comments below.

Google TV software update version 3.0 has been officially announced by Google and promises many stability fixes. Along with the stability issues being fixed you will notice a few front facing features that have been added.
One of the additions to Google TV is Voice Search which allows you to interact with your Google TV using your voice. You can search for titles, channels, genre's and much more. One of the features that you will notice with the new voice search is that you can search for just about anything and your Google TV will scan YouTube and give you a video on it. If for instance you want to know how to make an apple pie just ask Google TV "how to make apple pie" and the instructional Youtube video will come up.
Another cool addition is the ability to access Prime Time from anywhere. There is a visual layout to allow you to search live TV showing what you recently watched and allowing favorite channels. The Movies and TV app has been redesigned to make everything much more user friendly.
While Google has announced the update to version 3.0 it will likely not hit your device for a while since the official word from LG is "in the coming weeks" for their smart TV's. Other second generation equipment states in the "coming months". If you do still own the first generation unit you will still get the updates although it will likely be early next year. Let us know when you get the update and the version/equipment you are using.
---