Welcome to Android Advice and Tutorials.
---
| | | |
| --- | --- | --- |
| | V.S. | |
Apple announce their "New" feature called Siri. This has been available on Android for a long time now in the form of Vlingo, so whats the difference? Well the only major difference is the fact that Siri is integrated into iOS now and easily pulls calendar and maps without referring you to other apps.
Like Siri, Vlingo allows you to call a contact, text a friend, search for businesses, get directions and update Facebook status all with simple commands. Siri and Vlingo both also reads out many things like the weather. A huge difference is that no matter how you spin it Vlingo is free.
Google has mentioned that Ice Cream Sandwich will have a better virtual assistant and that it will be integrated like Siri is on the iOS devices. We look forward to seeing what comes of Android's updated virtual assistant.
Apple is an advertiser that can make anything look good. If Google put the marketing effort into Android that Apple puts into iOS we would see the true winner is Google.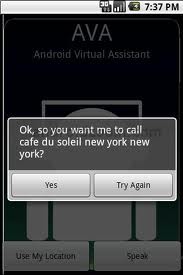 Apple announced with the release of the iPhone 4s that it will include a virtual assistant called Siri. While this is a great feature for Apple to add to their new phones we all know Google is king when it comes to voice recognition at this point. The word on the street is everyone that was hoping for a virtual assistant on their Android devices will get it with Ice Cream Sandwich.
We haven't verified this yet but a tipster from Google says they have been working on taking their Voice Search app up a notch with virtual assistant features already. Google being the leader in voice technologies and facial recognition will bring these new features to Android 4.0 Ice Cream Sandwich.
---