Welcome to Android Advice and Tutorials.
---

Verizon has been pushing updates like no other carrier over the past few days and now its time for the LG Spectrum. This update brings the LG Spectrum to software version to VS920ZV5 and Android 2.3.6 Gingerbread (sorry no Ice Cream Sandwich for now). This is a major bug fix update and should improve your battery life a bit as well.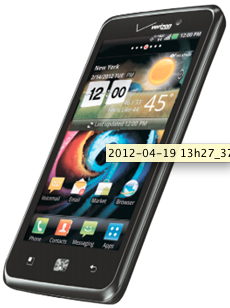 Verizon's LG Spectrum Update VS920ZV5 Features:
EAS password follows security policy, requiring an 8-digit password minimum.
Application launch will not cause force close when the device is scanning for available Wi-Fi networks.
Improved outline for multiple calendar view.
Calendar reminders send notification at accurate time.
Successfully sync Optimum Online accounts using POP3.
Pinch zoom in Camera Preview mode to select zoom level.
Sync and Connect email maximum count is 500 regardless of server settings.
Browser launches immediately upon selection.
Added 'Select Search Engine' option in browser settings.
Google Search is now set as default search for a better user experience.
Google GMS (Google Mobile Services) is upgraded to Gingerbread R9.
Updated Google Play (v3.3.12) with enhanced user experiences.
Updated Gmail (v2.3.5.2) with a series of security fixes.
Talk2 (v1.3) includes updated video chat capabilities.
Updated YouTube (v2.3.4) includes enhanced editing functionalities.
Visual Voice Mail connection has been updated for a better user experience when syncing email.
Various App updates
The Spectrum update should start hitting devices in the form of an OTA update over the next few days. Just check manually if your in a hurry to get it and please let us know when it hits your device.
---