Welcome to Android Advice and Tutorials.
---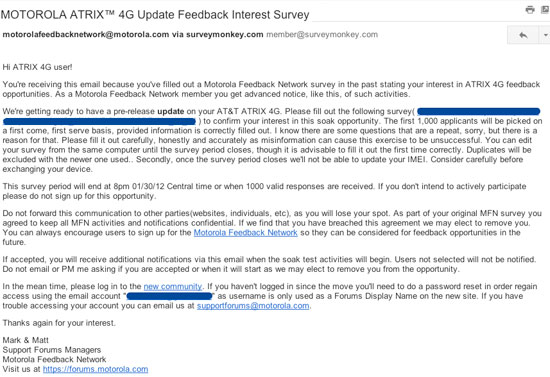 While we discussed earlier in the week that the Motorola Atrix would be getting an update that might be Ice Cream Sandwich, we were wrong and hate to say it. It looks like the Atrix 4G is getting updated to version 4.5.141 to include a few security and bug fixes but beyond that not much more. It also looks like if your device is rooted you may not see the update at all but is looking to be pushed out February 7th.
Motorola Atrix 4G Update 4.5.141 Features:
Latest Android security fixes from Android 2.3.6+
Bluetooth voice commands while the device is asleep
Improvements to the Messaging and Contacts applications (unspecified)
WiFi settings update and AT&T Mobile Hotspot usage built-in
Increases in stability, power management
While we again are sorry to even be posting this it looks like the Motorola Atrix may never see the update to Android 4 Ice Cream Sandwich officially. We can say with the Atrix's hardware that it will get an unofficial fully functional ROM at some point beyond what is already available via CyanogenMod 9.
---