Welcome to Android Advice and Tutorials.
---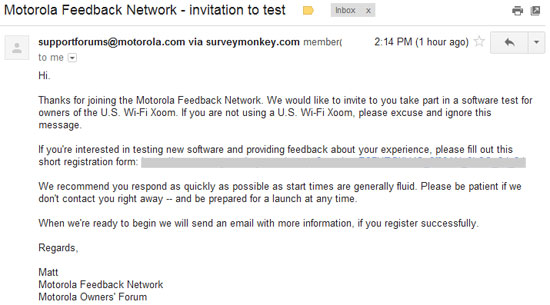 We already knew that the middle of July was the time those that own a WiFi-only Motorola Xoom would get a taste of Android 4.1 Jelly Bean.  The time has come where those that are members of the Motorola Feedback Network will start getting the updates.  Soak test emails were just sent out about two to three hours ago and those willing to test Android 4.1 Jelly Bean on their Xoom Wifi's can get involved now.
Those that aren't members of the Motorola Feedback Network should be getting the update about a week after soak testing begins.  This being said if all goes well everyone with a Wifi Xoom should have the Android 4.1 Jelly Bean update by the end of the month.
The Motorola Xoom Wifi was just updated to Android 4.0 Ice Cream Sandwich and this is an overview of the Android browser on it. The browser hasn't changed very much from a cosmetic point of view although there are a few improvements that will prove useful.
Please let us know what you think about the updated web browser and any disappointments you see with the update as well.
---